Sergio Vacchi remembers Greta Garbo
Sergio Vacchi is an Italian painter who was inspired by Greta. In 2004 there was an exhibition of his works in Cesena, (not far from Rimini, in Emilia-Romagna Region).
Brochure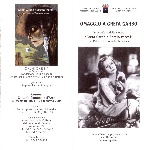 The "Palazzo del Capitano"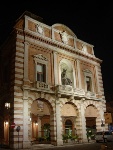 Cesena's mayor and Vacchi (right)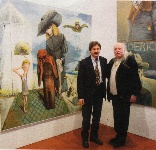 Sergio Vacchi remembers Greta Garbo
Unique exhibition by Italian artist in Cesena features over 100 works on celebrities
By Patrizia PerilliMar.
Greta Garbo is the subject of an exhibition titled 'Greta Garbo e Sergio Vacchi nel Palazzo del Ridotto di Cesena'. The Swedish actress charmed the world of cinema, to the point of being granted the appellation of 'divine'. She disliked mundanity, and managed to protect her privacy. Her reservations created a halo of mystery around her, and together with her timeless beauty turned her into a legend. Some 100 works by Sergio Vacchi, born in 1925, track this artist's career, from his debut in 1948 to his most recent paintings. Several of his newest creations will be seen for the first time.

Greta Garbo is the pivotal point of this artistic life. Not a mere icon of beauty, but a real presence, fascinating and enigmatic, leading the observer's gaze to a different dimension of reality, with the help of the painter. Vacchi himself revealed the nature of his relation with the unforgettable protagonist of Ninotchka.

"Greta Garbo was not only a great actress, a diva with a magnetic charm. I sense something greater and undefinable in her. I believe she was a genius of the 20th century, and her genius mainly expressed itself when she retired from the scenes: with her dark glasses, her manly pants, her disguises, Greta Garbo did not disguise herself but the whole century. Garbo had become a symbol of the cinema universe, entirely based on appearances.

This is a universe where one exists as long as one stays under the spotlight. Yet, at 36, she chose to stop exposing herself, and her gaze changed perspective. She then stopped looking and started seeing. She acquired a previously unknown depth. What she saw, however, remained unexpressed, because Garbo realized that she couldn't communicate, or at least that she couldn't be understood by the American world.

This exhibition is, for Sergio Vacchi, a sort of homecoming. Not only for reasons of provenance (Vacchi was born in Castenaso di Bologna), but especially for professional and emotional reasons. In the late 60s and early 70s, with three exhibitions at the "Il Portico" gallery, the artist had already developed a fervent dialogue with the Cesena art scene, with effects that lasted to these days, as testified by his deep friendships with several admirers of his art who reside in that town".
More Info HERE!
Thanks to RubyRed and Nakis
Garbo's room by Jeremiah Goodman (1990)
Jeremiah Goodman is considered to be one of the finest illustrators of interiors. Known for his watercolors and gouaches, Goodman made a name for himself with his interior renderings for decorators, celebrities, and Lord & Taylor.

Goodman has painted the rooms of Billy Baldwin, Michael Taylor, Diana Vreeland, and Greta Garbo.
Thanks to SnowWhite