Garbosällskapet - The Garbo Museum
- by Rune Hellquist -
INTRODUCTION
Introduction
In Sweden it is simply known as Garbosällskapet. This little but very impressive Garbo "museum" was founded, by The Garbo Society, in 2001 in Hogsby (Sweden). It is an independent idealistic association. The "Museum" is open to every interested person.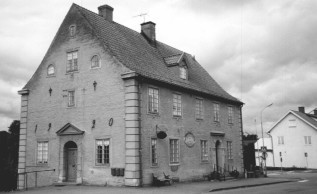 Garbosällskapet
The Society has the domicile in Hogsby and manages also a exhibition (The Garbo Exhibition), situated at Storgatan 26 in Hogsby/Sweden.

The intentions and purposes are to: Serve as a meeting-point for people interested in Garbo collect and issue information concerning Greta Garbo Develop the Garbo Exhibition in Hogsby Expand the interest for film as an expression of culture be a community above the generations work for the foundation of a Garbo stipendiary fund.

Why Högsby?
Garbo's mother Anna Lovisa was born at Högsby in a little typical red wood swedish house. It is right outside Högsby in the woods.

The Address
Garbo Society in Hogsby
Storgatan 26
SE-579 30 HÖGSBY/SWEDEN
Phone +46(0)491-0

Their Website
Click HERE!

© Copyright 2005 – www.GarboForever.com – Germany – TJ & John – The Webmasters