Introduction
One evening in 1963, Garbo spent some time at the White House. The previous summer in Europe, she had become quite friendly with Lem Billings, one of President Kennedy's closest friends, who, on his return to America, spoke extensively about his time with her.

It is said that it was on November 13, when Garbo was invited to Washington for a small dinner party at the White House with President and Mrs. Kennedy, her sister Lee Radziwill, Florence Mahoney, and Lem Billings. Billings didn't expect to see her and, getting over the initial shock, greeted her effusively.

She cut him short and asked coolly, "Have I ever met you before?" Stunned, he collected himself and tried to remind her of their summer friendship, but Garbo strung him along well into dinner when the group could no longer contain its laughter. After dinner, Garbo received a private tour of the White House. The murder of John F. Kennedy just weeks later, on 22 November, upset Garbo terribly. She wrote his widow a letter of condolence – in Garbo's life, a rare instance of reaching out.
The First Lady invited her several times
Maximum secrecy was reserved for her contacts with Jacqueline Kennedy, who as First Lady had invited her to several White House functions which Garbo politely declined. A reticent person herself, Mrs Kennedy understood her reluctance to socialize.
Garbo finally accepted invitation
On 21 October 1963, however, Garbo attended a show of Irene Galitzine fashions at the Regency Hotel, renewing an acquaintance with Galitzine, with whom she had once cruised the Greek islands on Onassis's yacht. Galitzine and Mrs Kennedy were also friends, and the fashion show seems to have been catalytic: a private White House invitation now came Garbo's way, and curiosity overcame her. She accepted on condition the event be small and secret. Both terms were met and on November 13 Garbo attended the private dinner.
The exact date of this event
The exact date of this event is as elusive as Garbo herself – the private affair wasn't recorded on JFK's appointment calendar nor in the papers kept by social secretary Letitia Baldrige. An FBI background check, released under the Freedom of Information Act, shows that Garbo was approved for a White House visit on January 15, 1963.

According to Nancy Tuckerman, Jacqueline Kennedy Onassis's trusted personal assistant, the former First Lady recalled that Garbo was the houseguest of Washington socialite Florence Mahoney. Both were invited to the informal dinner, along with Lee Radziwill, Mrs. Kennedy's younger sister, and K. LeMoyne Billings and Lem Billings.
The other guests
In addition to President and Mrs Kennedy, there were only four others, as she revealed fourteen years later to a friend who asked about the other guests: "Well," Garbo replied, "there was a lady (Florence Mahoney) who was instrumental in getting us there by hook or crook, a White House friend, a man who was a friend of the President (Lem Billings), and some other lady, I've forgotten, a princess or somebody (Lee Radziwill). That's all."
Lem Billings
The most interesting story of that historic visit was the mischievous joke at the expense of JFK's old Choate friend and adviser, K. LeMoyne ('Lem') Billings, who had returned from the Riviera that summer with the hot news that he had met and befriended Greta Garbo there, while cruising on Sam Spiegel's yacht the previous summer. Billings thought her wonderfully funny and hypnotically beautiful – doubtless touting her to Kennedy as his latest conquest.
The 'Special Arrangement'
It was planned for Garbo to arrive before Billings, giving her and the president a chance to chat and make some 'special arrangements', according to David Michaelis in The Best of Friends: Lem was sure it was going to be a perfect evening. He arrived at the White House, glowing with anticipation, and was greeted by the President in the family dining room on the second floor. Then Jacqueline came in with Garbo at her side.

The President ushered Lem over to say hello to their guest, saying, in effect, how happy he was to have them both to dinner since they were already so well acquainted. With a spring in his step, Lem greeted her : "Greta!" There was a ghastly pause. Garbo looked at Lem blankly. She turned, puzzled, to the President. "I have never seen this man before," said Garbo. Thereupon followed the most disorienting half-hour Lem had endured since World War II.
Garbo and the President were full of earnest curiosity
The foursome sat down to dinner. Lem was unable to eat. He was in shock. He could not fathom the inexplicable amnesia that had overcome Garbo. She repeated that she was quite certain she had never met Mr Billings before this evening.... Lem rattled off names and places they had been together, the people they had seen, the approximate dates, for crying out loud.... Nothing seemed to refresh Garbo's memory about the enchanting times they had shared on the Italian Riviera. The President was full of earnest curiosity about how such a mix-up could have occurred.

Perhaps Lem had become friends with someone who looked like Garbo. Lem testily declared that that was impossible.... He was mystified. In his befuddlement, the one possibility he did not consider was that Garbo's amnesia had been recently contrived by the President of the United States. The party managed to maintain their charade until the second course.
Garbo's thoughts about the evening
"It was a lovely, intimate dinner," Greta said. In honor of the occasion, she had worn one of her finest designer suits. "President Kennedy did not smoke and drank only water," she remembered. "I felt like one of the damned when I lit a cigarette."
What did Garbo and the president talk about?
Kennedy asked her about her recent activities. Fumbling for a response, Garbo told him that she was a collector. "What do you collect?" Kennedy asked. "Here's an example! " Garbo said and opened her handbag to show him an article she had torn out of a magazine, which was about Kennedy. The president looked at her in surprise. JFK then asked her opinion on various issues – one of the rare times Garbo expressed herself in a political context . "Greta was very attracted by the president. She boasted a little that instead of withdrawing to his study he had stayed with his guests after dinner 'longer than I have ever done since I became president,'" Kerstin Bernadotte reported.
The private tour of the White House
Mrs. Kennedy took the party on a private tour of the White House, including the popular Lincoln bedroom, where Garbo took off her socks and got on the bed. When she was asked if she get a tour in the White House she replied "Oh, yes, I went on top of Lincoln's bed. Took my shoes off. My, I was very careful."
Garbo didn't sleep at the white house
She declined an invitation to stay overnight – a missed opportunity, she would suggest. When she was asked if she sleep there: "No, not at the White House, [though] that could have been done – and then had a visit from the President in the night," she laughed. "The President visited a lot of ladies [at night]." Garbo slept, instead, at a hotel.
Garbo thought she was 'unruliness'
Garbo later said she was afraid she had made a bad impression because of her 'unruliness'. Thinking that she had too much to drink, she later told Sam Green that one was unruly at the White House .One guest reported that she rose and said jokingly , "I must go. I am getting intoxicated," and that, after she left, Jacqueline Kennedy said , "I think she was." But Garbo was enormously pleased that, instead of withdrawing to his study as usual, John Kennedy had stayed with his guests after dinner – "longer than I have ever done since I became president," he said..."
The Whale Thooth

As a souvenir of the evening, the president spontaneously gave her one of his prize pieces of scrimshaw - a whale's tooth. "Mrs. Jah-kee" smiled. "He nevergave me a whale's tooth," the First Lady said. Nine days later, President Kennedy was assassinated in Dallas. When Kennedy's effects were cataloged and moved out of the White House, it was noted that this piece of scrimshaw was missing from the collection. It was not until 1999 that Jim Wagner of the John F. Kennedy Library read Garbo's thank-you note to Jacqueline Kennedy and the reference to the president's "tooth" caught his attention. He surmised correctly that the president had given the piece of scrimshaw to Garbo.
Kennedy's murder upset Garbo terribly
The murder of John F. Kennedy just weeks later, on 22 November, upset Garbo terribly. She wrote his widow a letter of condolence – in Garbo's life, a rare instance of reaching out.
Garbo's thank-you note to Jacqueline Kennedy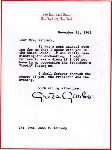 The two most famous women wereguests of Aristotle Onassis yacht
Their subsequent contacts were infrequent but affectionate; separately, the two most famous women in the world continued to be yachting guests of Aristotle Onassis, who was still a favorite of Garbo's in spite of her private complaint that the Christina was "too small – I couldn't go for my walks".

Mrs Kennedy's decision in 1968 to marry Onassis could not have surprised her; they both valued the same appealing qualities in him, and, contrary to rumors, there is no evidence that Garbo was annoyed about it. Onassis had reportedly proposed to Garbo first, and she had declined for the same reasons she declined all marriage proposals.
Sources
Barry Paris: GARBO
Scott Reisfield: Greta Garbo - Portraits from her Private Collection
Karen Swenson: Greta Garbo A life apart