Garbo Story by Zsa Zsa Gabor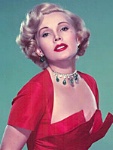 Gabor wrote about Garbo in her Biography:
Although I did find Greta Garbo very attractive. I first met Garbo at Brian Aherne's house in Santa Monica when George Sanders and I went to a party there.

The other quests, Sylvia Ashley Gable (Clark Gable's wife), David and Hjordis Niven, and Clifton Webb, had already arrived when Garbo breezed into the room. She (Garbo) was alone and I almost fainted.

George Sanders, being George, made things worse by informing Greta, "My wife (Zsa Zsa) has a wild crush on you." I blushed scarlet. Dispassionately, Garbo responded, "She's a very beautiful girl, your wife."

At the end of the evening, George escorted Garbo to her car. When he came back into the house, he (rather maliciously) whispered to me, "Zsa Zsa–you don't have to be so in love with her (Garbo) anymore . I kissed her (Garbo) and she (Garbo) smelled of cheap soap."
Garbo kissed her!
The next time I met Garbo I was alone at a party at Brian's house on 62nd Street in New York.

At the time, Rex Harrison was appearing on Broadway in My Fair Lady and he was quest of honour. Garbo spent most of the evening standing behind the bar flirting with me. Rex was all over Garbo and Garbo was all over me. I nearly melted.

Then Rex had to leave and Garbo said, "Let's bring Rex's coat." The coat was beige and the pockets were so full of vitamins that we could hardly carry it. We took it to him, Rex left, and Greta asked me if she could drive me home. I said yes, but I was afraid of her (Garbo).

We got to my hotel (I was living in the Savoy Plaza) and for a moment I felt like inviting Greta in. Then she (Garbo) said, "Darling, would you like to come to my apartment?" I was paralyzed.

Then she (Garbo) kissed me straight on the mouth. And I couldn't help kissing her back because she (Garbo) was so overwhelmingly strong and so beautiful. I've never had lesbian tendencies–but if I had ever had them, the woman of my life would definitely have been GRETA GARBO.
Introduction

Greta's Childhood Stories

Garbo Stories - Part 1

Garbo Stories - Part 2

Small Garbo Stories & Anecdotes - Part 1

Small Garbo Stories & Anecdotes - Part 2

Small Garbo Stories & Anecdotes - Part 3

Funny Garbo Stories

© Copyright 2005 – www.GarboForever.com – Germany – TJ & John – The Webmasters