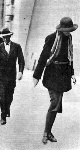 Garbo and Stokowski
Most sensitive bump on Italy's shin bone last week was tiny, historic Ravello. There, in the snug, age-whitened Villa Cimbrone, overlooking the blue Mediterranean from its mountain perch, two people were trying not to notice that all the world was watching them. The man: snowy-haired, limelight-loving, 55-year-old Conductor Leopold Stokowski, whose American wife divorced him last December. The woman: Hollywood's No. 1 recluse, Greta Garbo.

While Mrs. Evangeline Brewster Johnson Stokowski was in Reno last fall, Hollywood reported that her fun-loving husband was seen dancing Big Apples with Garbo at Hollywood house parties. But the report had a cooked-up whiff to it. Garbo's Conquest was ready for release, and before such events Metro-Goldwyn-Mayer pressagents invariably concoct romantic blurbs. But when last December "Stoky" drank fond farewells with Greta in Manhattan on the eve of her departure for Europe, most people agreed that something more than publicity was in the air. When Conductor Stokowski himself sailed for Italy last month, correspondents got orders to keep their eyes peeled.

Fortnight ago their vigilance was rewarded. Stoky rented Ravello's Villa Cimbrone for a month, and less than a week later he was joined by stately, bobbed-haired Greta Louvisa Gustafsson (Greta Garbo's real name). Soon romantic villagers were clacking of arm-in-arm walks in twilight, unabashed embraces.

As soon as they could get to Ravello from Naples, 23 miles away, correspondents cornered Stokowski in the Hotel Caruso, where he had gone to telephone. Was his companion Greta Garbo? Were they married? Would they be? To all such impertinences, Stokowski firmly refused an answer. "I never talk about personal things," he said. Swedish Author Dr. Axel Munthe was more informative. Greta had called at his Capri home for tea that very afternoon. Accompanying her, he said, had been "a gentleman named Stokowski, whom I do not know, but who looked like a Pole."

Next day the beleaguered Villa Cimbrone was guarded by four carabineers, three police dogs. On the locked gate hung a "keep out" sign. But from talkative servants at the villa, reporters were able to piece together the kind of idyl their editors were gasping for: Greta milking a cow named Emma* while Stoky held Emma's head; Greta contentedly stroking the white nose of a llama while Stoky picked fresh white camellias, presented them with conductorial bows to "my lady of the camellias." At the Hotel Caruso, where, until they were discovered, the couple had gone regularly to eat their vegetarian lunch, their waiter said: "He certainly must love her to eat that stuff [carrots, beets, lettuce]. Before she came he used to eat plenty of meat and spaghetti."

With the identity of Ravello's Donna Misteriosa (Mysterious Lady) established, the curious throngs around the villa grew larger. When they stopped a village cobbler to get a good look at a size 7½ Garbo shoe, Garbo was angered. That evening, in a voice loud enough to be heard well beyond the villa walls, she ordered the servants to have a doctor handy—"in case anyone is hurt."

Next day Conductor Stokowski received two U. S. newspaper correspondents, but again refused to answer questions about Actress Garbo. "I have a right to my private life when I want it," said he. "One must think in solitude to create. That is what I am doing now." The reporters tried another tack, asked him his favorite cinema stars. Stoky chose Charles Boyer and John Barrymore. Asked for his choice in actresses, he shook his head, "Let's go to another subject."

But in Philadelphia, where Stokowski has his orchestra, friends confidently stated that the marriage would take place in Turin between March 15 and 17. Stoky, they said, had made his plans known in a week's end telephone call to his agent.

In New York, the State Board of Regents last week appreciated the opinion of censors that it would be unfair to Actress Garbo to permit a caricatured re-issue of her 1927 silent film, Street of Sorrow, with score, dialogue and a substitute title. The objectionable title: I Vant To Be Alone.

* When early this week Emma gave birth to a brown & white calf, experts said that while Garbo might have milked Emma, it was more likely that the newshawks had watered the story.
"Villa Cimbrone" now is an Hotel
The "Garbo suite" costs 900 € and they made a sign to remember Garbo.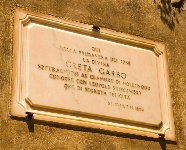 You find more Info HERE!

Thanks to RubyRed