Garbo's Last Pictures
New York / USA, Jan- April 1990
Garbo's last pic
It is said that this is Garbo's last picture. It was shot by American Paparazzo Ted Leyson haunted and stalked Garbo for nearly 10 years. He made many candid pictures of Garbo. He was kind of obsessive and almost stalked her every day.

Ted Leyson once said that Greta meant a lot to him as a photographer and that it was his way (a strange way!) to express his admiration and regard for her. Greta always tried to get rid of him, it was like a battle. She called him "that poor little man who's always lurking".

April 9th, 1990
As late as two weeks before her death, she was seen outdoors, using a cane but mobile. In December, Leyson caught her on the way to the Rogosin Institute – a windblown mane of gray hair giving her a haunting appearance. She told her firend Sam Green, "I haven't been out for three weeks but he'll be there when I come out. I wonder what he does when I'm not around."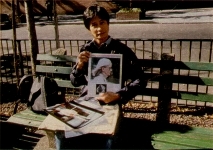 The Man who stalks Garbo!
To spoil his photographs, she always kept a crumpled tissue in her hand and quickly raised it. "She meant a lot to me as a photographer," says Leyson.

"That's how I express myself – in a strange way – express my regard and admiration for Miss Garbo. It's an overwhelming desire on my part, something I cannot control. It became obsessive.... I admire and love her very much. If I caused her any pain, I'm sorry, but I think I did something for her or for posterity. I spent ten years of my life with her – I'm the other 'man who shot Garbo', after Clarence Bull."

On April 11, 1990, she left her apartment for the last time to be admitted to New York Hospital and lost the final battle of her 11 year war with Leyson. Garbo's strength was ebbing but her dignity was not. She was to weak to resist - except with her eyes: In those last pictures, she stares at him down with contempt.
Sources
Barry Paris GARBO

© Copyright 2005 – www.GarboForever.com – Germany – TJ & John – The Webmasters