More Garbo Friend's
Content
Much has been discussed of Viertel's relationships and friendships with actresses Greta Garbo and Marlene Dietrich, as well as writer Mercedes de Acosta.

Although many rumours have suggested these relationships as lesbian, the nature of her close ties with both Garbo and Dietrich have never fully been disclosed.
Son of Salka Viertel, Greta was one of his mothers closest friends.
Deborah Kerr (1921 –2007) was a Golden Globe award winning and six-time Academy Award nominated Scottish actress.
She was married to Peter Viertel, the son of Garbo's best friend Salka Viertel. Kerr and Viertel even contributed to the Barry Paris book.

Garbo was very fond of Peter and Kerr. They married in Klosters (1960) and lived in a big hillside house, surrounded by fir trees, south of town.

Kerr, was a friend, Garbo never lost. Kerr's quiet, thoughtful ways always charmed her.

"She could be so funny and had such a wonderful way of knocking herself," remembered Kerr, whose lilting soprano voice downshifts at will into a perfect imitation of Garbo's baritone.

"Once in the late afternoon, we were about to have a glass of wine and I asked, 'Miss G, would you like red or white?' She gave me the most tragic look and said, 'Ooooh, De-bo-rah – that is a terrrrible decision!'"

"You never knew with her, whether she was sending you up or not. Peter, on the other hand, was never deferential. He would say, 'C'mon, Greta – just make up your mind!'"

In 1975, Garbo went to see Kerr in Edward Albee's Seascape and walked backstage afterward to say she admired her performance. "I was so nervous," said Deborah Kerr. "It was among the great thrills in my life that she came to see me. But she wouldn't say anything about the play."

Kerr suffered from Parkinson 's disease and died in November 2007.
Schlee was Greta's companion and some kind of a manager. He was by her site from the 1940s to 1960s. It seems he wanted to marry Garbo. But he was married to Valentina Schlee. He couldn't get divorce. Again we are not sure that there was love between them.

When Schlee died in 1964 Garbo was deeply shocked. She really cared for him and missed him until her final years. They met through Valentina, Garbo's dress designer in New York in 1941. On the Riviera, in Cap d'Ail, George Schlee bought "Le Roc", a spacious and well protected house, which, naturally, has never been called anything besides "Garbo's house".

In 1964 George Schlee died.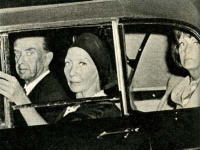 Valentina Schlee was an American fashion designer. She was born as Valentina Sanina in Russia on 1 May 1904. She was married to George Schlee, most famous for having an affair with screen siren Greta Garbo. She was a dancer as a young woman at the Chauve Souris Theatre in Paris before she moved to New York and opened a small couture house, Valentina's Gowns.

In 1950 Valentina also introduced a perfume, "My Own". She was always impeccably turned out, earning her a mention on the International Best Dressed List. She died in 1989.
Max was a personal friend of Greta's, on visits to Sweden she would stay with Mr Gumpel.They met during the filming of the advertising film How Not to Dress. Max Gumpel, a bachelor in his early thirties and the owner and manager of one of Sweden's most successful construction firms. He often visited the set to watch his 7 old nephew Erick, who was also in the film, perform.

Years later Max said that he was very taken with the actress and Greta was very taken with his affable style and manner. One day he asked the 15 year old Greta to dine with him in his glamorous apartment. She accepted.

One day Max made her the present of a tiny gold ring with a small diamond in it. The dated for a while but one day in 1921 they separated like the good friends they had always been.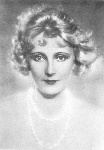 Vera like Greta was born in Stockholm in Sweden, she attended the Royal Dramatic Theatre's acting school in Stockholm with Greta and they were close friends.
Was a friend of Greta's, she and George Schlee would borrow Onassis yacht.
Count & Countess Neils and Ingrid (Hörke) Wachtmeister
During her three months' stay in Sweden, Garbo and Wilhelm Sorensen were invited by his aunt Countess Hoerke Wachtmeister to stay a ther castle south of Stockholm. At first Greta was reluctant to go, fearing a crowd of fasionable and curious guests.

On being told that she and Sorensen would be the only guests she accepted the invitation, exclaiming, "Oh, how exciting. It will be the first time I stay in a real castle!". Soon after arriving however she was called back to Hollywood to film The Single Standard.
Count & Countess Carl & Kerstin Bernadotte
(in Treatment)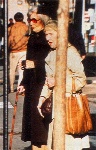 Born 11 July 1906, in Basel, Claire Koger was raised in Switzerland and moved to Germany when she was in her twenties . Before the outbreak of World War II, she made her way to England where, for a while, she cared for the children of actor John Mills.

After the war, she returned to Switzerland and, in the early 1950s, left for better-paying domestic work in the United States, first in Washington and then in New York It was there that Valentina Schlee discovered her through an agency and recommended her to Garbo. Her average salary over the years was about $150 per week.
Lilli was a German actress who was married to Rex Harrison. She met Greta several times and she said that they were close friends.

Read the "Garbo Story" by Palmer HERE!