Introduction
Noël Coward (1899 –1973) was an English playwright, composer, director, actor and singer, known for his wit, flamboyance, and what Time magazine called "a sense of personal style, a combination of cheek and chic, pose and poise".

Garbo and Coward met during the years on several occasions. He was also a friend of George Schlee ( Garbo's friend/partner) and often visited his parties. He attended Schlee's funeral in 1964.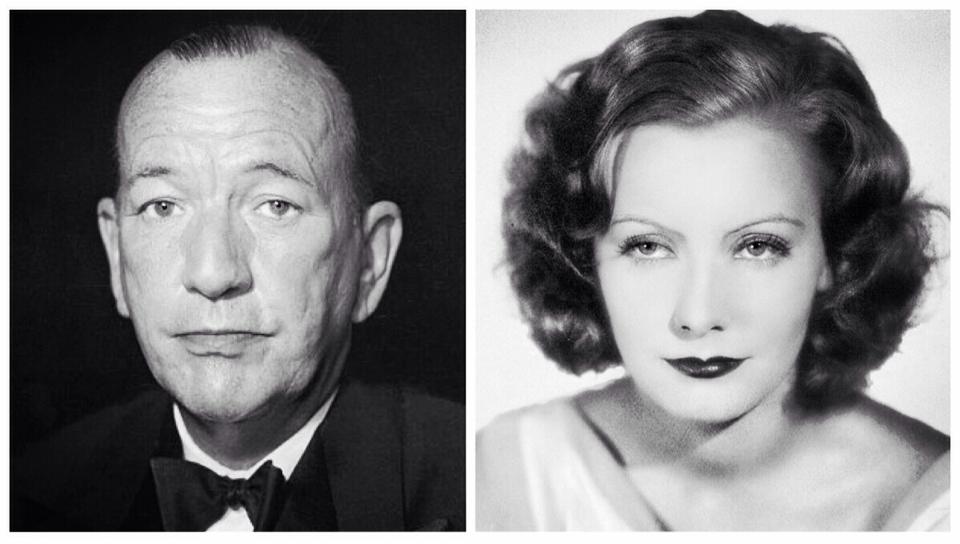 A meeting in Stockholm, 1935
Garbo was introduced to the multihyphenate entertainer at a party hosted by the Wachtmeisters in summer 1935. Later, the pair were seen walking around Djurgården. Although rumors of a "blossoming romance" between England 's gay blade and the solitary diva from Sweden quickly circulated in the international press, a source close to the actress labeled them "pure fabrication."

Swedish newspapers, also gave coverage to the fact that Noel dancing the rhumba with Garbo. Coward shared neither her discretion nor her aversion to the press. He later quoted a talk they had about her refusal to let people watch her act on the set.

"It's a public profession we're in, after all," Coward told her, to which she replied, "If I am by myself, my face will do things I cannot do with it otherwise."

What was really happening, Coward's friend and biographer Cole Lesley agreed, was that Noël Coward could not be coerced into meeting a friend at an obscure location wearing dark glasses and a turned-up collar. He wanted to see and be seen.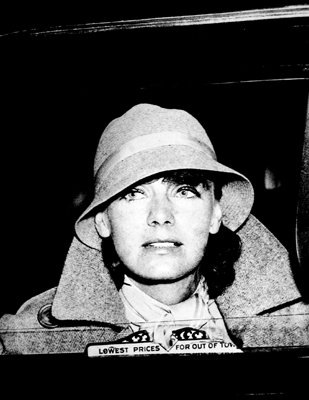 GG in Sweden, 1935
So he wheedled and coaxed and bullied Garbo until she agreed to more public meetings, including a party given by Gösta Ekman attended by Stockholm 's fashionable elite, and a private New Year's Eve party thrown by Prince Wilhelm. On that occasion, he got her as far as Ekman's door, at which point she panicked and tried to bail out.

"Believe me, Noel, I really and truly cannot go in," she said. "I cannot face it." According to Coward, he shook her and said, "You bloody well are going in," and pushed her inside. Once there, she enjoyed herself and stayed until 3 a.m..
As for the inevitable rumors of romance, an aide responded archly with: "Mr Coward is only interested in his art," Garbo later said.

Regarding the possibility of a romance tryst, however, Lesley was never completely sure whether the rumors were true or whether Greta and Noël simply found it more interesting to continue the charade.

"I do know that they exchanged affectionate telegrams and telephone calls for some time after, calling each other 'My little bridegroom' and 'My little bride,' and that she had said she 'wished the newspapers was right.'"

Still, the papers insisted they would announce their engagement at any moment, while Coward refused to accommodate her penchant for secret meetings in dark glasses.

Afterward, they exchanged fond telegrams and phone calls, referring to each other – in the spirit of the wedding stories – as 'my little bridegroom' and 'my little bride'. "Noel Coward was very charming to me," she wrote Salka.

Source: Garbo by Barry Paris (1995) and Karen Swenson – A Life Apart (1997)



A meeting in New York, 1948
A second meeting happened in New York, 1948. Noël, when in New York, rarely missed a George Schlee party, as his numerous diary entries of this period indicate: "Drinks with Valentina, who bared her soul a little over George and Garbo. Poor dear, I am afraid she is having a dreary time."

On another occasion, he noted in his journal: "Russian Easter party at Valentina's, fairly dull but enlivened by Garbo who was in an unusually merry mood."

Source: Garbo by Barry Paris (1995)



A meeting in Bew York, 1951
Another meeting in 1951. Garbo with Cecil Beaton, Noël Coward, and Lord David Cecil.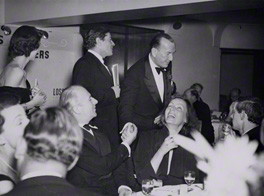 © Getty Images, Fox Photos Ltd.


A meeting in Switzerland, 1964
Garbo spend the summer of 1964 again in Europe. She met actor Brian Aherne and they became friends. Aherme was married to Eleonore de Liagre and lived in Vevey, Switzerland. They visited Garbo from time to time.

In July 1964, they took her to supper with Noël, who saw them again a few days later at the Geneva airport. Geoffrey Johnson, a friend of Noël, reflected on his friendship with him in an address to the NCS Oxford Conference in September 2006. He was Noël's American Representative for many years and recounts their first meeting by way of introduction. He also Johnson, also told the story how he arrives in Geneva (Switzerland) Airport. Noel picks him up and he says to him: "You travelled in very good company: Garbo is on the plane, with you." "I said, oh really?" And he said: "don't worry, I invited her for a drink."

Johnson has a very witty way to tell the story, which has some interesting insights into Garbo's social life. Garbo stays with Brian Ahernes (& wife) and they all are invited to go to a dinner. Noel drives and next to him sits Garbo (no make-up but very red painted lips), in the Mercedes convertible and Geoffrey at the back.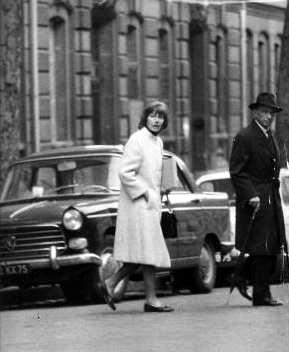 GG in Paris, 1964
Noel seem to be a very bad driver and Geoffrey speculated of the head line: Noel Coward and Greta killed tragically in Switzerland, together with an unidentified American. They arrived at the dinner and he tells the story who was there and how frightened everybody was of her.

Adrienne the hostess comes forward and calls her Miss Brown, guests like Bobbie Andrews were there. Revue Star Phyllis Monkman called her miss G., and talks about having seen Camille in London recently and how fantastic the film is, still, as it always was…and Garbo went into "NO NO I don't want to hear about that…"

Noel got furious with Garbo: "You were a great star, and don't you do that ever again to anybody":

Then he got up and left. Later had a chat with her, about him going on a trip to France and how much she would love to do that, just stop at the road side, having cheese and bread. He also talks about a party game, where Garbo was Joan Fontaine.
Just listen to the recording, a very eccentric but interesting story.
Go HERE!
Source: Garbo by Barry Paris (1995) and noelcoward.net



Expert taken from a Noël Coward's biography:
By the time he got to Stockholm, where he went to alot of Christmas parties. Greta Garbo was there yoo, not always escaping being mobbed by the press and public, and when Garbo and Noel were seen together the international press understandably went mad with excitement. According to many papers there was certainly a romance between the two, and the world-shaking announcement of their engagement might be expected daily.

The Book
They enjoyed one another's company enormously, but what was really happening was Noel's adamant refusal to meet her at some obscure address wearing dark sunglasses and with their faces hidden by turned-up coat collars.

Instead, he was wheedling and coaxing her, then, when that failed, bullying her steadily and relentlessly until she would in the end consent to go to a theatre or a restaurant with him - or even go to the party given by the great actor Gösta Eckman when, as they were going up in the lift, Garbo refused to go in the door, saying "Believe me Noel, I really and truly cannot go in, I can not face it."

Noel said he shook her, rang the bell and said "Yes you bloody well are going in" and when the door opened he pushed her in. Coward said "Once inside she soon became charming, easy, gay person she really is and refused to leave until three in the morning. She can often be funny, loving to laugh at other people's jokes."

Source: Noël Coward - The Letters of Noel Coward (Diaries, Letters and Essays) (2008)