Garbo's relative
Anna Sundstrand
Model and singer Anna Sundstrand, born February 22, 1989, is said to be a relative of Garbo. Apart from this, nothing else is known. More infos are hard to find.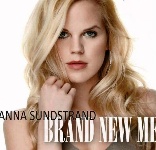 Copyirght by youtube
She was the original member of the Swedish pop group PLAY, formed in 2001, by Laila Bagge and Anders Bagge; co-managed by Mathew Knowles and signed to SONY Columbia Music in United States.

Play with Anna being only 13 years old, received an RIAA gold certification for the group's self-titled mini-album in June 2002. Between 2001 and 2004 Play releases 4 albums, 10 music video, appears on 20 major TV shows like: Good Morning America, Regis and Kelly Live, TRL and Miss Teen America.

In 2006 she released her solo album.
Joyce Guerovich
Joyce is a Peruvian model and TV-host. She claims to be a great granddaughter of Garbo's niece. Her great-grandfather was GG´s first cousin, Fray Juan Blas Gustaffson.


Copyirght by www.Soho.com.pe

More info HERE!
| | | |
| --- | --- | --- |
| | Garbo Rumors - Introduction | |

© Copyright 2005 – www.GarboForever.com – Germany – TJ & John – The Webmasters