Joan and Garbo Trivia
Did you know...?
Here is more Garbo/Crawford related info. You know more? Please mail us.
Crawford about Garbo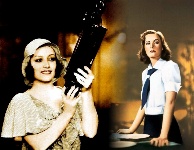 "One almost feel grateful to Garbo for keeping herself so resolutely to herself, for leaving us a little mystery".

"She was the only one who has ever been really mysterious."

"My knees went weak. She was breathtaking. If ever I thought of becoming a lesbian, that was it".

From a longer interview:
"Greta Garbo was my favourite actress in the world. For three years I'd come out of my dressing room every day, run past hers, and call 'Good morning!' I could hear her deep voice talking to her maid but she never did speak to me. I'd see her occasionally on the lot. Never a word! Then one morning there was a rush call.

Someone was ill and couldn't show up for still art in the gallery. Wouldn't I come and pose in their place? I went sprinting past Garbo's dressing room in such a hurry I forgot to yell 'Good morning.'

An instant later I heard her door open, then a resonant 'Allooooo!'"
American Film The Single Standard
MGM had bought St. John's novel The Single Standard originally in 1927 for Joan Crawford.
MGM Dressing Rooms
Crawford and Garbo had dressing rooms next to each other for 17 years at MGM.
Then Came Garbo
A wonderful illustration of her impact appeared in the November 1932 Vanity Fair photo feature, 'Then Came Garbo', depicting Crawford, Bankhead, Dietrich and other actresses in early and recent photos. In the pre-Garbo shots, they all look coquettish and much 'done up'. Post-Garbo, they wear minimal make-up, their hair is straight, their eyebrows thin, their cheeks sucked in, and their expressions uniformly languorous and inscrutable, as if they were brooding over some abiding sorrow. Perhaps they are only brooding over their inability to look even more like Garbo.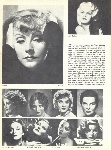 Translation
When anthropologists of the future will enjoy archives of cinema, they will discover a surprising phenomenon. They will see that Hollywood women in the beginning of XX century had different types, since 1931-32 they began again to look similar. Main airs of this similarity are lightened hair, more or less discoloured, medium length brushed inside, thin eyebrows straight to the sky and long lashes.

They add to this lipstick, which gave them a sulky look and a gauntness, which let think in this period they suffered digestives problems. Of course this analysis is wrong. All this is showed on pictures in the bottom. In the top these pictures represent us golden age of pre-Nordic innocence. Before Garbo and they can see in the bottom metamorphosis they did consequently ....
Garbo and Crawford photographed by E. Steichen
Both stars were photographed in similar style by photographer Edward Steichen.
American Film The Painted Veil
W. Somerset Maugham's The Painted Veil had been purchased in 1932 as a possible Crawford picture.
American Film A Woman's Face
Garbo was originally offered the film A Woman's Face. Garbo declined and Crawford got the role in 1942.
American Film Anna Karenina
MGM suggested a number of actresses for the silent version of Anna Karenina in 1927 one of them was Joan Crawford.
Tennessee Williams Idea for Garbo's Comeback
One night in 1947, Tennessee Williams told Garbo his idea for a film or stage project (The Pink Bedroom) Garbo.

An hour later, when he had finished she sighed and leaned back on her sofa. "Yes, it's wonderful, but not for me. Give it to Joan Crawford."

Garbo, Shearer and Crawford too Expensive?
In 1938, there were reports that Metro is dropping Greta Garbo, Joan Crawford and Norma Shearer as being too expensive.
Joan's rival Bette Davis was also a GG fan
Joan's rival Bette Davis was also a fan of Greta's but unlike Joan never had the pleasure of meeting her.
Marlene hated Joan and Greta?
It is rumored that Marlene Dietrich hated both Joan and Greta.
Greta and Joan had freckles
It is said that Greta and Joan had freckles.
Greta didn't like Joan
A rumor is that Garbo did not like Joan.
Garbo and Crawford had a love affair?
This is another rumor, we think it started in the internet.
Crawford provakted Garbo?
There is this rumor that Crawford used to listen to Marlene Dietrich records while working on Grand Hotel, just in order to provoke Garbo because Garbo got top billing in the film.
William Daniels
Joan and Greta both valued William Daniels as a superb photographer of women.
Mary Pickford
When they were young both Greta and Joan were fans of Mary Pickford.
Box Office Poison
Greta and Joan were included in the 1938 list of Box Office Poison.
Letters by J.Crawford (Garbo related)
Greta never answered fan mail but Joan wrote back and sent pictures to all her fans who had the taken the time to write to her. Joan also did a lot to help he fans personally she did not mind when a fan phoned a 4.30 am. Here's the letter Joan wrote to this lady, after she had written to Joan to apologise for disturbing her …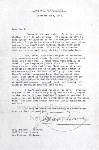 The Hollywood rumour mill
By the end of shooting Grand Hotel, the Hollywood rumour mill suggested that the balance of Greta Garbo's screen time to Joan Crawford's might be readjusted, depending upon the outcome of Garbo's contract negotiations. Once again, the studio resorted to a traditional ploy, using Crawford's enormous popularity (coming off her best year to date) as a way of pressuring Greta to stay. It didn't work.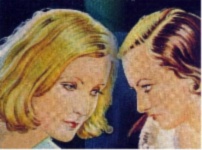 Crawford, while ambitiously poised to take Garbo's place if she ever made good on her threat to leave, knew she could never replace the Swedish star in people's minds. In fact, Garbo was her own role model as an actress, personality, and star.
Letters by J.Crawford (Garbo related)
Here is another letter that Joan wrote to a fan about appearing in Grand Hotel with Greta.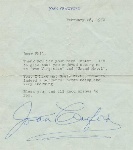 Queen of the Movies
In 1930, Garbo was the biggest Hollywood star. One day in 1930, Garbo was riding by in Sörenson's second hand Buick convertible on the MGM lot and saw Joan Crawford drive by in her chauffeur-driven limousine.

Garbo turned to her friend Wilhelm Sörenson and laughed: "I read last night that I was queen of the movies, and look at me now, riding around in this old car. Gott! What a funny joke!"
John Gilbert
In 1928, before her breakthrough, Crawford starred next to John Gilbert in the film drama Four Walls. Crawford was excited about being cast opposite MGM's top star but this turned out to be disappointment on the set. Gilbert wasn't interested in making the film, she discovered.

"He was madly in love with Garbo, the love affair wasn't going well, and he was obsessed – a caged lion. After an evening with this exquisite woman, he'd stride onto the set in his stomping, military manner, rush to the phone to call her, only to find that her phone had been yanked out of the wall or her phone number changed – since last night! He fretted like thunder. He was impatient with the picture, the director ... The moment he finished a scene, he'd rush to her set, to her dressing room, or he'd attempt again to call her. Thwarted, he was fury incarnate. He resented every minute on the set away from her."
The Fictitiously Story

Crawford on Garbo

Joan Crawford - Introduction

© Copyright 2005 – www.GarboForever.com – Germany – TJ & John – The Webmasters