Katharine Hepburn - Kate about Garbo
Introduction
Garbo was Kate's favourite movie star. Biographer Scott Berg wrote Garbo forever remained Hepburn's favourite movie star. kate often talked about her or mentioned her in books or interviews. Always in a respectful way.
Kate on Garbo: "That's a movie star!"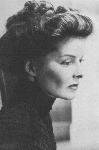 Kate, late 1940s
"I think she was a great actress. But even more than that, she carried so much mystery with her. From the moment she walked on the screen, you simply couldn't take your eyes off her, you wanted to know everything about her, and you knew she wasn't going to give it to you. That's a movie star. And that's what we all wanted to be."
(Kate talked here about the thousands of girls who took trains und buses to Hollywood to be discovered.)
Kate talked about Garbo at a TV Show
Kate was very much like Garbo seems. She did not give interviews as a rule; she wore light make-up and wore pants. Cavett asked her about "Garbo" (last name only). He asked her if she'd ever encountered Garbo. The talk previous had been about how Kate "didn't go out much" and wasn't into the " Hollywood scene."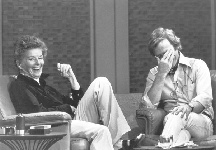 Kate and Dick Cavett
The Dick Cavett Show – October 2 nd, 1973
Cavett: I feel I have to ask you this. Everybody says that Garbo had something that no one had before or since. I'm willing to believe that this is not true.

Kate: No, this is true.

Cavett: It is?

Kate: Yes I think so. She had a real mystique, and a real , real gift for movie acting.

Cavett: And what is it – if I were in a room with her and the cameras were there and she were here, and I could see her on the set of Camille, would I see that in that room?

Kate: Yes, I think you would – I think she was mysterious – is mysterious.

Cavett: Have you meet her?

Kate: Yes, yes – many times. She is charming and sweet and nice and funny. But she's – she certainly photographically had something that nobody else had. I think that's what made her, you don't become that famous for no reason.

Cavett: Do you get the feeling that she got pleasure from her career, though, she seems not to…

Kate: Yes, I think she did, I think people – everybody has a different way of living, you know, they have to… some people have happy natures, some people have – I have a happy nature, so I have a good time, you know.
(Some minutes later…..)
Cavett: They say, someone said once that we have no way of knowing if Garbo ever read a book – do you read a book?

Kate: Yes, I've read a few. I can read.
Funny story from Katharine's maid/cook/companion
One day, Katharine's maid/cook/companion, Phyllis told this story: "Miss Garbo wanted me to look after her but then Miss Hepburn stepped in and swept me away, thank goodness."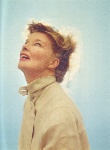 Kate, late 1950s
Then Kate interrupted and said "Oh Christ, I'm much more fun than Garbo." Then Phyllis said "I hear Miss Garbo just sits in that gloomy apartment and stares at the East River all day."
Funny story from Katharine's co-star
Dabney Coleman, Kate's costar in, On Golden Pond (1981) said, that at the first reading, everyone was calling her Kate, and I was calling her Katharine or nothing. After it was over I said, "What would you like me to call you?" and she said, "I'd prefer Miss Garbo."
Garbo said to Hepburn
They met for the first time in 1936 at a party in director George Cuhor's house in Californina. Both ladies have been invited to spend a night or two at his wonderful new house.
Kate wrote about this first meeting in her autobiography. She took Greta upstairs to show her the bedrooms. Greta walked over to Kate's bed and saw that there was a lump on the bed (a hot-water bottle). She looked at Kate, patted it, and sighed:

"Yes, I have one too. Vat is wrong vid us?"
Garbo wanted to be Hepburn
Greta once said that if she had not been Garbo she would have liked to be Katharine Hepburn.
Kate meeting Garbo

Kate and Garbo Trivia

Garbo's Lovers & Friends - Introduction

© Copyright 2005 – www.GarboForever.com – Germany – TJ & John – The Webmasters