Similar films ?
They had a similar look but also often similar films.
The sexy spy
Garbo played a sexy spy in Mata Hari (1931) and Dietrich played a similar role in Dishonored (1931).
Shortly after completing work on Morocco following article appeared in the New York Times: "Marlene Dietrich, German star who is now in Hollywood, will be given an early opportunity to show whether she is the long sought rival for Greta Garbo. According to present plans, Miss Dietrich is to be starred in a film based on the life of Mata Hari, which is also the subject of Garbo's next."
Queen and Empress
Garbo played a Queen Christina of Sweden in Queen Christina (1933) and one year later Dietrich played Empress Catherine the Great of Russia in The Scarlet Empress (1934).
Napoléon Bonaparte's lover
It is written that after MGM announced that Garbo will star in a film (Conquest, MGM 1937) about the life of Marie Walewska (a lover from Napoleon I of France), Paramount announced that Dietrich will play Josephine, Queen of France in a similar film. But sadly this film was never made.
Same lovers and friends
It is said that Garbo and Dietrich not only had the same friends, they also had the same lovers...
Mercedes de Acosta
It is written that after Garbo left Mercedes MD found Mercedes sobbing in the kitchen during a party at the Thalberg's house. This kitchen meeting had many versions but always ended with the 'cruet Swede' being replaced by the 'luminous German aristocrat,' Dietrich's daughter Maria Riva said. It was the beginning of a new romantic adventure.

The next day, Dietrich brought Mercedes an armful of tuberoses and, with her soon-to-be legendary hausfrau intensity, determined to nurse her "White Prince" back to health. Marlene fussed over her in a way that Greta never did and commiserated in her despair; it didn't take Mercedes long to become smitten, overwhelming the object of her adoration with reciprocal flowers and gifts.
A month later, when Dietrich was seen parading around town in men's suits, much to the dismay of conservative opinion-makers, the focus of their concern was obvious. Although Dietrich had built her Hollywood reputation on such controversial attire on screen, flaunting her sensational private life in public arenas – despite the comfortable cover of a husband and child – would be discouraged (but never controlled).

According to her daughter, it did not take long for Marlene to become bored with playing the role of the "Golden One." However, correspondence from Dietrich dated throughout 1932 and 1933 indicates the flame died out much more slowly – the shimmering façade was in place until it became inconvenient for Dietrich to maintain it. Mercedes continued to live in a fantasy world of drama and romance…
John Gilbert
In 1935 Gilbert met the woman whom Hollywood had always set up as a rival to Garbo: Marlene Dietrich. Cedric Gibbons had invited Marlene because he knew John Gilbert would find her attractive and anything that kept him away from the bottle was a commendable course of action.

His wife had a shrewd idea that Marlene, in her role as a German hausfrau, just might find Jack to be a project that was worth pursuing. Dietrich managed to get Gilbert a role in her upcoming picture Desire in 1936. He had to do a screen-test, and Marlene decided to appear in it too, in order to help him. She wore a doted lady's suit and a hat, both to distract the viewer from Jack's face.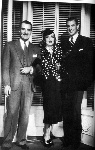 Dietrich and Gilbert
In a biography of her father, Dark Star, John Gilbert's daughter, Leatrice related a story about a visit Garbo made to Tower Road – with a jealous Marlene Dietrich steaming at the front door while Jack and Greta talked in her car. This encounter, Fountain admits, was unconfirmed and had been erroneously added to the manuscript by a collaborator. Gilbert's daughter now believes it to be nothing more than "a romantic fabrication."

It was January, 9th 1936 when John Gilbert got a heart-attack. Dietrich, who was with him called one of the doctors she knew – a discreet one, one of those kind who wouldn't ask very much. While Gilbert's condition was getting weaker and weaker, Marlene Dietrich, who was afraid of being involved in a scandal, started to pack all of her stuff (containing clothes, cigarettes and a picture of her daughter) into a pillow case.

Finished with collecting her belongings together, she ran out of the room, downstairs to the car of her housemaid Nellie, and drove back to Beverly Hills. The doctor finally arrived, but wasn't skilled nor equipped for such an emergency. In the end Gilbert died alone.
Erich Maria Remarque
It is said that Remarque had an affair with Dietrich from 1937 to November/ December 1940. Remarque met Garbo in September 1940. It is rumoured that they had an affair from April to late may 1941. He met Greta in New York at the home of theatrical producer Gilbert Miller.

Garbo first caught his attention with her "beautiful dark voice," he recorded in his diary. Dietrich, interestingly enough, had been so focused on her pursuit of Jean Gabin that she had not paid much attention to the blossoming relationship between Remarque and Garbo. Once enlightened, she called her former lover – whom she refused to let go – and was pleased to have interrupted a romantic rendezvous.

But Remarque did not come to her and Dietrich "began to black mad Garbo," he recorded in his journal. "Says she has syphilis and breast cancer, can be arrogant and ugly, etc. A bombardment of jealousy, and then, confirms her love for me. Finally, I go to her."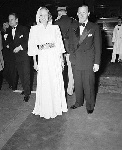 Marlene and Erich
"Puma" was Remarque's nickname for Marlene Dietrich. Inevitably, there were to be no commitments – either from Dietrich or Garbo. There was a minor confrontation at the Café Gala, a hip gay and lesbian "couples" club on the Sunset Strip. Dietrich took over the stage and, according to Hedda Hopper, "sang her entire repertoire of songs" while Garbo watched with her companion, Gayelord Hauser.

This strange dynamic remained a constant throughout much of 1941 and early 1942. Though Remarque expressed an interest in developing his relationship with Greta further, he admitted being impatient with her. "I tell her that to Puma, men are like hotels; some are better, some are worse, but it makes no difference in which one she lives."

Ultimately, indecision would overrule emotion and the relationship quietly faded. "Garbo, all the nights with her, sitting in the dark. Never liked to switch on the lights. A strong solitude," he wrote. "Take her as an example, soldier!"