The one time I Saw Garbo
by Jack Oakie
Most publicity stunts use to run off the suntanned, oiled backs of West Coast actors like water off a duck's back. But not Greta Garbo's "I vant to be alone."
One day a group of us "movie actors" gathered for a drink in Adolphe Menjou's dressing room at Metro-Goldwyn-Mayer studios in Hollywood. Someone noticed Greta Garbo crossing the lot to her car.
"There goes Garbo!" an excited voice called out. "Hurry, hurry!"
We all leaped to the window to get a glimpse of her. I was leaning over Menjou's shoulder peering out the little window, when the veteran of sophistication said, "What the devil are we doing? We've worked with the best of them – Gloria Swanson, Norma Shearer, Vilma Banky and Clara Bow. Come on boys, back to our drinks!"
He drew himself up and led us back to our glasses and chairs. We all followed suit and tried to assume an air of distinterest. But, because Garbo did keep to herself and was never a part of the camaraderie of our little community, it was a much desired coup to see her in person.
One time when I was visiting Claude Binyon at his Toluca Lake home, I looked through the tall hedges that separated his property from George Brent's. I found myself face to face with that beautiful face as she stared right back at me. I did what any intelligent motion picture "star" would do: I stood still, opened my mouth and remained silent. It was Garbo who put some action into the scene – she pulled down her large hat, turned quickly and left.
When I could, I ran to tell Claude: "I just saw Garbo! She's right on the other side of the hedge. Come on!" I urged.
But Claude played the sophisticate that time. "She's there all the time," he informed me.
"Wow!" I said. (An emotional vocabulary is limited.) But I promised myself that the next time I saw her I would talk to her. Well, the very next time is the one Mary Brian likes to tell about. Mary and I were rowing across the lake in the "Mary B," a rowboat I had given her for her birthday. We were on our way to a party at Binyon's house and had to pass close to Brent's property in order to moor at Claude's dock. As we came up, there they were, George and Garbo – sitting at the water's edge. Even though Mary and I were still in the boat, we seemed to make an intimate foursome. In the excitement of that unexpected close proximity to Garbo, I forgot that I had meant to talk to her. I missed my chance when George and Greta left as quickly and quietly as they could.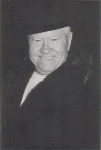 But my promise to talk to Garbo was finally fulfilled when I stopped my car at a traffic light in Beverly Hills. I looked over at the car that had pulled up parallel to mine. It was Adrian, the dress designer, driving Garbo. She was sitting on the passenger side just a few feet from me; we looked at each other and I smiled and nodded. In that fraction of a second as we waited for the light to turn, we had a long conversation. She said, "Hello."
Later I was in New York City preparing to shoot a picture at Para­mount Studios when the news broke that Garbo was in from Hollywood. The knowledge that Garbo was in the city had New Yorkers looking under the brims of ladies' hats hoping to be able to say that they had seen her in person.
One evening I was crossing the street in front of the Savoy Plaza, a New York hotel, when I recognized a press agent from Hollywood. He was at a telescope and barking, "See the moon, just 25 cents, only a quarter of a dollar to see the moon!"
He was surrounded by quite a crowd waiting to look into his telescope. He saw me and knew me, but gave me the old dead-fish eye. So I decided to find out why he had such a crowd of impatient customers waiting their turns at the telescope.
Knowing his type of work, I couldn't believe it was the moon he was selling. Besides, I noticed that his telescopic sights were leveled pretty low - and the full moon was directly overhead.
After waiting around, he finally acknowledged me and said, "Hi, Oakie. See the moon for just 25 cents." Then in a confidential whisper he asked, "Want to see Garbo? For a buck, I'll tell you where to look."
Without hesitation he moved the telescope so it pointed to a window in the Savoy Plaza.
"What, no moon?" I asked as I started to hand him the dollar.
"Not for you, Oakie. Please, be my guest." When he refused my payment, I knew he expected something for that dollar. However, I closed one eye and looked. What I saw was the spitting image of Garbo walking past the open window of the hotel. She was clothed in a slip. She stopped to light a cigarette, then walked to a chest of drawers that had been placed well in sight of the window. Then she put down the cigarette, picked up a comb and started fixing her hair. Then she picked up the still-burning cigarette and came back to the window for a breath of New York air.
I felt as if I were watching the stilted action of a grade-B movie. The image had just so many moves to make; if the press agent hadn't moved his ogling clients fast enough, they would have watched the same show over and over again.
The image was an actress I had known in Hollywood. And, she did look almost exactly like Garbo.
"What are you paying her?" I asked sotto voce.
"Fifty bucks a day," he whispered. "And it's just like a vacation for her." The press agent found out Garbo's traveling schedule from the studio and timed his act to coincide with her stay in New York. He paid the actress' expenses to New York, rented the telescope and received a good return for his investment.
The dollar he invested in me paid for my silence and he shook my hand and pulled me out of the way of the next paying customer. He spoke loud enough for all to hear. "Thank you, Mr. Oakie."
Then he passed the word along, "Jack Oakie, folks. He's her number-one fan!" That's a press agent for you - always letting the public in on your innermost secrets!
This article first appeared in "Modern Maturity"
and was sent in to HSM by permission
of Mrs. Jack Oakie.