Life, someone once said, is a riddle wrapped in an enigma. I paraphrase. Greta Garbo–one of the most famous and publicized women whoever lived–remains in death, as in life, a "mystery." She, undoubtedly, wanted this to be so. Causes of death were not announced by personnel a the NYC hospital where she died during Easter weekend, 1990; and funeral services were to be private, according to "family request."
Several television networks, as well as glossy, popular-media journals, had their last previous go-round at Greta Garbo during the fall of 1985–when she turned eighty–and, as always, failed to capture her.
The facts of her early life have been rarely comprehended–what made her "Garbo." Her mentor and discoverer was Mauritz Stiller, a Swedish director who first found and cast her. He invented the name "Garbo"–it has been said–long before he met her. The "Greta" (nee Greta Louisa Gustafson) was certainly a case of euphony. Miss Garbo, or even Ms. Garbo, would be mundane appellations next to "Garbo." By itself, "Garbo" was strong; distinctive enough to remain free of jokes.
She did, in fact, say, "I want to be alone" in Grand Hotel (1932), and she was put into swimsuits at MGM in 1925. L.B. Mayer wanted Mauritz Stiller; and it was Stiller, not Mayer, who insisted that Garbo come to Hollywood as part of the package. Garbo was Garbo upon her Hollywood debut in 1926's The Torrent . She was aloof, a face, a presence, whose very definition was lack of definition.
She rose above her humble origins. Before Stiller had discovered her, she came from a lower-middle-class working family, and had been a barbershop attendant. When se came to Hollywood, L.B. Mayer frankly, if discourteously advised her to lose weight. "American men don't like their women fat," he told her. Mauritz Stiller apparently never adjusted to Hollywood filmmaking. He died in 1928, at the age of forty-five. Garbo was quoted as saying, "Now I am alone in the world."
The public responded to Garbo immediately, as did the critics. Almost all of her silent films were rather tawdry soap operas in which she played femmes-fatale, who attracted men, and/or herself, to their doom. Very often, it was she, as an erotic force, who brought destruction upon herself. She died, not John Gilbert for instance, at the end of Flesh and the Devil (1927) and Love (1928), and adaptation of Anna Karenina.
When, in 1941, at the age of thirty-six, she ended her screen career, an MGM executive commented that "Garbo was the only one we could kill. It seemed that the public enjoyed seeing her die."
It was in 1941 that the saga of Greta Garbo, public figure, really began. She had always attracted attention by shunning it. The cameras adored her on film, then followed her in private. Her trysts with John Gilbert and Leopold Stokowski, in particular, made international headlines. Only after she left the screen, however, did she ascend into the heavens previously reserved for mythic goddesses. Exactly how she did this is not entirely safe to say–she did have cooperation. She made a fetish of drab, European clothes, dark glasses and ennui. She forbade friends to "tell," and erected a barrier of privacy about her life.
Since moving to New York in the early 1940s, she had been strangely visible: waling on the East Side; attending screenings at the Museum of Modern Art, particularly in the 1940s. Her disguise was undisguisable. This is not to suggest that she was not sincere. Her business was in obvious subtlety–a master of incognito, recognizable and semi-visible. Memoirs were published, photographs taken, privacies invaded.
Several biographies were written, including John Bainbridge's Garbo (1954), as well as critical appreciations by Alistair Cooke and Kenneth Tynan. Few people have had so little to say, and have had so much said about them.
The late Ruth Gordon observed that great beauties like Garbo cannot grow old gracefully, and cannot bear to age or to be seen except from a distance. Garbo, apparently, did not mix much with her neighbors on New York's fashionable East Side. Yet, she was certainly accessible through the years to an admiring, changing, and fairly large coterie. Her affairs and friendships would have made the press in any case–but the "forbidden fruit" has the special allure.
Garbo, in her heyday, was a superb technician. Her superficial, icy glamour was never equaled on the screen. On screen, she had affairs, she succumbed to passion, she even paid the artistic price of "fallen women", death and penance.
For a goddess of the screen, she not only could be had, she was almost always had. Men were not really worthy of her, she knew it. Her entire definition, nevertheless, was amour. Consider Anna Karenina (1935), Camille (1937), even The Painted Veil (1934). These were her great films-performances which rose above their cliches-fantasies about women of passion or eros, who fall from grace and die, conveying a magic, an aura, which even her director on Camille , George Cukor, did not understand. "Somehow she did it," he said, "I never understood how."
Many of her early films were modestly budgeted and tritely written. Such films as Romance, Anna Christie, Mata Hari , and others, are remembered only because only because of her.
She was classic beauty. A woman of the world, there was an elegance about her. Off screen, by contrast she seemed to be an ugly duckling. Danny Kaye once recorded a song about her "Greta Garbo feet." Stories were told about her, some revealing some sheer gossip.
Undoubtedly, there was some industry, perhaps even studio, resentment of her. Her films during the 1930s, made money only in Europe. She was nominated three times for an Academy Award. The first in 1930 for Anna Christie, the second in 1937 for Camille, the third in 1939 for Ninotchka (Her performance in 1930 in Romance and Inspiration were, also, included on the nomination citation.) For several other fine performances, she was not even nominated. They included Queen Christina (1933) and Anna Karenina.
It was not until 1954 that she was given a special Academy Award in recognition of "all performances." It appears she was a professional, perhaps too much so for the rest of the world. There are certain stories one never heard about her–how she was a good time, or a good sport. She did not accept her special 1954 Oscar in person: at a fashionable New York restaurant, she allegedly refused to give an autograph to a crippled soldier.
On screen, she followed pristine, exemplary standards, even in mediocre pictures. "Garbo laughs!", read the advertisements for Ninotchka , as they had read "Garbo talks!" for Anna Christie–but, as Pauline Kael once observed, no one ever said, "Garbo acts!" except, the critics. For instance, she won the 1935 best actress award from the New York Film Critics for her moving performance as Anna Karenina.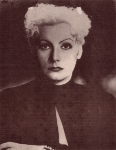 She was the critics' darling from the beginning. Her European temperament of serious, sophistication and self-infatuation, making her an "artist" in terms of work and attitudes toward work. She was no-nonsense, and when L.B. Mayer wanted to buy out her contract after the 1941 boxcoffice fiasco of Two-Faced Woman, she went gracefully, taking only what was owed to her for work already finished.
For years, it was rumored she might return to the screen, but she never did. A mere actress might have. A legend could not. Her scripts, often, had not been the best, and several of her efforts were less than masterpieces. What she did not cheat on, or corrupt, was the image others had of her. On the screen, she was a part of the costume past-boudoir novels, some by very great writers such as Tolstoy and Dumas, a heroine doomed to failure.
In reality, she seems to have been ahead of her time–to have made wise financial investments; a religion of her own integrity; a fetish of her own solitary confinement and exile above the crowd. Her career ended, and all that survived was her unconventionality and her persona. In recent years, her privacy–or at least that of her myth–was invaded by film dramas like Fedora (1979) and comedies like Garbo Talks (1984). Thousands of mourners moved pass the dead Fedora in the Billy Wilder film of that name, strewing tears, glances of admiration and flowers near her bier.
Through the magic of film, and of Garbo's own artistry, she will remain a great star, a legend, a fine actress.
Still, our fascination with her was not so simple as that. Whoever the real Greta Gustafson was, will never be known. Were we to know who she really became, might be only to know the ordinary. Garbo's greatest invention was her off-screen self. Fine actress, intuitive screen artist that she often was, her enduring claim to fame is her impenetrable off-screen non-self.
The film Academy got it right, nevertheless, when it cited her for her unique artistry and "all performances" in 1954. Not the least of these was the ff-screen, as well as the on-screen, persona she created for herself.
THE FILMS OF GRETA GARBO

SILENT
Swedish:
The Tramp, 1922
The Atonement of Gosta Berling, 1924
The Joyless Street, 1925
American:
The Torent, 1926
The Temptress, 1926
Flesh and the Devil, 1927
Love, 1927
The Mysterious Lady, 1927
The Divine Woman, 1928
The Kiss, 1929
A Woman of Affairs, 1929
Wild Orchids, 1929
The Single Standard, 1929

SOUND
American:
Anna Christie, 1930
Romance, 1930
Inspiration, 1931
Susan Lennox: Her Fall and Rise, 1931
Mata Hari, 1931
Grand, Hotel, 1932
As You Desire Me, 1932
Queen Christina, 1933
The Painted Veil, 1934
Anna Karenina, 1935
Camille, 1936
Conquest, 1937
Ninotchka, 1939
Two-Faced Woman, 1941
MY YEARS WITH GARBO
by
Julia Willis
I first went to MGM in the fall of 1931. I was recruited fresh out of college, with no other job prospects in sight (those being lean years), to write titles and additional dialogue for the sound movies. Garbo had arrived five years earlier from Sweden. She had already made three talking pictures (notably her first, Anna Christie, in which her voice was revealed as a "deep, husky, throaty contralto that possesses every bit of that fabulous poetic glamour that has made this distant Swedish lady the outstanding actress of the motion picture world…"), and was to make eleven more, in almost as many years. They were good years for us both, I suppose, or at least one could say that neither of us as ever quite the same…
My first day on the lot, after shaking hands with Thalberg, being shown to my cubbyhole, and collecting my wits, I found my way to the set where Garbo was making Susan Lenox with Clark Gable. I was unaware that she always requested a closed set while shooting, and was watching quietly from the sidelines when I was summarily ordered to leave by an assistant director. But I had seen her work, and that alone was enough to make me deliriously happy…