Mickey Mouse: Mickey's Gala Premier
(USA, 1933)

Introduction
Mickey's Gala Premier is a Walt Disney cartoon produced in 1933, directed by Burt Gillet. It features parodies of several famous Hollywood film actors from the 1930s.

In the early 1930s, Walt Disney hired a young newspaper cartoonist named Joe Grant to design caricatures of Hollywood movie stars for Mickey's Gala Premier.

Grant designed caricatures of Wallace Beery, Charlie Chaplin, and Greta Garbo. He liked the work so much that he stayed on at Disney for the next seventeen years.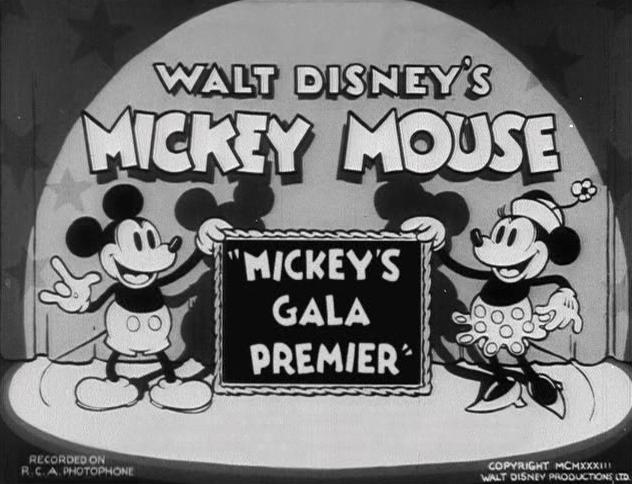 | | |
| --- | --- |
| Directed by: Burt Gillett | Produced by: Walt Disney |
| Production company: Walt Disney Films | Distributed by: United Artists |
| Release date: July 1, 1933 | Running time: 7 minutes |
| Country: United States | Language: English |
The plot
The cartoon shows Garbo and other celebrities nodding their heads to music by Mickey Mouse in the premier of his new picture.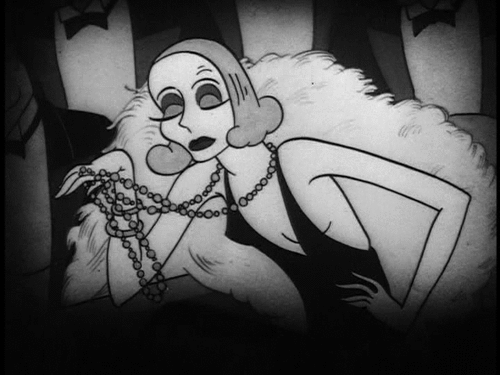 GG nodding her head
After the show ends, several celebrities congratulate Mickey, and then make way for Garbo as she climbs up on stage.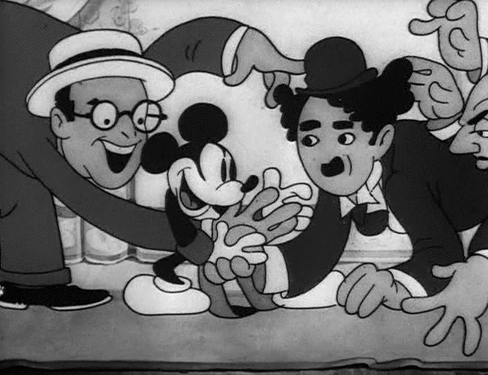 Garbo climbs up on stage
Garbo calls Mickey "Wonderful" and "You fun little mouse!" then kisses him over and over again!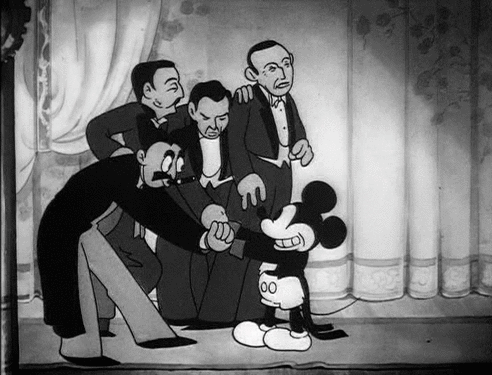 "Wonderful" and "You fun little mouse!"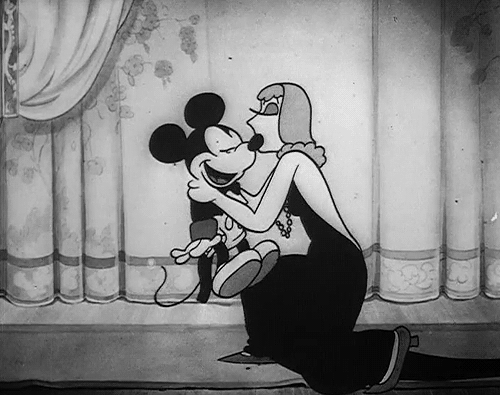 "I think I kiss you now!"
Some sources claim this cartoon is called Mickey's Gala Premiere. However Premier can be clearly read from the title card.

At this point in time, the Mickey shorts were released through United Artists, but the only currently existing prints of this short are reissue prints that omit any mention of UA. However, the "titles" for the short-within-a-short "Gallopin' Romance" still exist in their original form with the UA credits. This gives today's viewer an idea on what an opening of a Mickey Mouse cartoon might have looked like in the UA era.
| | |
| --- | --- |
| Colorized lobbycard | Early sketch |
Other Celebrities caricatured are:

1. The Keystone Kops (Ben Turpin, Ford Sterling, Mack Swain, Harry Langdon, Chester Conklin)
2. Wallace Beery
3. Marie Dressler
4. Lionel Barrymore
5. John Barrymore
6. Ethel Barrymore
7. Stan Laurel and Oliver Hardy
8. The Marx Brothers
9. Maurice Chevalier
10. Eddie Cantor
11. Jimmy Durante
12. Jean Harlow
13. Joan Crawford
14. Constance Bennett
15. Harold Lloyd
16. Edward G. Robinson
17. Clark Gable
18. Adolphe Menjou
19. Sid Grauman
20. George Arliss
21. Joe E. Brown
22. Charles Chaplin
23. Buster Keaton
24. Mae West
25. Jack Oakie
26. Helen Hayes
27. William Powell
28. Chester Morris
29. Gloria Swanson
30. Will Hays
31. Will Rogers
32. Ed Wynn
33. Bert Wheeler and Robert Woolsey
34. Bela Lugosi
35. Fredric March
36. Boris Karloff
37. Douglas Fairbanks


GG by Joe Grant


Source: IMDB and Wikipedia
Garbo Cartoons - Introduction

© Copyright 2005 – www.GarboForever.com – Germany – TJ & John – The Webmasters