Garbo Cartoons
Introduction
A cartoon (from the Italian "cartone" and Dutch/Flemish word "karton", meaning strong, heavy paper or pasteboard) is a full-size drawing made on paper as a study for further drawings, such as a painting or tapestry. In modern print media, a cartoon is a piece of art, usually humorous in intent.

Because of the stylistic similarities between comic strips and early animated movies, "cartoon" came to refer to animation and this is the sense in which "cartoon" is most commonly used today. These are usually shown on televison or in cinemas and are created by showing illustrated images in rapid succession to give the impression of movement.

Nowadays cartoons have become very common regarding internet. Many cartoon clips can be seen on different sources, just think of Youtube for example.

Related to Garbo you will find quite a lot of cute cartoons. It is a big honour for a celebrity to be part of such an art form. It's similar to the little brother of cartoons, the caricatures.

Greta Garbo cartoons are funny, they are persiflages of certain peculiarities she had or special quotations she was known for, just think of her "I want to be alone". But despite of all fun and maybe even some bizar estrangement effects, the intention of a cartoon will always show a deep respect for the achievements of unique persons. Such as Greta.

Content
* I've Got to Sing a Torch Song
* Porky's Road Race
* I want to be an actress
* Scrappy's Party
* Scrappy's Added Attraction
* Mickey's Gala Premiere
* Have you got any Castles?
* Mother Goose goes Hollywood
* The Autograph Hound
* Mickey's Polo Team
* Malibu Beach Party
* Hollywood Steps Out
* Speaking of the Weather
* Porky's Five and Ten
* A Star is Hatched
* The Daffy Duckaroo
* You ought to be in Pictures
I've Got to Sing a Torch Song (USA 1933)
Garbo appears in I've Got to Sing a Torch Song from 1933 and also had the honor of being the first one to use the "That's all, Folks!" sign-off on a Merrie Melodie at the close of that cartoon.

In this group of very early Merrie Melodies, we find the cartoon staff hard at work promoting the Warner Bros. music catalogue, perhaps in hopes that moviegoers will buy the related sheet music at the music store on the way home from the theater.

I've Got to Sing a Torch Song is a plotless cartoon showing people the world over tuning in to their radios for all-day entertainment. This conceit allows for a wildly eclectic assortment of movie star, radio star, and even political caricatures.

We see both George Bernard Shaw and Benito Mussolini doing their morning exercises by radio; there is a running gag with radio's fire chief, Ed Wynn; movie comics Wheeler & Woolsey are seen cooking in a African cannibal's flame-boiled pot; James Cagney and Joan Blondell are also on view, doing their tough-guy and gal routines.

The title song is from the studio's musical Gold Diggers of 1933 (1933); the rendition of that song in this cartoon is sung by no less than Mae West, ZaSu Pitts, and Greta Garbo!
Video-File
See HERE!
There is a Garbo spoof in this Warner Brothers cartoon (WB Seven Arts release) from 1937.

It's race day, and first prize is $2 million (less $1,999,998.37 in taxes). Porky's little car is matched against cars driven by stars of yesteryear, including Laurel and Hardy and Charlie Chaplin. When the black #13 driven by "Borax Karoff" makes a bid for the finish line, can Porky fend him off?
The caricatured celebrities are, in order of appearance: Men on seesaw: Stan Laurel and Oliver Hardy; Little Tramp: Charles Chaplin; Man with big nose: W.C. Fields; Old lady: Edna May Oliver; Woman with big feet: Greta Garbo; Floating Power: Charles Laughton; Borax Karoff: Boris Karloff; Knee Action Special: Stepin Fetchit; Cheerio Special: George Arliss, Leslie Howard, Freddie Bartholomew; Caliban and Ariel: John Barrymore and Elaine Barrie; Hitchhiker: Clark Gable.
Video-File See HERE!
I want to be an actress (USA 1937)
Scrappy is a cartoon character created by Dick Huemer for Charles Mintz's Krazy Kat Studio. Huemer created the character in 1931, and he remained aboard Mintz's studio until 1933. With Huemer's departure, his colleagues Sid Marcus and Art Davis assumed control of the series. The final Scrappy cartoon, The Little Theatre was released in 1941.
Scrappy's girlfriend, Heidi, sneaks into his makeshift movie studio, where she tries to convince him to make her a star by making love to him, then doing imitations of Greta Garbo and Katherine Hepburn. Then, Scrappy, Heidi and Oopy go into a tap dance number based on two tunes associated with Alice Faye , "The Balboa Song" and "Sing, Baby, Sing."
Video-File
See HERE!
Scrappy is a cartoon character created by Dick Huemer for Charles Mintz's Krazy Kat Studio.

On Scrappy's birthday, he and Oopy invite countless giants of movies, theatre, sports, science and politics to a gala party. Guests include Laurel and Hardy, Greta Garbo, Will Rogers, Joe E. Brown, Babe Ruth, various royalty, Albert Einstein, Frankenstein, Ben Turpin and Roscoe Ates, etc. John D. Rockefeller tosses coins.
The Four Marx Brothers dance with Marie Dressler. Mahatma Ghandi, in diapers, speeds in on roller skates. Jimmy Durante and George Bernard Shaw blissfully exchange noses and beards. Al Capone, who phones to make his apologies from prison, is the only celebrity who does not attend.
Video-File
See HERE!
Scrappy's Added Attraction (USA 1939)
Scrappy is a cartoon character created by Dick Huemer for Charles Mintz's Krazy Kat Studio.

The story opens inside a theatre, where animated humans watch the end of a Columbia live action western, then scramble all over the place to get better seats. A hilarious parody of the excesses of coming attractions trailers, starring Scrappy, Margie, Poopsie (Oopy with buck teeth), a dumb lion and a chortling villain (delightfully voiced by Mel Blanc) named Titan, the Terrible Twerp, ensues.

Everything on screen contradicts the narrator, who at one point just can't think of another superlative. Live action hands add a daisy to a putrid junkyard setting. Bold titles proclaim, "More Suspense And Very Much Expense!"
NO PIC FOUND
Titan corrects the narrator's pronunciation. Scrappy and Margie do impromtu impressions of John Barrymore and Greta Garbo respectively.

The film breaks so live action hands sew it up with needle and thread In closing the narrator admits, "In as much as this is the most marvelous story ever told, the greatest cast ever assembled and the most colossal production ever produced, we feel that no picture we might make could ever justify this description, we have decided not to make it. Besides, you've seen it, anyway."
Video-File
See HERE!
Mickey's Gala Premiere (USA 1931)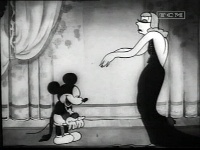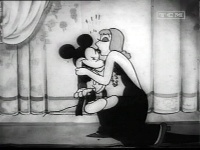 "I think i kiss you now!"
In 1931, Walt Disney hired a young newspaper cartoonist named Joe Grant to design caricatures of Hollywood movie stars for a Mickey Mouse cartoon, Mickey's Gala Premiere.
Joe Grant designed caricatures of Wallace Beery, Charlie Chaplin, and Greta Garbo and liked the work so much he stayed on at Disneys for the next seventeen years.
Video-File
See HERE!
Have you got any Castles? (USA 1938)
Have You Got Any Castles? is a seven minute animated short film that premiered in theaters in June 1938. It was a part of the Merry Melodies series produced by Leon Schlesinger, and distributed by Vitaphone.
The story takes place in a library, with all the characters coming to life from well known works of fiction, both classical and modern. Rip Van Winkle is the center of interest, as he cannot continue sleeping with the noise. Produced by Leon Schlesinger. Story by Jack Miller. Animation by Ken Harris. In Technicolor.
Video-File
See HERE!
Mother Goose goes Hollywood (USA 1938)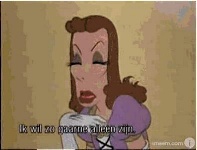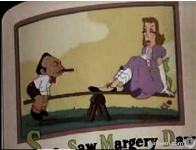 Edward G. Robinsonand Garbo as See Saw Margery Daw
This Disney animated short puts Hollywood stars of the 1930's into roles from Mother Goose stories. For example W.C. Fields is Humpty Dumpty and the Marx Brothers are the fidlers three. Donald Duck does make a cameo appearance. The version Disney shows on TV has obviously had pieces edited.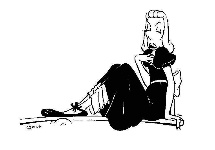 See Saw Margery Daw, black&white sketch
From the opening scene where Mother Goose takes the place of the MGM lion, it's a trip through her famous rhymes with Hollywood stars taking the place of the storybook characters.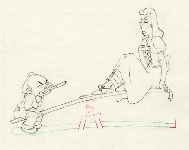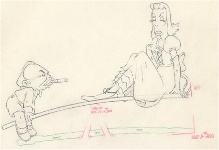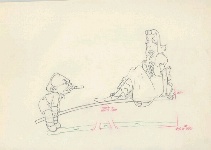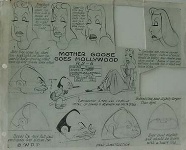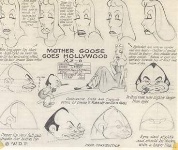 Early sketch of Garbo in Mother Goose goes Hollywood
Video-File
See HERE!
The Autograph Hound (USA 1939)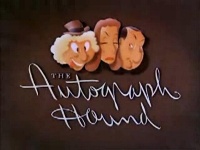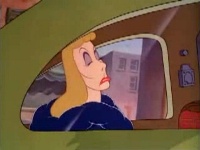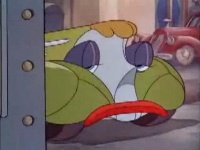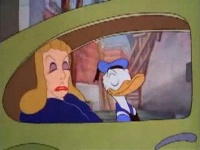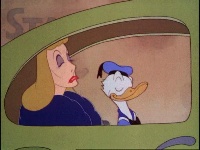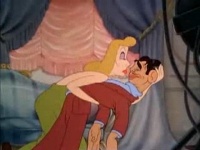 Donald Duck & Greta and Clark Gable & Greta
In this Walt Disney production Autograph hound Donald, despite the security guard, manages to get signatures from Greta Garbo, 'Mickey Rooney' , Sonja Henie, The Ritz Brothers, and Shirley Temple before he's recognized and everyone wants his autograph.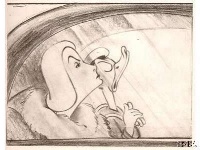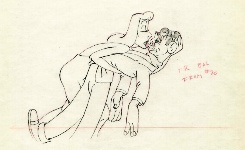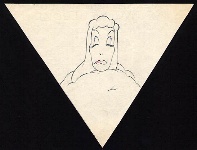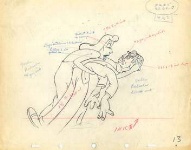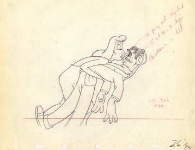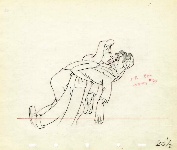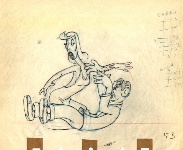 Early sketches of Garbo, Donald Duck and Clark Gable
This charming short has Donald in Hollywood, seeking autographs from famous celebrities. He sneaks into the set hitching a ride with Greta Garbo. Then he discovers the Holy Grail: Mickey Rooney's dressing room! The Mickster signs Donald's book and give him some free tormenting, as well! Then Donald comes across Sonja Henie, who skates her name into the ice. Donald turns red when Shirley Temple recognizes him. When word gets out that Donald is on set, all the stars in Hollywood stop what they're doing to get the Duck's autograph.
Video-File
See HERE!
Mickey's Polo Team is a short animated film, directed by David Hand and first released on January 4, 1936. The short featured a game of polo between four of Disney's animated characters and four animated caricatures of noted film actors.
Spectators included regular characters of the Mickey Mouse series, notable characters of the Silly Symphonies series and several film actor caricatures. The short is considered notable for featuring a large number of 1930s entertainment figures.
Video-File
See HERE!
Warner Brothers Picture. Jack Bunny (a spoof of Jack Benny) invites Hollywood celebrities to his Malibu house for a party. Garbo surfing using her enormous feet.
Hollywood Steps Out (USA 1941)
Hollywood Steps Out is a 1941 short cartoon by Warner Brothers, directed by Tex Avery, that features caricatures of Hollywood celebrities of the day. The setting is at the famed Ciro's nightclub, where they are seen having dinner.

Bing Crosby appears as the Master of Ceremonies; he has to shoo his race horse off the stage. The stars then start dancing to music by conductor Leopold Stokowski.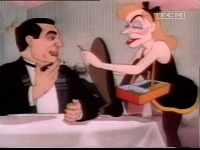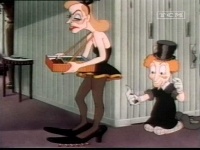 Cary Grant asks cigarette girl Greta Garbo for a light, which she strikes off of her enormous shoe.
When aired on The WB, two scenes are cut: one was Garbos. She offers Cary Grant a cigarette and lights it with the sole of her large high heeled shoe and another where Harpo Marx puts a row of matches under Garbo's shoe and lights them, giving her a hotfoot, only to have her slowly react to the pain.
Video-File
See HERE!
Speaking of the Weather (USA 1937)
Speaking of the Weather is an animated short film that premiered in theaters in 1937. Garbo appears rocking on her feet as if in a rocking chair.
The plot is: It's midnight at the bookstore and all the book and magazine characters are coming to life. When a bulldog from an adventure book uses an Andrews Sisters-like performance by girls in a travel magazine as a distraction to rob a bank, he is chased, caught, and sentenced to, of course "Life" (the magazine). But there's also a conveniently placed "Escape" magazine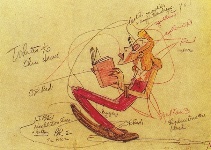 Early sketch of Garbo
Video-File
See HERE!
Porky's Five and Ten (USA 1938)
Porky sets sail for the Boola-Boola islands in the South Seas with a ship full of general merchandise and plans to open a 5 & 10 cent store. But a swordfish cuts a hole in the ship and Porky's goods fall into the ocean, where the fish make creative uses of them, ultimately opening a Hollywood nightclub, complete with fish impersonating various stars. Porky is saved when a waterspout comes along, re-stocking his ship.
More details HERE!
Emily the chicken, lives in Hickville but dreams of Hollywood. Her chance comes when director J. Megga-Phone happens to drive past and gives her his card. She makes her way to Hollywood, and Megga-Phone's office, where she discovers a whole flock of hens with the same card and a completely uncaring Megga-Phone. She returns home to faithful Clem, and a chick with foolish notions.
Emily (the foolish chicken who plays opposite slick Romeo types) speaks Garbo's famous: "I want to be alone".
More details HERE!
The Daffy Duckaroo (USA 1942)

Daffy was a singing cowboy and say's in the headline: "I Want to Be A Lone... Ranger!"
Singing cowboy Daffy retires to the Painted Desert (still wet). He falls for an Indian maiden with a Brooklyn accent, but her very large boyfriend catches them. Daffy dresses in drag, which fools him for a while until Daffy's wig falls off. The boyfriend chases Daffy into the Petrified Forest (where Daffy freezes and breaks tomahawks).

The Indian sends smoke signals from a phone booth and his tribe attacks Daffy, trapping him under his house trailer. They steal his tires, but return them because they don't fit.
More details HERE!
You ought to be in Pictures (USA 1940)
You Ought to Be in Pictures is a 1940 Warner Bros. Looney Tunes short film featuring Porky Pig and Daffy Duck. The film combined live-action and animation, and features live-action appearances by Leon Schlesinger, writer Michael Maltese, and other Schlesinger Productions staff members.

At the end of this cartoon, Daffy dangles the prospect of Porky who star's opposite Garbo. Than he get's a tomato in his face. Daffy calls Garbo 'Greeta'.
Daffy Duck: Hey, Porky. I hope you didn't sign up here again, 'cause I know where there's a pip of a job at twelve grand a week, playing opposite Greta...

Daffy Duck: ... Garbo.
More details HERE!