Mercedes de Acosta
Mercedes was a Spanish-American poet, playwright, costume designer and socialite, she knew many famous celebrities of the show business. She had forbidden love-stories with actresses like Marlene Dietrich, Eleonora Duse, Isadora Duncan. But the woman she loved most of all was absolutely Garbo.

They met in 1931 and De Acosta was soon obsessed by Garbo. An obsession that continued until the end of the 1960's, when De Acosta published her memories and wrote many pages about Garbo. The two were introduced by author Salka Viertel, with whom Garbo was also rumored to have been involved. Her relationship with Garbo has often been described as the love of her lifetime .It is doubtful from all information from the time that Garbo shared those feelings. Garbo was in control of the affair, and the two would be together for lengthy periods often taking vacations together, then apart for long spells without Garbo even acknowledging de Acosta, and everything was at the will of Garbo.

In 1944, Garbo ended the on-again off-again relationship. At that time, she insisted de Acosta stop sending her poems and letters professing her love. The last known poem written by de Acosta for Garbo was written that same year. By all accounts, de Acosta remained in love with Garbo for the remainder of her lifetime.

Mercedes ask that 10 years after Garbo's death letters supposedly love letter be opened and it was found there is no evidence of an affair between the two women. In 2000 in the Rosembach Museum a box containing the papers and letters Garbo wrote to De Acosta from 1931 to 1960 was opened but nothing gave evidence of a love story. It seems Garbo was cold and reserved even in her letters.
Garbo and Mercedes de Acosta, early 1930s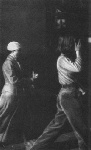 | | | |
| --- | --- | --- |
| | Garbo's Lovers & Friends | |
| | Introduction | |
| | Garbo's Lovers & Friends - Part 1 | |
| | Garbo's Lovers & Friends - Part 2 | |
| | More Lovers & Friends | |

© Copyright 2005 – www.GarboForever.com – Germany – TJ & John – The Webmasters