Mauritz Stiller
Mauritz Stiller (1883-1928) was a Film director, born in Helsinki, Finland. He settled in Sweden in 1909 and, though trained as an actor, began directing films for Svenka Bio in 1912. He adapted the novels of Selma Lagerlöf (1858-1940), notably Herr Arnes Pengar (1919), which won international acclaim, Gunnar Hedes Saga (1922), and the more famous Gösta Berlings Saga (1924).

His versatility is shown in Erotikon (1920), a sophisticated comedy about sexual rivalry. He discovered Greta Garbo, and took her to Hollywood U.S.A in 1925, where he directed Hotel Imperial , Woman On Trial, and The Street of Sin all in 1927.

A BIOGRAPHY
The flamboyantly director Mauritz Stiller, born Moshe Stiller in Helsinki, Finland on the 17th of July 1883, was orphaned at an early age and raised by family friends. During the Russo-Japanese war, he went to neutral Sweden to avoid being drafted.

Sick with lingering tuberculosis, he spent the money his guardians had sent him not on food and medicine, but fancy clothes and a nice hotel room, and he began passing himself off as a world-renowned German film director. Amazingly, people believed him. His introduction to Swedish Biograph, the country's leading film studio, by his good friend Victor Sjöström greatly helped matters.
VICTOR SJÖSTRÖM
Stiller, embarked on his film career, beginning with The Tyrannical Fiancée in 1912. Though his origins may not have been as he made them out to be, he did quickly prove himself to be remarkably talented director after all.

Stiller and Sjöström would grow to be the often marked by very modern attitudes toward and graphic depictions of sex, such as his 1916 film The Wings , explicitly depicting a same-sex relationship.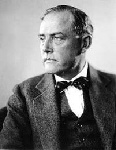 Victor Ströström
GRETA GUSTAFSSON
For his 1924 film Gosta Berling Saga, Stiller cast the unknown Greta Gustafsson, a Swedish native in which he saw great potential, in the lead role. Convincing her to change her name to Greta Garbo and crafting her screen persona himself.

The two left for Hollywood , California U.S.A, and Stiller with hopes of gaining real world renown as her director. Garbo would go on to become the icon he envisioned her as, but MGM quickly tired of him and he was fired not halfway into the filming of her second Hollywood feature, The Temptress, in 1926.

Returning to Sweden, he died two years later on the 18th of November 1928 in Stockholm from pleurisy, caused by his untreated tuberculosis.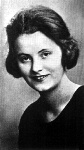 Greta Gustafsson with 16
When Greta and Stiller met, he was forty, worldly and famous; Greta was seventeen, innocent, unknown and still in the larval stage. At this point Stiller took command of her destiny. He gave her a name, (GARBO), taught her, bullied her, encouraged her, fought for her and made her into a World Famous Actress.

Mauritz Stiller, was an arresting figure in many ways. In appearance he was curiously imposing. Over six feet tall and thickly built, he had an abnormally large head, the feet of a giant and hamlike hands. A vain man, he usually kept his hands in his pockets when he was photographed.

His hair was iron gray and closely cropped, and his eyes, under thick, black eyebrows, were gray-blue and brooding. He had a prominent, bulbous nose and a long upper lip on which he wore a full mustache.

Mauritz Stiller, was far more than Greta's professional mentor. He was an intimate friend who exerted more influence than anyone else in shaping her character and personality. He told her how to dress, what to think, how to behave, there's almost nothing he didn't tell her. She listened and obeyed.

Stiller, to use the phase his colleagues have most often applied to him, was born director. He enjoyed telling people what to do, and he had taste, a rich imagination and love of beauty. "He'd get physically sick when he saw anything ugly" Victor Seastrom has said.

If Stiller's friends or acquaintances were wearing clothes he though unbecoming, he would gratuitously tell them so. It was not only by his distinctive dress that Stiller made a striking impression. His manner was attractive, though his temperament was mercurial. He was intense, ambitious, talented, noisy, egotistical, troubled, cultured and brutally outspoken.

Victor Seastrom, Stiller closest friend once remarked; " While directing he often lost his temper. He couldn't help it, but then he could say things that hurt, could hurt badly, and at the same time could be strikingly funny. Although not so funny for the victim, but he was quick to make amends, and I don't think anybody was angry with him at heart."

Stiller never married, he liked to have beautiful women around him, and he was interested in them, but he was never in love with them.

Though Stiller was not, as one of his friends has put it, "normally attracted to women" he had a mental image of what he regarded as the perfect female. The ideal woman he was seeking, as he described to intimate friends, would be not only beautiful but "super sensual, spiritual and mystic." Does he found that in Garbo?….
THE BEGINNING
On the morning they were to report for their tests, one of Stiller's assistants who met the young nervous young hopefuls and took them to have their make-up applied has recalled the appearance they made: One of them was Mona Martenson, she was rather short and plump but very attractive. Greta was plump, too but also gawky, with unkempt hair and gaps between her front teeth.

Mona was said to be the most beautiful girl in the dramatic school, Greta was by no means as pretty, but she had a lovely figure, though tending to plumpness.

When she was introduced to the director, she curtsied. The director was in his element. He made no attempt to get to know his guest, he was more concerned about her appearance: her face, her long eyelashes, the line of her body, her weight.

He broke a long silence by marking small talk about the weather and other trivialities as he continued scrutinizing her. He had a disconcerting way of staring as if he were looking right through her or, what is worse, not even looking.

Greta would later discover that, whatever her perception was at the time, "Stiller was really looking at me every moment."

"If you want the part," Stiller said, uttering his first words to her, "you'll have to lose at least twenty pounds." Greta blushed . "But look," Stiller went on, turning her around and talking partly to her and to his associates, "isn't she beautiful?… did you ever see such eye-lashes?… But Miss, you are much too fat…Yes, she is very pretty … Notice her feet, such beautiful heels, one straight, fine line."

"Well, can't you take off your coat and hat?", he commanded, as if he had asked his guest to relax and sit down many times before.

Then he just looked at her some more and said "What's your telephone number?" That was the death knell at any audition or interview, thought Greta and feared it was over. He isn't interested, she thought. " When they're not interested they always ask your telephone number."

Greta gave Stiller the phone number of a friend, thanked him for seeing her and left. She did not expect to hear from Stiller again. "There is something extraordinary about that girl. I must discover what it is," Mauritz Stiller declared after Greta left.

As Stiller continued in this enthusiastic vein, one of those present has since remarked, his colleagues exchanged looks of amazement. A few days later, the director asked her to come out to the studios in Rasunda at 10:00 A.M for a screen test.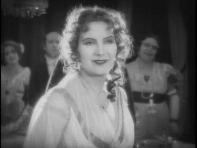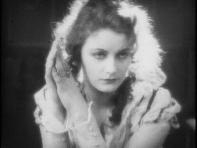 Screencaps from Gösta Berling Saga.
"I was pleased, but not even yet very excited, " Greta stated. She met Mona Martenson on the streetcar and they walked together though the gates of Filmstaden, the film city in a wooded area just off Rasunda's main boulevard. Making a test for her first major film under the eye of Sweden 's top director (Sjöström had left for the U.S.A months earlier) was a curious experience for Greta.

Again, Stiller made both actresses wait as a way of testing their resolve, and perhaps their courage, as well as disarming them in front of the camera; he wanted to see what made them tick. Confidentially, cameraman Julius Jaenzon, an artist of some reputation himself, told the girls not to let Stiller's flamboyant manner frighten them. "His bark is worse than his bite," he assured them.

Finally, the director ordered the test to begin. "I was all shaky," Greta admitted ."I come off the street…and they make me up, and then they take me (inside) and tell me to lie in a bed and be sick. Very sick. I didn't know what it was all about. It seemed to me like a big joke, to come off the street and be right away sick. And I was ashamed to try and put myself over…."

Stiller waited for her to find her rhythm, and when she didn't, yelled at her in frustration: "My God, don't you know what it is to be sick?" Then Greta stated, "I became a very sick lady." Before she left, cameraman Jaenzon told Greta privately that he didn't think she had done very well. Once again, she went home in defeat; it had been another bewildering encounter with the great director.

Stiller, had determined that he had indeed found the actress to play Elisabeth Dohna in Gösta Berlings Saga. Filmindustri executives all of whom wondered whether Greta would be able to deliver a solid screen performance . "She hasn't technique," Stiller explained, "she can't show what she is feeling, but she will be all right. I'll see to that."

On July 23,1923, seventeen year-old Greta Gustafson, signed a standard player's contract with Svensk Filmindustri. With the part actually in hand, Greta allowed herself the privilege of being excited, then diligently set about the task of slimming down before production began. "she wanted to become figure-perfect in Stiller's eyes as quickly as possible," said a friend, "Greta just gets thinner and thinner. You can't see her breasts anymore. They're just two buttons."

She did not have very much time to reach her goal of losing then kilos (approximately twenty pounds.) By the time, the filming of Gösta Berling was a torture to Greta, she cried a great deal, a man closely associated with the production has said.

During filming a journalist interview Greta and asked, among other things, if she found making movies difficult "Terrible" she replied. "I have had a Gethsemane , but Stiller is the best human being I know. Stiller creates people and shapes them according to his will. As for myself, I am a nice girl who gets very sad if people are unkind to her, although that may not be very feminine. Being feminine is a lovely quality which I may not have very much of."

Stiller was annoyed when he read these remarks in the newspaper. He disliked reporters and encouraged Greta thereafter to shum them.

As the weeks passed, Stiller's way over Greta's life began to extend beyond the studio. After work he drove her home, on increasingly frequent occasions the two were seen together at the theatre or in fashionable restaurants. Often, when Stiller was invited to a social function, he asked permission to bring his young friend. In this way he gradually introduced Greta to the society of actors, artists and writers in which he moved.

He told her what to wear and what to say and did all he could to help her overcome her natural diffidence. Stiller had also pondered an appropriate name for her. Scenarist Arthur Nordén related that the director wanted a name that were modern elegant and international.

He suggested the name Gábor, which apparently delighted Stiller, who tried out different alliterations of the name. However, according to Mimi Pollak, (another Greta's actress friend) the director never mentioned the name to Greta before she went down to the Ministry of Justice to meet with Mimi's friend, Oscar Adelsson, to discuss the change.

After looking throught a stack of books, and tossing around ideas with Mimi and friends, the name " Garbo" was conceived as she and Mimi walked across Norrbro Bridge on the way to the government building. It was a combination of two different surnames. Greta thought it was wonderful. " Now I don't have to change the initials on my towels," she said.

On November 9, Anna Gustafson (Greta's mother) signed a petition asking the ministry to allow her daughter to legally change her name to Greta Garbo. Interestingly, Mona Martenson, and not Mimi Pollak, witnessed Greta's signing as well as her mother's. The petition was formally approved by the Ministry of Justice on the twenty-first of December.

By that time, Greta was back at work on Gösta Berlings Saga . Having taken the necessary legal steps, she was now GRETA GARBO. In name, at least, "The Star" had been born.

The first showing of Gösta Berling's Saga was held in Stockholm in March,10 1924. The film was very long, running to almost four hours, it was shown in two parts, on separate evenings. Stiller accompanied Greta Garbo to the premieres, which were social events of some importance. Critical reaction in Sweden would be polite but restrained; the majority of reviews labeled the film , "a beautiful staged failure."

While the director was complimented on his handling of the love scenes, critics still complained about the liberties he had taken in distilling Lagerlöf's epic down to a more manageable length. One critic saw Garbo as "a promise for the future," another as "a semiplump and unseasoned bun."

Bengt-Ideastam Almquist, know to readers of Stockholms-Tidningen as critic Robin Hood, thought it was "too early to say much about Greta Garbo. She was several opportunities which she does not utilize. Spiritually, she is to small for her part, but she is wonderfully beautiful in her Empire gowns and, in spite of her still-life acting, she is one of the bright spots in the movie."

Even the film was not, however, an unqualified success, the popular reaction was generally favourable.

In early 1924, Stiller got an offering from the largest German film company at this time, Trianon A.G. In spring of 1924, he signed a contract for two films and also had artistic freedom. Stiller already had the right story in mind.

With his Gösta Berling Saga team, he wanted to make a film version of the novel, Odalisken Fran Smolna. In winter 1924, production started in Istanbul ( Turkey ) with Garbo in female leading role. But the German Film Company went bankrupt and the project was stopped after only 3 weeks. Stiller went to Berlin to sort out the problems but it was too late and the film was postponed. The filmed material was confiscated by the Turkey Customs Office.
THE JOYLESS STREET
In Germany, Stiller and Garbo were rescued by a young German film director named G.W. Pabst, who was on his way to becoming one of the outstanding figures in the European cinema. In 1925, Garbo's Triaton A.G. film contract was sold to Pabst who heard about the "Odalisken" situation in Turkey, and went to the Trianon offices and told Stiller that he wants to use Garbo for his new Sofa-Film production.

Pabst was casting his second film, it was called Die Freudlose Gasse, exhibited later in America as The Joyless Street or The Street of Sorrow. Stiller said he didn't think Garbo would be interested in a part. However, on Pabst's urging, he agreed to take a look at the script.

After studying it, he suggested a number of changes, especially in the part offered to Garbo, and let it be known that she might consider accepting the role if Pabst would meet her financial terms Pabst wearily agreed to all demands, except the camera man Guido Seeber, one of the best cameramen in Europe that Stiller wants to be replaced by Julius Jaenzon, his Swedish cameraman, telling that he was the only person who could photograph Garbo properly. Stiller at length gave in on the matter, and contracts were signed.

Screencaps from The Joyless Street aka Die Freudlose Gasse
On the first day of shooting Stiller accompanied Garbo to the studio. She was pale and visibly nervous. Meeting the other members of the cast, she was so uneasy that was barely able to acknowledge the introductions.

Stiller's first move was to seek out Guido Seeber, the cameraman, and treat him to a lengthy discourse on how to photograph Garbo. "He talked to me as if I'd never been behind a camera in my life" Seeber said later. "He seemed even more wrought up than the frightened young woman he was so worried about."

Seeber and Pabst discovered, after they had shot the first hundred feet of film and looked at the results in the projection room, that Garbo did indeed present problems. Her nervousness was so plainly visible, in particular an apparently uncontrollable twitching in her cheek, that not a single foot of the film could be used.

Before trying again, she showed no improvement. Pabst suggested that Garbo take a rest; he talked with her and tried to relieve her anxiety. He had allowed neither her nor Stiller into the projection room; he wished to avoid upsetting her further and he was reluctant to acknowledge to Stiller that he and his cameraman were having trouble.

Garbo proved to be a good workman. As a result of her training by Stiller, she followed Pabst directions without a murmur of protest, and she was a model of industriousness. During the filming of the picture, relations between Garbo and Stiller became, for the first time since their association, somewhat strained.

Soon after the shooting began Pabst made it clear that he preferred that Stiller stay away from the set when Garbo was working …"Stay with me Greta," Stiller said to her, "Moje knows what is best for you." The film was a big success. After that, Pabst was considered one of the big directors and Garbo was offered a Film contract in Germany ….
HOLLYWOOD
In the late spring of 1925, Louis B. Mayer, vice-president and production chief of Metro Goldwyn Mayer, was making a business and pleasure trip through Europe. While in Berlin , Mayer saw Gösta Berling's Saga. He was impressed by the scope of the film, its resourceful photography and, most of all, what he considered its brilliant direction.

Before meeting with Stiller, Mayer cabled Victor Seastrom to ask his opinion of his old colleague, Seastrom reply was glowing recommendation. When Mayer and Stiller met he hardly looked at Garbo, as she recalled years later, "I suspect he looked at me out of the corner of his eyes, but I can't be sure he gave me even that much attention."

For once Stiller, perhaps sensing that he had met his match, did not indulge in prolonged haggling over money matters. Stiller did, however, put forth one provision: he would go to Hollywood , he said, only on the condition that MGM also put Greta Garbo under contract. "Who is Greta Garbo?"

Mayer asked, " First," Stiller began, " she is a great beauty, a type you get in front of a camera once in a hundred years.Second, she is a great actress, who will be the greatest in the world," Mayer interrupted to suggest that it might be desirable for him to meet the young woman. Stiller called her into the room and introduced her, his indifference was profound.

The whole thing was arranged between Mr. Stiller and him. To make sure of signing Stiller, Mayer consented to give Garbo a three-year contract.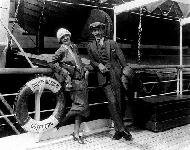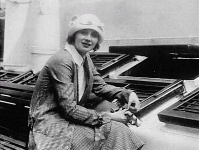 Garbo and Mauritz Stiller in New York.
Garbo was officially entered on the MGM payroll on September 10, 1925, but the studio showed no signs of being in a hurry to try to make something of her. Stiller became increasingly restive and broody. The whole thing was a mistake, he told his Swedish friends; he and Greta should never have come to America.

Affected by his moodiness, Garbo spirits also sagged "They were a melancholy pair," It was partly because she made no success at all at the start. A Swedish friend once recalled. Mayer suggested that she have the necessary dental work done immediately and tamed her frizzy hair (her natural hair was straight but is was too perm).

Then, ten weeks after her arrival in Hollywood , Garbo was given her first part. The Torrent, but the studio assigned Monta Bell to direct it, not Stiller. This was a disappointment as stunning and profound to Garbo as it was to Stiller, for both had confidently assumed that he would be selected as the director for her first American film.

Though Monta Bell directed the film, Stiller was responsible in large measure for Garbo's performance; every evening he rehearsed Garbo in the next day's scenes, coaching her in every movement and every expression. The film was completed two days before Christmas, in 1925. Members of the Scandinavian colony, thought the film was a flop and that Garbo was terrible, Lars Hanson later remarked. "In our opinion it didn't amount to anything." Stiller was raving mad; he thought it was so poor. Even though The Torrent was a critical and box office success.
THE TEMPTRESS
MGM decided to repeat the formula, the ingredients of Garbo's next film were the same as before: Another improbable Blasco-Ibáñez story. However there was to be one difference in this one, Stiller was assigned to direct it.

Now that he had been given a chance to direct his protégée, his dark mood disappeared. He was full of excitement, "at last," he told Lars Hanson, "they'll see what Greta can do."

Trouble started the minute Stiller stepped on the set. Anxious to make something special of the picture, he labored over the script, and developed a number of unusual ideas he thought would be effective.

He wants to open the film with a lively circus scene, would be revealed as an entertainment at a lavish private party. " WE'LL SHOW THEM A THING OR TWO" he said . "When I got there ready to start," he later told a friend, "I saw fifty people standing around. Who are they? I was told that one was an assistant director, assistant producer, a script girl and so on. Take them away, I don't need them" he shouted … "I just need a camera an actors". But they all stayed.

In practically no time Stiller succeeded in antagonizing Antonio Moreno, (leading man, see back-story on partners) Playing his usual role of a tyrant with megaphone, shouting, gesticulating and running about, Stiller alternately irritated and amused the other members of the cast.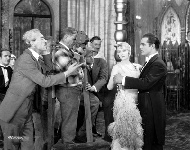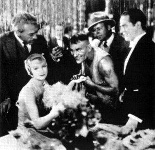 Garbo filming The Temtress, drirected by Stiller
An interpreter had been placed at his disposal, but Stiller seldom bothered to use him, preferring to try to make himself understood with his meager, causing endless difficulties. In one scene he wanted a group of extras to applaud. "Now, he shouted," All explode. Word got around the studio that all was not going well on The Temptress set.

On the afternoon of the fourth day of shooting, a cablegram was delivered to Garbo, informing her of the death of her sister Alva, Stiller dismissed the entire cast and took her home. Stiller's action did not make a hit with the budget-conscious front office.

Stiller was infuriated by the interference from the front office. "They brought me here to direct because they liked my methods, they try to teach me how to direct".

He was summoned to Thalberg's office. Stiller came out of the office with news as distressing to him as it was for Garbo. He had been summarily removed as director of The Temptress. The picture was to be turned over another director (Fred Niblo).

No other assignment had been offered to Stiller. Meanwhile, Garbo had finished the film. Again, the Swedes in the film colony turned out in a body for the preview, and they shook their heads collectively in disapproval. Stiller was so violently exercised that he sought out Thalberg in the lobby after the performance and berated him.

Even that, The Temptress was another distinct triumph for Garbo. Miss Garbo remarked once that she was "frantic" when Stiller was dismissed as director of The Temptress, but made no further comment on the subject. Whatever thoughts Stiller may have had about his protégée's straying from his dominion he kept to himself.

Stiller always expressed to Swedish friends his displeasure at the roles she was given to play… "Those fools at Metro will ruin her," he said. Stiller moved from MGM to Paramount and made the film, Hotel Imperial. Stiller was immersed in his own affairs; he was fighting to rescue his own professional life. Never before had his friends seen him work with such frenzy.

At the preview of Hotel Imperial , which was attended not only by Garbo in company with the other Swedes in Hollywood, but also by Irving Thalberg and other film executives, Stiller was so nervous and exhausted that his face was chalk white. He was so worn out and wrought up when friends talk to him in the lobby before the picture, that he began to cry and ran into the lounge to compose himself. The preview audience gave the picture a very warm reception.

Thalberg later told, that Metro had made a mistake in not holding onto Stiller. Preceded by a sizable advertising and promotion, Hotel Imperial was a success when it opened at the Paramount Theatre in New York , both with the critics and the box office.
After Stiller had demonstrated his talent in terms of dollars and cents, Paramount offered him a contract at twenty-five hundred dollars a week.

He accepted. " Now that I have such a good contract," Stiller remarked to his Swedish friend actor Lars Hanson, " I'm going ahead and make one more film. It will be genuine garbage, but I'll do it and go home with the money."

The Lars Hanson's were also planning to return to Sweden , so was Garbo. "I'm not staying much longer," Garbo told the Hanson's when they talked about leaving Hollywood. "Moje (as she calls Stiller) and I will go home soon."

Garbo and Stiller, especially him, felt that an upward revision in her salary was in order. When her discontent over the matter of legal tender was communicated to MGM, Louis B. Mayer invited her, in late November 1926 to come to his office for a talk, and asked what figure she had in mind for her weekly pay check .

"Five thousand dollars," she replied but Mayer offered an increase to twenty-five hundred dollars a week, but his new star, having been coached by Stiller, a master negotiator, said she was not interested in any compromise.

Mayer explained, was completely out of the question. In that case, Garbo said, "I thank I go home now" and she did, she stayed away from the studio for the next seven months. Metro's unhappy and intractable star knew, of course, that Stiller and several other of the countrymen were making plans to return to Sweden , and she was attracted, in her dejected frame of mind, by the prospect of going with them. So Greta remained quite silent in the face of Metro's arguments and warnings, but Garbo success the protracted strike against MGM, and added one more bright thread to the fabric of her legend.
STILLER, THE BEGINNING OF THE END
Stiller's Hotel Imperial was a prodigious success, but there were no more successes, two more films with Pola Negri, were failures.

He worked on one more film in Hollywood ; he began to direct the film, but fell ill and abruptly packed his belongings and headed for home. This was the end and he knew it, but not for Garbo. White haired, his face deeply lined, suffering atrociously from rheumatism, his shoulder and his hands shaking.

At the Los Angeles railroad station there was no delegation to see him off, only Garbo and Seastrom. Both Garbo and Stiller wept when he kissed her good – by "it hasn't been good for me in Hollywood , but not for you" he said to her, "I will see you soon Moje," she called as Stiller waved farewell from the departing train.

He was a man of presentiments. He had presentiment when he set out for America that the trip would be a disaster for him and a triumph for Greta, and so it was, this was his end, he returned to Sweden to die. That was the last time Garbo saw her mentor.

When Stiller returned to Sweden , he was suffering from a lung ailment and also, though he did not then know it, from an incurable circulatory disease. He refused to consult doctors, relying instead on massage and vigorous exercise, both measures aggravating rather than helping his condition. He never complained, however, and appeared to his friends to be in good spirits.

In April 1928, he signed a contract to produce and direct the musical play Broadway. He plunged into this task with his customary enthusiasm and nervous excitement. After the opening night performance, he walked the streets until dawn with his friend Olof Anderson, who later recalled that Stiller was alternately elated and severely depressed.

When he learned that the musical received very good notices, he broke down and wept. This success, after so many failures, revived Stiller's ebbing confidence. In the fall of 1928, Stiller went to a party with a friend, after they left, Stiller began coughing very badly, when they were out in the night air, his friend recalled. Three days later he collapsed and was taken to the Red Cross Hospital.

Stiller died on November 8, 1928, at the age of forty-five. Seastrom cabled the message of Stiller's death to Garbo. The wire was delivered to her on the set of Wild Orchids, "she turned deathly pale," one of the men who was on the set has said.

"I thought she was going to faint. She walked slowly away from all of us, as if she were in a trance. When she got to the other side of the building, she stood there leaning against the wall with her hands pressed against her eyes for several minutes. Then she pulled herself together, came back and continued the scene. She didn't say a word to anyone about what was in the wire."

Victor Seastrom and Axel Nilsson, intimate friends of Stiller-Garbo have expressed a somewhat different view of their relation, according to Nilsson, Garbo once told him, "if I were ever to love anyone, it would be Mauritz Stiller." Seastrom remarked, "at one time, Moje was without any doubt in love with Garbo, and she with him." Stiller's died holding a photograph of Garbo.
STILLER AND GARBO LOVERS?
(in treatment)
STILLER GAY?
(in treatment)
TRIVIA ABOUT GARBO & STILLER
Carl Brisson suggested Stiller Garbo?
Stiller had never met Greta Gustafsson, he had heard favourable word about her from Carl Brisson, the revue artist and former prize fighter, from whom both Stiller and Greta felt the warmest regard.

Hoping to direct her attentions elsewhere, he had, unbeknownst to Greta, suggested to Stiller that this ambitious and good-looking young actress might be suitable for a part in his film, Gösta Berling's Saga , which Stiller was casting in the spring of 1923.

When Stiller telephoned the director of the Academy to ask that he send him two pretty students "not necessarily the best but the prettiest," as he put it- he specified that one of them should be Greta Gustafsson.
Stiller and Garbo marriage
In fact, seeing the couple's devotion to one another, actress Irma Stocklassa asked Stiller why he didn't go ahead and marry the girl. Moje was firm in his response. "No. That wouldn't be right," he said. "I'm too old. She shouldn't get married at all. It would be an obstacle to her career. She is going to be the greatest star of them all."

SOURCES
Garbo by John Bainbridge
The Great Garbo by Robert Payne
A Life Apart by Karen Swenson
Online Encyclopedia. edited by Néstor G. Acevedo (Greg)