Unreleased or Lost Material
- Mata Hari: Uncensored Version -
Various books wrote how the film was a victim of censorship when it was re-released in 1938/1939. Some scenes were cut out to satisfy the Hays Office. In spring 2005 the uncensored version of the film was shown in Brussels/Belgium at the Cinémathèque Royale de Belgique. Warner is aware of it and it is now up to them to restore the film and release it on DVD. The Uncensored Version does contain the following scenes and takes:
The Mata Hari dance scene
The Mata Hari's dance scene at the beginning is much longer. The original dance scene goes on and on. Most revealing as Garbo continues in a frenetic dance to approach the statue of Shiva. She does is in such a suggestive way, that she seems to imply that she actually makes love with it. In the last shot she takes the top off and we see her from behind – totally nude.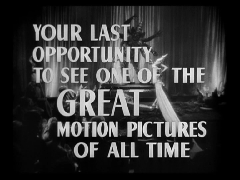 This is a mini scene from the edited 'dance' scene
The Negligee scene
In this version we see the scene where Garbo goes into her bedroom. After closing a satin curtain and then changes into a most revealing negligee. Novarro left behind and hesitate and then we see that wonderful close up of Garbo with the orchids. Than she emerges to initiate a wonderful love scene with Ramon Novarro.
The Madonna Light scene
Another scene included, follows after the scene where Garbo tells Novarro to put off the candle on the Madonna icon and Novarro obeys. After the light goes out, there is a fade out in the cencored version. In this one, there is much more. We see a wonderful close up of Garbo, the two lovers embrace. Novarro micks her up in his arms and carries her to his room.
The American Talkies Productions

The Queen Christina Costume and Lighting tests

© Copyright 2005 – www.GarboForever.com – Germany – TJ & John – The Webmasters