Unrealized Projects 1940-1944
GARBO - THE MOVIE COMPANY (early 1940s)
Aristotle Onassis (1906–1975) was one of the prominent shipping magnates of the 20th century. Garbo and George Schlee often were guests on his yacht.

Onassis
Rumor is he suggested Garbo to create her own film company. He would fianance the whole thing and she could do every film she wants to do.
SOURCE: GARBO book
UNKNOWN "ERNST LUBITCH" PROJECTS/ NINOTCHKA 2 (1940)
After the huge success with Ninotchka; MGM wanted to re-team Garbo & Lubitsch.

The director, writer & producers had several ideas for new Garbo films and wanted to offer them to Greta but he couldn't reach Greta on the phone.

Garbo had wanted to work with Lubitsch for ten years, had socialized with him, had respected him. Why would she refuse his calls?

Salka Viertel said that Garbo had not really been happy on the set with Ernst and that there was no "Stimmung".

He never talked to Greta about his other film ideas and unfortunately none of them are known.
SOURCE: Karen Swenson – A LIFE APART
MARIE CURIE (1940)
Already planned with Garbo in 1938 and 1939. The chance to make a film about Curie was again suggested to Garbo after Ninotchka was made.

On May 1940 a magazine announced that MGM will make Marie Curie with Garbo next and that they have assigned Spencer Tracy as Pierre Curie.
SOURCE: News magazine
THE SHANHAI GESTURE (1940) - FICTION
The fictitious book "The Greta Garbo Murder Case" wrote that Mayer wanted to buy the film rights to this successful stage play.

Mayer saw Greta in the Mother Goddam role but nothing turned out that way of course. I'm not sure if this is true. I think this story is made up by the writer.

Gene Tierney played the female lead in this exotic 1941 United Artists production directed by Josef von Sternberg.
SOURCE: The Greta Garbo Murder Case
ALL THIS, AND HEAVEN TOO (1940)
Greta missed out on an opportunity to work with Bette Davis.Bette had suggested switching roles and playing the Countess to Garbo's lead as the long-suffering governess, Henriette in this Warner Brothers picture.

Although an interesting idea, Bette knew it wouldn't happen and guessed that Garbo wouldn't touch any picture not made on the MGM lot. Norma Shearer was also suggested after they couldn't reach Garbo.

The film also starred Charles Boyer.
SOURCE: GARBO book
THE LEGEND OF SISTER BEATRIX – ON STAGE (1941)
Based on the Maurice Maeterlinck play.

Max Reinhardt, was hoping to mount a stage production of Maurice Maeterlinck's Sister Beatrice.

Reinhardt thought that Garbo would be perfect as the Madonna. He suggested that Greta could perform the part almost in pantomime.

Nothing turned out.
SOURCE: Karen Swenson – A LIFE APART
WOMAN OF SPAIN (1941)
The Scott O'Dell novel was already bought for a possible Garbo film in 1936.

After Salka Viertel's return to MGM and a long search for a new Garbo film after Ninotchka and some time after she found a story.

Salka thought that the novel by Los Angeles author Scott O'Dell would make an excellent Garbo vehicle.

The locale was northern California, in the wonderful country around San Jose.

Salka suggested the book to MGM producer Bernard Hyman who seemed very interested, mainly because he immediately conceived the slogan: "Garbo Plays a Western."
SOURCE: Karen Swenson – A LIFE APART
A WOMAN'S FACE (1941)
GG was offered the chance to star in this film just before she signed to do Two-Faced Woman.

It was a remake of the 1938 swedish Ingrid Bergman film En Kvinnas ansikte.

Alfred Hitchcock was considered to direct.

After Garbo declined the role went to Joan Crawford and the great George Cukor directed.
SOURCE: GARBO book
LADY FROM LOUISIANA (1941) - FICTION
The fictitious book "The Greta Garbo Murder Case" wrote that Greta was offered the female lead next to John Wayne in this cowboy film.

Garbo passed and Ona Munson got the part. I'm not sure if this is true.
SOURCE: The Greta Garbo Murder Case
DISHONORED LADY (1942)
Based on the 1930 play Dishonored Lady by Edward Sheldon and Margaret Ayer Barnes.

Rumored that both Bette Davis and Garbo wanted to make this play into a film. Not happend. Hedy Lamar starred in film version, USA 1947.

SOURCE: Film Book
LIVE RADIO BROADCAST (1942)
On January 24, 1942, the Hollywood Victory Committee presented a live radio broadcast featuring a host of celebrities speaking on behalf of the Infantile Paralysis Fund. One of the show's anxious writers had hoped to snare Garbo and announced her participation to the press.

A report later surfaced suggesting that no less than Eleanor Roosevelt had appealed to the Swedish star for help. According to the Victory Committee, however, Garbo was never asked. The person brought in to write the charity show was under the impression that he was to cast it as well, but the committee had already assembled an impressive all-star cast: Bob Hope, Bing Crosby, Humphrey Bogart, Marlene Dietrich, Tyrone Power, Deanna Durbin, Claudette Colbert, James Cagney. Disappointed, the writer waged his own campaign to get Garbo, and the story soon took on a life of its own.

The ploy backfired. With the uncertainty of the first dark days after Pearl Harbor, Greta didn't even know when she would be returning to the screen, let alone attempt radio.
SOURCE: GARBO book
ICELAND (1942)
RKO wanted to make this film with Greta.

Salka was involved too but Garbo had some problems with the scheduled working time the movie would have involved, so the script was re-written and produced by 20th Century Fox starring Sonja Henie.
SOURCE: GARBO book
WE WERE DANCING (1942)
This movie was also offered to Garbo.

She passed on and Norma Shearer got the part. It was Shearer's final film.
SOURCE: GARBO book
UNTITLED "TWIN SISTERS" FILM (1942) - FICTION
The fictitious book "The Greta Garbo Murder Case" wrote that Mayer suggested Garbo a story about Twin sisters.

One a loyal teacher from Brooklyn and the other, a Nazi spy.

The teacher gets confounded with the nazi spy and gets into deep trouble. The film was later made with Conrad Veidt. The title was – Nazi Agent.
ALTERNATIVE TITLE: Salute to Courage
SOURCE: The Greta Garbo Murder Case
CASABLANCA (1942)
In a USA magazine I found the rumour that producers Hal Wallis dream cast was Greta (as Isa), Paul Muni (as Victor Laszlo) and Clark Gable (as Rick).

We think that this is just made up by this magazine.

But it could be possible that director Michael Curtiz or the producers J. Warner and H. B. Wallis, had Garbo in mind when it came to cast the "Ilsa".

Other choices were: Hedy Lamarr & Rita Hayworth. The film was than cast with Ingrid Bergman and her turned into an everlasting film legend.
SOURCE: USA magazine
THE MIRACLE (1942)
Warner Brothers had planned to make a film version of The Miracle with Garbo. Henry Blanke wanted to produce the picture, based on the Karl Vollmöller play.

The Miracle re-told an old legend about a nun in the Middle Ages who runs away from her convent with a knight, and subsequently has several mystical adventures, eventually leading to her being accused of witchcraft.

During her absence, the statue of the Virgin Mary in the convent's chapel comes to life and takes the nun's place in the convent, until her safe return.

The project was offered again to Garbo in the early 50s.
SOURCE: GARBO book
MADAME CURIE (1942/1943)
MGM again tried unavailingly to interest Garbo in the role of Curie.

Garbo didn't like the screenplay which was a re-written version of the 1939 Salka Viertel script.

Salka wasn't involved in the project. Maybe that was also a reason why she declined. The role was also offered to Katharine Hepburn, Joan Crawford and Norma Shearer.

Oscar winning Greer Garson got the part instead.
SOURCE: GARBO book
SPELLBOUND (1943/1944)
Joseph Cotten and Greta Garbo were considered for the lead roles at one point.

"Spellbound" has one of Hitchcock's finest casts, with Gregory Peck and Ingrid Bergman in the lead roles, and legendary Russian actor Michael Chekhov and Hitchcock favorite Leo G. Carroll in support. But as ever, it could have turned out very differently: Selznick originally wanted Joseph Cotten, for the lead role, while at one point he thought about luring Garbo out of retirement to play Dr. Petersen. Peck, Bergman and Chekhov won out, although Cotten would eventually get the chance to play the role, taking on Dr. Edwardes/John Ballantyne in two separate radio productions in 1948 and 1951.
SOURCE: Internet Article
DAVID O'SELZNICK PRODUCTION (1943)
After Garbo released MGM from her contract. She soon, in fact, was eager to go back to work, according to a David Selznick memo of January 4, 1943.

"I continue to get all kinds of messages from Garbo ask­ing if I won't make a picture with her," he wrote to Dan O'Shea, an associate at Selznick International. "There is no particular reason why we should make a Garbo picture with all the women stars we have under contract—particularly Ingrid Bergman, but I will call it to your attention now only in case we run into a good piece of material...."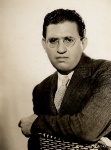 David O. Selznick
David O. Selznick (1902–1965), was one of the iconic Hollywood producers of the Golden Age. He is best known for producing the epic blockbuster Gone with the Wind (1939) which earned him an Oscar for Best Picture. Some time later Selzick was eager to make a comeback film with her.
SOURCES: GARBO Book
FLESH AND FANTASY (1943)
Garbo was wanted for a role in this all-star omnibus film by director Julien Duvivier, but declined.

The Film was released in 1943, starring Edward .Robinson and Charles Boyer.
SOURCE: Internet
MOURNING BECOMES ELECTRA (1943)
Katharine Hepburn wanted to star in a film version of the successful stage play by Eugene O'Neill.

She hoped that George Cukor would direct and MGM produce the drama. Hepburn in the daughter role and Garbo as the mother role.

Katharine Hepburn said that she was "absolutely besotted" by Eugene O'Neill's Mourning Becomes Electra and wanted to do it at MGM with Garbo and director George Cukor.

Hepburn arranged a meeting to discuss the project with Mayer, Garbo and Cukor.

The studio boss listened to the story, as told by Harriet Frank, his talented storyteller. Mrs. Frank did a brilliant job when she told Mourning Becomes Electra.

It took almost two and a half hours to present a detailed synopsis and Hepburn knew by the end of act 1 that they had lost Mayer. The trio left Mayer's office without further comment.

Greta was obviously perplexed and wanted to know what had happened.
SOURCE: GARBO book
SONG OF RUSSIA (1943)
This would have Garbo teamed-up again with Robert Taylor.

The movie was offered to her in 1938 under the title of Scorched Earth. She turned it down.

Susan Peters played the part in this 1943 released MGM film.
SOURCE: GARBO book
THE PARADINE CASE (1943)
MGM considered again to make this filme with Garbo as the follow up to Two-faced Woman.
SOURCE: GARBO book
THE GIRL FROM LENINGRAD (1943)
The film was a remake of the Viktor Eisymont's 1941 film – Frontovyye podrugi.

Producer Bernie Hyman suggested something "new": turning the love goddess into a morale booster. Garbo goes to war. The Girl from Leningrad would cast her as a courageous leader of the Russian resistance. Garbo was to play Natasha, a Russian Resistance Fighter in Nazi occupied territory.

"It was a moving, simple story about a wounded soldier and a nurse, made during the Russian- Finnish war, but changed into the Soviet-German conflict," Salka recalled. "The menacing presence of the Nazis was not so much seen as constantly felt ..."

Garbo went to the movies to see the imported Soviet film and liked it. On December 20, 1942, Garbo signed a one-picture contract with MGM offering her the same basic terms as her Two-Faced Woman agreement.

Within a few short months, however, Metro canceled the project. One could only speculate about the reasons. "Perhaps Garbo's enthusiasm was not emphatic enough, or they did not want to make afilm sympathetic to the Soviets," Salka offered . Garbo found the script 'depressing'.

With Bernie Hyman's passing (the producer died before the Leningrad deal was finalized), there no longer was anyone in the executive office actively pursuing Garbo stories. Greta had collected a payment of $70,000 before MGM decided not to make the film.

Due to the bailout, according to the terms of her contract, she was entitled to full payment. Louis B. Mayer had a check for $80,000 prepared, but much to his amazement, Garbo refused it.

She could not accept what she had not earned. Even when it would have been to her financial advantage, the actr ess refused to play games, said producer David Lewis. "She simply existed within what she really was."

After Garbo declined, the role was offered to young starlet Oona Chaplin. She did a screen-test for the film but the project was never made.

The orginal Russian film is hard to find.
ALTERNATIVE TITLE: The Leningrad Girl, Leningrad Girl
SOURCE: GARBO book
MOURNING BECOMES ELECTRA (1943)
Katharine Hepburn wanted to star along with Garbo in Eugene O'Neill successfull stage play.

George Cukor was interrested to direct but MGM's head, L.B. Mayer, wasn't interrested.

So, they had some discussion about taking the project to Warner Bros., but all three partners preferred keeping in alignment with their adopted alma mater.
SOURCE: GARBO book
DARK EYES (1943)
Metro readers submitted new story ideas for possible Garbo films, including Dark Eyes, a Broadway comedy written by Russian stage actress Eugenie Leontovich.
SOURCE: GARBO book
GEORGE SAND (1943)
Shortly after Garbo left MGM they suggested to make a bio-pic with Greta about the life of George Sand.
SOURCE: GARBO book
THE HEAVENLEY BODY (1943)
This romantic comedy screenplay by Michael Arlen was suggested by MGM for Greta.

Hedy Lamar starred in the film version.
SOURCE: GARBO book
JANE EYRE (1943)
Another novel which was suggested to Garbo as a possible film project.
SOURCE: GARBO book
EMPRESS ELISABETH OF AUSTRIA aka SISI (1943)
A personal friend suggested Garbo that a Film based on the life of Sisi, the Austrian Empress, would make a good picture.
SOURCE: GARBO book
CATHERINE THE GREAT (1943)
A personal friend suggested Garbo that a Film, based on the life of Catherine the Great of Russia, would make a good picture.
SOURCE: GARBO book
CLEOPATRA (1943)
A personal friend suggested Garbo that a Film, based on the life of Cleopatra, would make a good picture.
SOURCE: GARBO book
LENA STORME (1943)
Harry Edington had offered Garbo a new home at RKO.

Edington, now in charge of production at the studio, had purchased the film rights to Lena Storme with Greta in mind and was seen "huddling" with her regarding a contract.

When Harry Edington left RKO, Garbo lost interest in the project.
SOURCE: GARBO book
VICTORIA (1943)
Jean Anouilh suggested Garbo this film idea. Victoria is the title of a Norwegian novel by Knut Hamsun.

A miller's son, Johannes, falls in love with the daughter of a wealthy landowner, Victoria. They lead incomplete lives without each other, but their futures inevitably lead to each other.

A film about the novel was made in 1935.
SOURCES: GARBO book
SAINT JOAN (1943)
After leaving MGM, Producer Pascal Gabriel offered Garbo again the chance to make Shaws Saint Joan.

On May 1943, Hedda Hopper announced that Greta Garbo finally got the role she's been waiting for. Hopper wrote that Garbo would sail sometime in September for England to play Joan of Arc in George Bernard Shaw's Saint Joan.

Clarence Brown was rumoured to direct and Salka Viertel was hired to write the screenplay along with Gottfried Reinhardt's brother, Wolfgang.

The project was already suggested in 1938 by Selznick and Gabriel. But in 1943, Selznick wasn't involved anymore and instead of him, Gabriel secured the interest of British producer J. Arthur Rank Shaw wasn't happy when he learned that P. Gabriel still considered Garbo as Joan Of Arc and told a friend that his Saint Joan can't be played by an old Hollywood star and no longer in her first youth.

However, Pascal won producer J. Arthur Rank in financing a package. He also thought that he could allay Shaw's fears once Garbo arrived in England.

By July 1943, Greta was all set to travel to England to shoot the film. But Germany's bombing of London put an end to those plans.

The British government put pressure on Pascal and Rank to postpone the production, arguing that it would be "injudicious" to present a film in which modem-day allies were in conflict, with the British burning a French patriot at the stake.

The project was put on hold and Pascal told Garbo that the project should be on hold till the war is over.
SOURCE: Karen Swenson – A LIFE APART
CESAR AND CLEOPATRA (1943)
Based on the George Bernard Shaw play. A British Magazine from 1943, wrote that producer P. Gabriel wanted to make films of two Shaw plays - Saint Joan and Cesar and Cleopatra.

The magazine wrote that the producer considered Garbo for the films. I think this was a mistake by the magazine.

In 1945, Vivien Leigh starred in the Pascal movie production.
SOURCE: British Magazine
PATRIOTIC RADIO MESSAGE FOR SCANDINAVIA – RADIO (1943)
Former ambassador Leif Leifland believes that both Greta Garbo and Ingrid Bergman were anxious to show their sympathy with the Allied force.

Leifland said: "Garbo wasn't a spy but she cooperated with the Allied effort. America was her second home. I don't find it surprising that Garbo was anxious to prove her allegiance."

Despite the urging of the State Department, Swedish diplomats and friends such as Einar Nerman -she refused a request to tape a patriotic radio message to be broadcast to Scandinavia.

Neutrality would not have been the issue but rather Greta's belief that it was not her place to articulate what other people must do; Sweden and America had their own political leaders who were better equipped for that.
SOURCE: Barry Paris GARBO
GEORGE HURRELL PHOTOSESSION (1943)
Rumor was, that in the very early 1940s, Garbo and her friend Gayelord Hauser purchased commercial property along the 300 block of Rodeo Drive in Beverly Hills.

One of the tenant was photographer George Hurrell. In one of his books he wrote that one day Garbo appeared in his office to see who rented her porperty. After a long talk he asked her if she would liek to do some portraits with him. Garbo declined and told him: "I am not photographed anymore"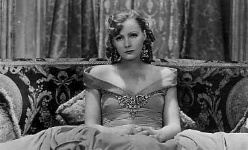 Garbo by Hurrell, USA 1930
SOURCE: George Hurrell book
Thanks to Georg
JANE EYRE (1944)
I'm not sure if its true but a french magazine suggested that Orson Welles wanted Greta for his 1944, 20th Century Fox production of Jane Eyre. Joan Fontaine got the part.
SOURCE: French Magazine
OLYMPIA (1944)
Based on Ferenc Molnar novel. Produced by Paramount with a script written by Billy Wilder and Charles Brackett. Nothing turned out.

In the late 1920s. John Gilbert also starred in a silent film version of the Molnar play - His glorious Night.

A film was made 16 years later starring italian actress Sophia Loren.
SOURCE: GARBO book
THE PICTURE OF DORIANA GRAY (1944)
Producer/Director Albert Lewin offered Garbo the lead role (as Doriana Gray) in the MGM film of Oscar Wilde's classic story but it was no more than talk.

Young actor Hurd Hatfield found fame as the aristocrat, whose beauty is unmarked by depravity while his portrait progressively decays.
SOURCE: GARBO book
JOAN OF LORRAINE (1944)
Based on the Maxwell Anderson play about Saint Joan, this was the all-time favourite future project by director Victor Fleming.

There was a rumour that, in early stages of pre-production, he also considered Garbo for his film.

No infos are known. Ingrid Bergman made the film with Fleming in 1948.
ALTERNATIVE TITLE: Joan Of Arc
SOURCE: USA magazine (1944)
THE CONSPIRATORS (1944)
Warner tried to get Garbo for this film. Garbo passed on and the role went to Hedy Lamar.
SOURCE: Internet
A ROYAL SCANDAL (1944)
Tallulah Bankhead was signed to play Katharina the Great in this Ernst Lubitsch production for 20th Century Fox.

When director Lubitsch found out that Garbo is interested too he tried to win her over and convinced the producers to sign GG instead of Tallulah.

Preminger wasn't impressed when Lubitsch told him that Garbo is interrested. Otto asked "What is with Tallulah?" and Lubitsch answered "Forget her, we can get the Garbo!"

However, it didn't turn out. One source says that Garbo lost interest and another source wrote that producer Daryl F. Zanuck (20th Century Fox) wanted only Tallulah for the part.
SOURCE: GARBO book
WOMAN OF THE SEA (1944)
A movie set in World War II. Written by Vladimir Pozner, Salka Viertel and Joris Ivens.

The project was known as The Violent Sea.

Garbo was to be featured as the woman skipper of a Norwegian merchant navy ship. She liked the script, but negotiations never got beyond the preliminary stage.

Producer Lester Cowan, whose recent credits included the popular war film G.I. Joe, commissioned Salka to write Women of the Sea. Dutch filmmaker Joris Ivens was hired as a technical advisor and the Norwegian Ambassador, Wilhelm T. Munthe de Morgenstierne, wanted to co-operate in this United Artists project, which was going to cost $1,500,000 and was planned to be filmed in the summer of 1944.

Former Warner writer Vladimir Pozner was brought in to punch up the Resistance angle. The stakes were increased when the Norwegian Ambassador to the United States made a personal appeal to Garbo to make the film. But she refused to sign a contract without a finished shooting script.

Salka said that after two-thirds of the script was finished, Cowan decided that this and a synopsis of the rest should be sufficient for Garbo to make up her mind but Garbo said no.

It was then that Salka made a stunning discovery. "I had been concentrating so completely on my work and my personal conflicts that I was only superficially aware of the red-baiting which began to occur in Hollywood. To my utter amazement, I learned that Greta had been warned that it was only a matter of weeks before Norway became a communist country and also that I was under the influence of the Reds."

Salka's agent, Leland Hayward, first enthusiastic about the story, declared that war films were 'outdated and nobody cared to see them."
ALTERNATIVE TITLE: The Violent Sea
SOURCE: Salka Viertel Biography
FRÖKEN JULIE (1944)
This project was offered to Garbo by a Swedish film company in late 1944.

It was going to be filmed in Sweden. The film is based on the August Strindberg play.

A film was made in 1951 with Alf Sjöberg and Anita Bjork.
ALTERNATIVE TITLES: Miss Julie
SOURCES: GARBO book
A SONG TO REMEMBER (1944)
I read that the role of George Sand was offered to both Garbo and Dietrich.

Both declined the offering in this 1945 released Columbia picture.

Merle Oberon got the part of George Sand and the film was quite a success in 1945.
ALTERNATIVE TITLES: Chopin
SOURCES: Internet
MADAME BOVARY (1944)
Garbo was quoted to have said that "No one can play her like I would do" and suggested to make a film version based on the novel.
SOURCE: GARBO book
TCHAIKOWSKY BIOPIC (mid 1940s)
In the mid 1940s, American conductor, composer, and pianist Leonard Bernstein flirted with the idea to make a Hollywood movie.

Hal Wallis of Paramount sent Bernstein a director to New York to shoot a screen-test in a studio.

The project under discussion was a "biopic" in with Bernstein would play Tchaikowsky and Garbo would be Madame von Meck, the composers protector.

According to to one early press release, Vladimir Horowitz was to record "the famous Tchaikowsky sonata", although Bernstein himself played the piano in the test.

But the script was terribly written and so was Leonard's acting. He didn't have the talent and the project was never made.
SOURCE: Leonard Bernstein by Humphrey Burton
MOTHER CABRINI (mid 1940s)
Another source said that the part of Saint Frances Xavier Cabrini would be good for a GG film.
SOURCE: Garbo book