Unrealized Projects 1960-1969
MODJESKA (1960) – stage
A 29 June 1960 Variety magazine notice claimed Garbo herself had bid $100,000 for Modjeska, her "old friend" Antoni Gronowicz's biography of the great Polish actress, Helena Modjeska.


Helena Modjeska

It was written that storey would first be seen as a play 'next season on Broadway with Katharine Hepburn'.
MODJESKA (1960)
Rumor was, that after Katharine Hepburn starred on Broadway as Modjeska, Garbo wanted to turn the play, based on Antoni Gronowicz's biography, into a movie.

It was written that Garbo said that she "I recognize in Izio Neufeld, the Polish artist who committed suicide over Modjeska, an analogy to Mauritz Stiller".

A film version at Paramount was planned. But there is no evidence that the project existed anywhere except in Gronowicz' mind.
SOURCES: GARBO Book
DIE LETZTE AM SCHAFOTT (early 1960s)
This 1932 German novel by Gertrud von Le Fort was also turned into a screenplay for Garbo. The English title is: The Last at the Scaffold or The Song at the Scaffold.

A French film was made in 1959/1960 starring Jeanne Moreau. The title was Le Dialogue des Carmélites.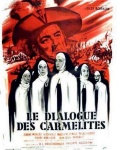 DVD cover from the Moreau film
The plot: Le Fort based her story on the historical martyrdom of sixteen Carmelite nuns in the last days of the Reign of Terror. She, however, invented the main character of Blanche de la Force whom she admitted was based in some ways on her own experiences, especially of the horrors of war. Blanche is a fearful, timid, anxious child not altogether suited to the difficult, ascetic life of Carmel.

She joins the cloister partially because she believes it is a place where she will find peace. But distress follows her, for the Revolution begins soon after she enters, and with it persecution of clergy and religious in France. Blanche has a crisis of vocation and abandons the convent before it is raided and the other Carmelite sisters arrested, tried and sentenced to the guillotine. Blanche secretly attends the execution and while the nuns ascend the scaffold, a miracle happens.
Source: News magazine
ALLEN PORTER BOOK ABOUT GARBO (early 1960s)
Garbo's friend Allen Porter (he was for many years a member of the staff of the Museum of Modern Art ) wanted to do her life story for a MoMA series of monographs.

Allen said it would be a way to straighten out such misconceptions as those concerning her relationship with John Gilbert, but Garbo's answer was, "Maybe people don't want to be put straight."

The Porter bio of Garbo, predictably, was never written, but she came to trust him.
Source: News magazine
SAINT FRANCIS OF ASSISI (early 1960s)
Garbo wanted again to star as Saint Francis. No details are known. A film was made in 1960s, starring Bradford Dillman as St Francis.


Bradford Dillman as St Francis in a1961 film version.
SOURCES: GARBO Book
USA RADIO SHOW – RADIO (early 1960s)
Garbo has been approached with offers of a radio show.

This was also going to show feature excerpts from her films plus original story material.
SOURCES: GARBO Book
THE JUGGLER OF NOTRE DAME – STAGE OR FILM (early 1960s)
Robert Edmond Jones wanted Greta to star in a stage or film version of this based classic novel. Jones (1887-1954) was an American scenic designer. Jones is credited with incorporating the new stagecraft into the American drama.


American scenic designer Robert Edmond Jones

Greta became immersed in it and so Nadea Loftus, the sister of Garbo's friend Jessica Dragonette (a famous singer), went to the library and got material on it. One day she saw Garbo in front of a mirror practicing scenes from The Juggler, twisting her hat this way and that, very Chaplin-esque.


Jessica Dragonette

Nadea, a business manager, was sure she'll make this picture. It was never made but in 1970, an obscure, low budget, feature-length film version was released.
SOURCES: GARBO Book
MADEMOISELLE DE MAUPIN (early 1960s)
This Théophile Gautier story, was also suggested as a possible Garbo film.


Mademoiselle de Maupin

La Maupin, was a 17th century French swordswoman, adventuress and opera star. She often went about disguised as a man and had male and female lovers.

No details are known but a film was made in 1966.


Poster from the 1966 produced film.
SOURCES: GARBO Book, French Magazine
HER LAST LOVE / HER LAST JOURNEY (1962)
European magazines reported that Garbo will appear in a love story with actor Rossano Brazzi called Her last Love or Her last Journey.

It was written that Garbo can choose between a happy ending or a dramatic ending for the film. Other sources write that this project was offered to her in 1964.

No more details are know.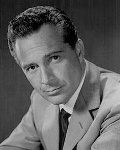 Rossano Brazzi
SOURCES: magazines
TELEVISION HOMAGE - TV (1962)
MGM was planning to produce a big film for television in homage to Garbo with scenes from her films, in order to refurbish her fading image and display its splendor anew. Salka was to collaborate, in order to be able to present as authentic a portrait.


Salka Viertel

However, Garbo did not want to sacrifice anything of her mysterious aura and refused to grant her approval.

Of course, Salka thus lost a lucrative job, but she took it with humor: "So, there goes another of my millions," she wrote to a friend.
SOURCES: GARBO Book
UNTITLED "SWEDISH LOVE STORY" FILM (early 1960s)
No details are known apart from that Garbo was offered a script which was about a love story set in Sweden.
SOURCES: GARBO Book
TYSTNADEN (1962)
Ingmar Bergman wrote the story about the emotional distance between two sisters.

The director/writer asked Garbo to appear in this picture, which would have been her first Swedish-speaking role. Although they discuss the part at length, nothing materializes. The film was made in 1963.

On a visit to Stockholm in 1962 Garbo met Ingmar Bergman, who was tempted to ask her to take a small part in The Silence. In their brief meeting, however, the subject somehow never came up. Asked later why he thought she had left the movies, Bergman replied, "Because she was humiliated by Hollywood."


Filmposter from the 1963 film

ALTERNATIVE TITLES: The Silence
SOURCES: GARBO Book
55 DAYS AT PEKING (1963)
55 Days at Peking is a 1963 historical epic film made by Samuel Bronston Productions and released by Allied Artists.The film was directed by Nicholas Ray.


DVD cover art

Garbo was asked to star as the Chinese Empress Tzu-His. She declined and Flora Robson played the part of the Empress.


Flora Robson
SOURCES: GARBO Book
DEATH BE NOT PROUD (1963)
Italian actor Rossano Brazzi tells the press he is to appear with Garbo in a film version of John Gunther's best selling novel, written in 1949.


Rossano Brazzi

David Lean wanted to direct. It was going to be shot in London and Italy. "Miss Garbo's role is very romantic and suits her well. It is not a role for a young woman" Brazzi said.

Garbo never confirmed or denied the story but it was not the first time she was connected with a film version of the book.


The novel

The story in the book was eventually made into a TV movie in 1975, starring Robby Benson as Johnny Gunther, and Arthur Hill as John Gunther.
SOURCES: GARBO Book
GRAND HOTEL (1964)
Producers from Italy offered Garbo the chance to reprise her role of Madame Grusinskaya for an Italian TV remake of Grand Hotel.
SOURCE: Italian Magazine
DUSE (mid 1960s)
Italian director Giorgio Strehler wrote a screenplay for Garbo, based on the final days of the great tragedienne Eleonora Duse. Strehler hoped to get Greta out of her retirement. Is it unknown if Greta ever heard of his offering.


Giorgio Strehler

In the 1990s, this story was turned into a stage play called Due volte sola.

Based on the original script by Giorgio Strehler, it tells the story of Strehler meeting Garbo who has retired from the screen and he tries to lure her back to films.

He tells her that he wrote a screenplay, based on the final Duse days, especially for her. During their conversations there are a lot of parallels between Garbo and Duse and about Garbo's fear's of an eventual comeback, fear of aging etc.


Eleonora Duse

The play was presented at the Comédie Italienne (Montparnasse) in Paris in 2002 to honor Giorgio Strehler five years after his death.

Hélène Lestrade portrayed Garbo and Michel Denis playing Strehler. Chère Madame Garbo (the French title) was directed by Attilio Maggiulli.
SOURCES: Stage Play Program
TSCHAIKOWSKY (1965)
Film composer Dmitri Tiomkin wanted to make a film about the life of composer Pyotr Ilyich Taschaikowski.


Dmitri Tiomkin

He offered Greta 1 Mio $, if she would play Madame Nadezhda von Meck in the film. Leonard Bernstein was going to play the leading role and said that he would love to play next to Greta.


Madame von Meck

Two film versions were made in 1969 and 1970.
SOURCES: GARBO Book
COCO (1969)
In 1969, Katharine Hepburn, at age sixty-three, did star on Broadway in Coco, the Alan Jay Lerner musical based on the life of the celebrated monstre sacré icon of twentieth-century fashion, "Coco" Chanel.

Coco was a peasant-born seamstress, who became a legendary figure in the world of haute couture, creating nimble and stylish suits and freeing women of the encumbrances of formal clothing. Her empire has thrived since her death.
Garbo's friend Becil Beaton designed the costumes and the set for Coco
Garbo's friend Becil Beaton designed the costumes and the set for Coco. There is a rumor that the producers may also thought about casting the title role with Garbo. It is said that Rosalind Russel was the producers first choice but in the end another legendary American film star won the role and Russel was dropped.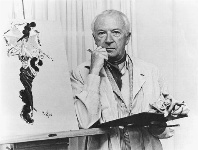 Cecil Beaton
Katharine Hepburn as Chanel
The musical starred Katharine Hepburn as Chanel. She was one of the few great stars of stage and early screen to survive into the twenty-first century. Her "apple-a-day" smile and her long, discreet affair with Spencer Tracy assured her a place in many hearts, if not Cecil's.

The musical was written by Alan Jay Lerner, the brilliant, nervous, highly strung playwright, with music by André Previn. Lerner was normally partnered by Fritz Loewe, who wrote the music. Lerner and Loewe were the team which had created Gigi and My Fair Lady.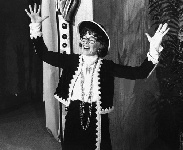 Katharine Hepburn as Chanel
Garbo saw Hepburn on Broadway
Garbo took in a matinee at the Mark Hellinger Theatre with her friend Cecile de Rothschild and was amazed when she heard that Gloria Swanson, at the age of sixty-seven, was hoping to follow Hepburn in the role but later lost the Role of Coco to Danielle Darrieux.

"How can they do it, these women? It's incredible. They're not chickens. How can they undertake such things? The mere thought slays me. I mean, it's terrifying—it's enough to kill an ox in a week."

Garbo loved Hepburn's performance, though she was too shy to visit her former MGM colleague's dressing room and tell her so.

"I applauded like mad. I wish I could have gone backstage to see that one (Hepburn). She can't sing—my God, she sounds like Rose Kennedy—but evidently she's full of en­ergy, like Chanel," she said.

In 1970, a film version with Hepburn was also rumored to be made. Paramount paid 2,7 Mio for the Filmrights but nothing turned out.
SOURCES: News magazine, internet rumor