Unrealized Projects 1980-1989
GARBO IN MINK FUR AD (1981) - FICTION
Blackglama, is a fur cooperative established its brand with the highly regarded "What Becomes a Legend Most?" campaign, almost thirty years ago. A spinoff of the parent brand named American Legend Mink, Blackglama created its brand perception by associations with personalities of international stature, among them Callas, Dietrich, Hepburn, Loren and Pavarotti, captured in artistic black and white photography.

An internet rumor is that Blackglama also asked Garbo to appear in one of their campains. We can not confirm this but also can not deny this. However, in 1981 Gloria Wanson model appeared in their campain.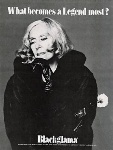 This is an orginal ad from Blackglama, 1981.
GRAND HOTEL (1981)
Rumor was that Garbo has been offered 1 Mio. $ for a short 3 minute cameo in a planned Grand Hotel remake. Ava Gardner was considered to play the part Garbo made famous in 1932.

Fred Astaire, Gene Kelly and Mickey Rooney were all considered for a roles. No more details are known.
SOURCES: News magazine
UNTITLED "VISCONTI" FILM (early 1980s)
One Garbo related book wrote that director L. Visconti wanted to get Garbo for his next film. It is unknown what project this was.


Luchino Visconti

We think they meant In Search of a lost time, which was planned by Visconti in the early 1970s. Visconti died in 1976 so this is can't be true.
SOURCES: GARBO Book
THE LIFE OF MOTHER THERESA (1980)
Again rumours reached the press that Garbo, is at last prepared to film again and make the life-story of the great humanitarian.


Mother Theresa

She is said to be prepared to donate any money she makes from the film to help her subject's work in India. As with every other comeback, further details have never been forthcoming.
SOURCES: GARBO Book
AMERICAN EXPRESS CREDITCARD – ADVERTISING (early 80s)
In the early 1980s, American Express (Credit cards) offered Garbo, several times, $10 Mio., to appear in their advertising campaign "Do You Know Me?".


American Express credit card

No further details are known.
SOURCES: GARBO Book
UNKNOWN FILM WITH JACK NICOLSON (1980-1983)
I read that in the early 1980s, Garbo was offered a part in a film with Jack Nicholson. Could this be Terms of Endearment? Or maybe Reds?


Jack Nicholson

No more details are known.
SOURCES: GARBO Book
THE GRETA GARBO STORY (1983)
A TV Film based on the life of Greta Garbo was offered a short cameo in this unknown production.
SOURCES: GARBO Book
ZELIG (1983)
Woody Allen wanted Greta to be one of the people interviewed in the film. A funny film.


Woody Allen
SOURCES: GARBO Book & Internet
GARBO TALKS (1984)
Director Sidney Lumet wanted Greta to star as herself in this film. Broadway songwriter Betty Comden played Garbo in the final film. Comden was hired because the producers were sure that the real Garbo either could not be located or would flatly turn them down.

They did try however, a known associate of Greta Garbo was located he was asked to ask the great actress if she would appear in the film but the associate never responded back. That is Comden we see in the film.
More Infos HERE!

SOURCES: GARBO Book
GARBO BIOGRAPHY (mid 1980s)
In the 1980s, Jacqueline Kennedy Onassis, an editor at Doubleday & Co., wanted to speak with Garbo regarding an authorized biography. Several of Greta's friends had urged her to let someone write her autobiography "so it would be real correct and everything put forth accurately," Betty Estevez says.

A brief meeting was arranged with Mrs. Onassis – but, after "serious consideration," the answer still was no.
SOURCES: News magazine
UNTITLED "MERLE FITZROY" PLAY – STAGE (1986)
Merle wrote a stage play for Garbo, which was inspired by Pirandello.
SOURCES: GARBO Book
FILM ABOUT GARBO'S LIFE (1988)
One American Gossip magazine wrote that Garbo said that she wants Michelle Pfeiffer to play her in a film version. The magaine quoted Michelle Pfeiffers husband.


Michelle Pfeiffer

He said that one day Garbo was on the phone and told him that she is a big Pfeiffer fan and that she wants her to play herself on the big scren. This is probably made up.
SOURCES: Gossip Magazine