Garbó
PREMIERED
Budapest, 21st of December, 2007
PROMO POSTER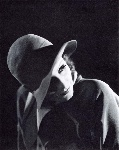 COUNTRY
INFO
This stageplay, Garbó, is based on Tin Andersén Axell 2005 released book, Djävla älskade unge! Andrea Fullajtár, one of the most popular Hungarian actresses, is playing the role of Garbo. The play premiered in Budapest/Hungary on 21th of December, directed by Erika Szántó.
SYNOPSIS
What was Greta Gustafson, the latter Greta Garbo like in the nineteen twenties? According to the Swedish author, Tin Andersén Axell's novel based on private letters she was a disjointed, spontaneous person, a joyful, witty, almost exalted young woman, who woke up to her extraordinary talent in the Academy of Drama, and resisted all kinds of authority, restriction, lessoning.

She wasn't a cold, moderate, elegant goddess as the world believed. The Drama Academy played a key roll during her whole life, but Mimi was the most important to her. Their friendship – as it appears from the letters – lasted lifelong.

The memory of a youthful love eased Greta's dowager loneliness. The twosome stage play takes place in the associative fields of memory, the stage transforms into the film of Garbo and Mimi. Letters and monologues follow each other, time is disappearing in the logic of the mind. Garbo and Mimi is played by two brilliant Hungarian actresses, Andrea Fullajtár and Anna Szandtner.
CAST
Garbo – Andrea Fullajtár
Mimi – Anna Szandtner
CREDITS
Translated by: Erzsébet Dragos
Set and Costumes: Nóra Bujdosó
Music and Visual Effects: Gergely Zöldi
Dramaturg: Judit Góczán
Assistant Director: Eszter Sós
Directed by: Erika Szántó
PROMO PICTURES OF ANDREA (GARBO) & ANNA (MIMI)
PICTURES FROM THE PREMIERE
CRITICS
(in treatment)
STAGE PLAY LINKS
Thanks to Zoltán Várkonyi
Garbo Stage Plays - Introduction

Garbó - The Stage Play

Joyeux Noël Mademoiselle Garbo

Garbo's Last Walk

Die Garderobe von Greta Garbo

Dietrich & Garbo: Von Kopf bis Fuss

Chère Madame Garbo

Ollares de perfil. O mito de Greta Garbo

Greta Garbo, quem diria?, acabou no Irajá

The Private Potato Patch of Greta Garbo

The Divine