Ollares de perfil. O mito de Greta Garbo
PREMIERED
1988
COUNTRY
Brazil
INFOS
Written by Brazilian actor and director Roberto Cordovani and Alejandra Gibert. In 1988 the play was released. It achieving numerous success in many places of the world (Spain etc).

In this play Roberto plays a the performer "Gustafson". He imitates Greta Garbo in a nightclub of New York, in the end of the 1930s. The arrival of three people, among them a photographer that thinks to be before the famous actress, starts a complicated game of relationships. This successful 85 Minute play was premiered in 1988. It achieved several prices and is still quite a hit.
ROBERTO CORDOVANI AS GARBO
CAST
Roberto Cordovani as "Gustafson"
POSTER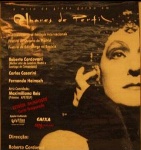 LINKS
None
Thanks to Nakis and RubyRed
Garbo Stage Plays - Introduction

Garbó - The Stage Play

Joyeux Noël Mademoiselle Garbo

Garbo's Last Walk

Die Garderobe von Greta Garbo

Dietrich & Garbo: Von Kopf bis Fuss

Chère Madame Garbo

Ollares de perfil. O mito de Greta Garbo

Greta Garbo, quem diria?, acabou no Irajá

The Private Potato Patch of Greta Garbo

The Divine
| | |
| --- | --- |
| Garbo's Musicals and Stage Plays - Introduction | |

© Copyright 2005 – www.GarboForever.com – Germany – TJ & John – The Webmasters