INTRODUCTION
Stand-Ins is about six young women, each of whom is a 1937 era Hollywood studio employee who, because of their physical resemblance, takes the place of a famous actress (Rita Hayworth, Greta Garbo, Bette Davis, Mae West, Marlene Dietrich, Jean Harlow) and "stands in" on the film set when directors want to check lighting, camera angels, etc. and don't wish to tire out their stars for such mundane technical production steps in the making of their movies.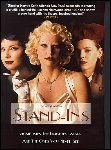 DVD cover
The setting is a local bar where the six women gather together with the bar tender to celebrate the birthday of a seventh member of their little club of fellow stand-ins. Fascinating character developments with startlingly and intimate revelations throughout the afternoon, a sudden and surprising crisis, all are backgrounded with informative behind-the-scenes movie making insights. Stand-Ins is thoroughly entertaining, superbly produced, memorable enacted film that will enhance any community library video movie collection.
ALTERNATE TITLE
Stardust - Entscheidung in Hollywood (GERMANY)
Duplas (PORTUGAL)
SCREENCAPS
First Look International
CREDITS
Director: Harvey Keith
Writers:Harvey Keith (screenplay) and Ed Kelleher (writer)
TECHNICAL SPECS
Jordan Ladd as Monica-Bette Davis' Stand-in
Daphne Zuniga as Shirley-Greta Garbo's Stand-in
Sammi Davis as Martha Anne-Jean Harlow's Stand-in
Charlotte Chatton as Peggy Mae West's Stand-in
Todd Cattell as Rhonda-Marlene Dietrich's Stand-in
Katherine Heigl as Taffy-Rita Hayworth's Stand-in
SYNOPSIS
Hollywood 1937. Six women, who come to Hollywood with the dream of becoming famous, find themselves working as stand-ins to the glamorous stars of the era. They were the stand-ins of Garbo, Bette Davis, Harlow, Mae West, Marlene and Rita Hayworth.

They gather at their local watering hole for a birthday celebration where they share their hopes and dreams with the bartender Jack, the ringmaster of the "stand-in" circus. During the course of one evening, a new stand-in is introduced to the group, instigating a turn of events which will change their lives forever.
PREMIERED/RELEASED
USA, 17 October 1997 (Hamptons International Film Festival)
USA, September 1999 (video premiere)
TRIVIA
Katherine Heigl's character was Katharine Hepburn's stand-in. Permission was not granted to use Hepburn's name, so references to Rita Hayworth were dubbed in post-production.
DVD/VHS
Available on DVD
See HERE!
SOURCES