Garbo related Books by Beaton
The diaries
The diaries, The Happy Years (1972) and The Strenuous Years (1973) are also containing details about the presumed love affair between Garbo and Beaton. Here is a list of all his released diaries:

1922 -1939 The Wandering Years (published in 1961)

1939 - 1944 The Years Between (published in 1964)

1944 - 1948 The Happy Years (published in 1972)

1948 - 1955 The Strenuous Years (published in 1973)

1955 - 1963 The Restless Years (published in 1976)

1963 - 1974 The Parting Years (published in 1976)

Other Beaton books
Self Portrait with Friends (1979)
(This book resumes the most important parts of these diaries)

The Book of Beauty (1930) and Cecil Beaton's Scrapbook (1937 )
(Beaton wrote about Garbo in those hard-to-find books, even if he hardly knew her at this time.)

The Glass of Fashion (1954)

The Best of Beaton (1968)
(This does contain 7 portraits of Garbo, from 1946 to 1965.)

Beaton in the Sixties – More Unexpurgated Diaries (2003)
(A full account of a cruise Garbo spent with Beaton in Greece in the summer of 1965.)

More to read
There are two more interresting books. Loving Garbo, by Hugo Vickers (1994) and Greta & Cecil, by Diana Souhami (1994)
Loving Garbo:

Loving Garbo, by Hugo Vickers (1994)
This is a candid look at the strange love-story between Garbo and Beaton from 1946 to 1980. Here you can also find the most of the letters, Beaton wrote to Garbo and details of their friendship.
Greta & Cecil: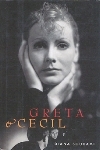 Greta & Cecil, by Diana Souhami (1994)
Another interresting book about Garbo and Beaton.
| | |
| --- | --- |
| Cecil Beaton - Introduction | |
| Garbo Pictures by Beaton | |
| Beaton and Garbo trivia | |
| Garbo Sketches by Beaton | |
| Garbo related Books by Beaton | |
| Garbo in Beaton's Book of Beauty | |
| Garbo and Beaton in Vogue | |
| Garbo's Letters to Beaton | |
| Garbo Stories by Beaton | |
| Beaton's Garbo article | |

© Copyright 2005 – www.GarboForever.com – Germany – TJ & John – The Webmasters