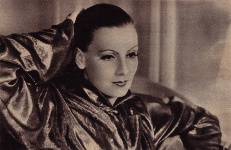 The great Garbo in one of her greatest roles–
the tragic dancer in "Grand Hotel"
The
TRUE LOVE LIFE
of
GRETA GARBO
An intimate biography of the movies most popular idol that is more thrillingly romantic and more startlingly dramatic than any story in which she has appeared on the screen
In the Preceding Installment:
THE first part of this amazing human document revealed the story of Greta Garbo's childhood. It told of her humble birth as Greta Gustafsson in a fourth-floor room, in a poor house in a poor neighborhood in Stockholm; of her girlhood dreams; of the death of her father; of her having to take a job as lather girl in a barber shop; of her apparently hopeless ambition to be an actress; of her finding work in a department store: and of her meeting with Maurice Stiller, the great Continental moving picture director who was to play a tremendous part in her life.
The Story Continues:
"IHAVE to thank Maurice Stiller for everything in this world."
Those were Garbo's own words, spoken long after she became the world' greatest screen idol.
It was more than a love story. Stiller was absolute dictator of Garbo's life in every thought, word and deed for years. From the day they met until today, though he has been dead many years, though Jack Gilbert took her from him, though they parted at last in tears, the great Garbo has been the slave of the man to whom she gave her utter devotion when she was a very young girl.
WHEN they first met, Greta Gustafsson was seventeen. She had not gone beyond the grammar grades in school. Except for rare visits to a nearby farm, she had never been outside Stockholm. For two years she had sold hats in a department store. Until, in 1922, she entered the Royal Dramatic School and made a few friends among her teachers and students, her associates had been people of her own kind and class. Her only glimpse of the great world and its ways had been across the footlights.
Upon that red letter day when Stiller first saw her and recognized in her the girl of his dreams, she was un-awakened, untaught, ignorant of every way of life, except in her dream of being a great actress. Only through acting had sue ever known what it was to express her own emotions, and then only in the smallest way. No one had hailed her as anything unusual, no one had recognized either her genius or her beauty.
The years in the store, in her first picture work, in the dramatic school, had given her something, but not much. And it must not be forgotten that she was only seventeen, a strangely young seventeen in many ways since she had neither the hot blood of the South nor the early freedom of the American girl.
Yet every step of her life from the moment she entered the department store seemed to lead her to Stiller.
When she went to work in Bergstrom's store, she had given up her childish, fantastic dreams of a stage career. The magic of the footlights she put behind her. Her life lay ahead, a plainly marked road of hard work, without glamour. The life a girl of her station and education might expect.
IN her own mind, in her own lonely soul that had never known a real companion, she decided upon her course. To work hard–to make good at her uninspiring job–to make things easier for her mother and Alva.
These were the Thoughts that filled the girl Garbo's head as she rode in the street car from the South Side every morning or walked the long way to save carfare. Is sometimes she found herself dreaming, yearning, remembering the plans for going on the stage which she had dared to make before her father's sudden death, she put them sternly behind her.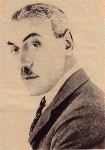 "I have to thank Maurice Stiller for everything
in this world." These were Garbo's own words
spoken long after she had become the world's
greatest screen idol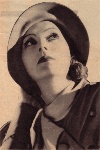 But it was not to be so. The gods suddenly remembered that they had endowed this girl with a divine gift which must not be wasted. So they began to draw the threads of destiny that were to take her to the one man who could guide her the heights beyond her wildest dreams.
The camera began to follow the Gustafsson girl. Who would imagine that a salesgirl in a department store, a manikin in the millinery department, would come before the camera? Yet that was what happened.
Greta had refused to join the store's dramatic club.
"OH, but why not?" the other girls cried. "It's great fun and all the heads of the store come to see the performances." Still Greta shooks her head. How could they know that she dared not raise the ghost of that buried dream–that amateur theatricals would be sheer torture to her?
But the camera was something else. It was real. Perhaps from the beginning she was marked for motion pictures.
First she posed for a page of hat advertisements. Hats that were then the latest thing from Paris. How well she wore them, this girl who had never owned a Paris hat! How remarkably she photographed.
Then, one day, there came into the store a large, jovial man who made the rounds accompanied by the head of the advertising department.
"Who is he?" one girl whispered to another. And Greta, busy putting away hats, heard the answer, "He's a real motion picture director, named Captain Ring. He's going to make a film to advertise the store."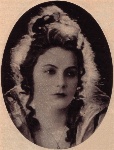 Greta Garbo as she looked in 1925 in
her first American film
The tall girl turned too watch him. A real motion picture director. Well, it had nothing to do with her. Stolidly she went on with her work.
"And," continued the girl, "I heard he was going to use some of the girls in the store. Won't that be exciting?"
GRETA'S heart skipped a beat. Suppose–suppose–Just then the advertising man led Captain Ring over to where she stood.
"This girl posed for some good photographs for us," he said. "Maybe you van use her."
The Captain glanced at her. An unusual face. Bit without expression. Remarkable eyes. But no experience, of course.
"We have real actresses to wear the clothes," he said. Then seeing a darkening storm of disappointment in the enormous eyes, "But perhaps we can use her in a bit."
They did. They used her as a comic. The great Garbo, mistress of love and tragedy, made her first appearance before a motion picture camera, wearing a checked riding habit two sizes to large for her, and behaved like a young clown.
Greta became the store's best manikin. Success glimmered far ahead. Perhaps some day she might be head of the department. But she was not happy. Something tugged at her heart. Some mysterious voice seemed to call to her. Often her heart was heavy and burning.
In another part of Stockholm the great Stiller walked alone, his head drooping, passionately cursing the fates that refused to send him the one thing he desired, the one girl whom he might mold into something really great.
Often he walked all night, dreaming, planning, hoping. And not far away a young girl tossed restlessly, half awake, half dreaming, wondering what voice called to her from beyond the walls that bound her, and sometimes started, wide-eyed, saying to herself, "Why do I feel this way? What calls me? Why am I so restless?"
Their paths drew nearer, step by step.
HER restlessness was stirred and kept alive by the other commercial films she made for Captain Ring. Once, when he wanted her, the store refused to allow her the time. They were paying Gustafsson to model hats, no to make pictures that had nothing to do with them.
When she heard of it, the first bitter resentment grew in Greta's heart. She became more silent. Only sixteen, she needed her job and dared not protest, but she hated the drab monotony more and more.
The time came, and soon, when the temptation was too great, when all the forces of her nature rose in a mighty wave of desire and swept away from that safe haven into a great open sea, a stormy sea of struggle and heartbreak and triumph.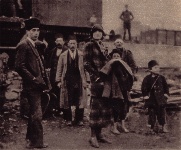 The young Swedish actress, snapped at a railway station
in Bulgaria, during the trip to Constantinople with
Maurice Stiller to make a picture that was never taken
Erik Petschler, a motion picture director, went into the store to buy hats for two young actresses who were to appear in his production, "Peter, the Tramp." Searching for a third girl, he saw Greta Gustafsson and decided instantly that she would do.
But the store refused to adjust her summer vacation so that she might do the picture and return to her work. And thus Greta faced her gig decision–her steady job, or the wild gamble of motion pictures?
Sadly Petschler told her, "You must not do it. I cannot allow you to risk your engagement for so small a part. I do not know when I could use you again. You might never get any more work in pictures."
Suddenly something fierce and hot rose up in the girl. She could not bear it. Everything seemed to fade away except this chance that was slipping through her fingers, this heaven-sent, unexpected chance that had sought her out in her obscurity.
"I will make your picture," she cried fiercely. "I do not care about the vacation or the money. Such an opportunity may never come again to me. I will take the chance."
That night she told her mother what she had done. The little mother sat in her rocking chair, with Alva beside her. Swen, grown tall and handsome now, was in her father's old place by the window. Greta could not sit down. She walked the floor, as she always did when she was excited. The mother looked at them wit adorning eyes. Was any woman ever so blessed in her children? Alva was doing so well in the office where she worked, and Swen was steady and honest like his father. Now her baby, Greta, was talking of being an actress in the films. Perhaps some day she would be a success, and Mrs. Gustafsson could buy a little grocery store in the neighborhood, as she had dreamed ever since Papa died.
"Have I done right, Mama, to give up my work for this picture?" Greta asked, stopping before her.
"I think you know always what is best for you to do, my Greta," said the mother, rocking placidly.
Alva looked up at her tall young sister with adoring eyes. "Maybe you will be a great success, Greta," she said.
"We shall manage," said Swen.
AH, they were so good to her. They had no wealth to give, but they gave love, and loyalty and trust. Suddenly they were all laughing and crying together, and Greta was trying to take them all in her arms.
In truth, it was necessary for them to "manage" for the next year or two.
For, important as it seemed to Greta and the Gustafsson family, terrific as the decision appeared to them, the entrance of the girl who was to be Garbo into the film profession did not cause a ripple.
By a freak of chance, Stiller did not see the film. He was busy with tremendous plans for his future productions and when "Peter, the Tramp" was shown, he did not go.
There was no more work in pictures–or only a day or two. Times were hard. Greta worked for a short time in a tobacco shop.
Afterward, Stiller came to believe he had seen her behind the counter of that little shop. But Garbo does not say so. Perhaps indeed he did see her, in one of his moody strolls, when he walked thinking so deeply that he scarcely knew where he walked. Perhaps it is true he had glimpsed her face in the tobacco shop, and gone out without realizing that it was a real face–not just the one that haunted all his thoughts–and then had been driven almost frantic by the thought that he had seen that face and lost it again.


"You are a great actor–my favorite actor."
With these words Garbo greeted Jack
Gilbert the first time they met
Greta's next step toward that predestined meeting with Stiller was the Royal Dramatic School of Sweden.
FOR she had discovered that she knew nothing. The Royal Dramatic School, supported by the state, where students with promise were coached by the finest instructors, was the only place where she could learn the many things that she believed would make her a great actress, the only door in Sweden into a future in the theater or the motion pictures.
How could she get into the Royal Dramatic School?
To enter, it was necessary to pass a test, and each year hundreds tried for the coveted positions. What chance had a girl like Greta Gustafsson to win her way into that sacred temple? Wasn't it ridiculous for her to attempt it?
Yet in the end, doggedly determined, courageous in the face of her fears, rising above her awful shyness and her pitiful consciousness that she had only the cheapest clothes to wear and that her education, her manners and speech were far below the standards of those who would complete against her, she made up her mind to try.
The great day in August arrived. With her seventeenth birthday just a month ahead, Greta stood in the wings of the school theater among fifty young men and women who were there to try for the four vacancies.
Years later Greta Garbo described, as no one else could, her feelings upon that fateful day.
"What suspense!" she said. "I remember I wondered what sort of weather it was. but I was not able to decide even such a simple thing as that. Nervous? I felt a mixture of mad fear and unearthly happiness. Which was I to win in the great deciding moment before me–my chance of happiness or a return to misery? My knees shook. I trembled violently. I remember nothing clearly, no definite details of the scene. As I waited my turn, my timidity returned like a cold wave. I said to myself, 'How could you dare to do this?' I had never been upon a real stage in my life.
In front were the jury, critics, teachers, directors, successful actors and actresses.
"MY name was called. I went upon the stage. Therre was a black abyss before me from which I heard whispers in the dark. I came near fainting. Somehow I recited what I had learned, as best I could. Then I finished. Without saying a word, without waiting for a good-by or a dismissal, I ran–I ran from the place and I did not stop running until I was at home with my mother.
"What anxiety followed! I counted the hours. I stayed awake nights. Had I hurt my chances by running away like that? If I had failed, I must go back to the store and humbly beg them to give me back my position. How awful that would be!"
Upon the result of that test she felt that her whole future, her very life, depended. And she was right, for, had she lost, she would never have met Stiller.
But she won.
"How happy I was!" said Garbo, years later. "I thought I would die! Even now, it is hard for me to breathe when I think of the joy of that moment. Now I would be a real actress!"
Months in the dramatic school. That first awful shyness, that terrible lack of social ease, of knowing how to talk with others. The friendship of gay little Mimi Pollack, her first real friend. The boys who followed her about. With Mimi, at last glimpse of the Bohemian life of the students, some of them as penniless as herself. Coffee drinking in the cafés where, as she grew a little less timid, her love of practical jokes and her early sense of humor returned. Hard, hard work–fencing, studying, learning parts, dancing, voice culture. Hard times at home where the others struggled to make ends meet so that Greta might have her chance, might have the few necessary clothes, the books, the make-up kit. Enchanted nights in the theater, to which the students received passes. Tiny parts on the stage at the Royal Theater. A long, steep, hard road to–what? Success or failure. Who could tell?
Then–the spring of 1923. Her first meeting with Stiller.
Every one was talking of the great epic film being planned by Maurice Stiller, the most significant figure in the film world of Europe–"The Saga of Gosta Berling". The teachers of the school spoke of it, of Stiller, with bated breath. Even the great Molander, head of the school, bowed before Stiller. The students discussed the picture and Stiller over the coffee cups. What a wonderful thing to work for such a director! Even if one were only an extra, how marvelous to see and hear him!
AN idea was born in Greta's ambitious mind. She must have money. During the summer, she must, somehow, earn a little. Why not try to get a small part even extra work, in this great film? She was, after all, a student at the Royal Dramatic School. Perhaps even Stiller would give preference to the students.
"I have to thank Maurice Stiller for everything in this world."
Garbo's own words will forever remain Stiller's epitaph. Yet when they told her five years later in Hollywood that Stiller was dead in Sweden, the great star turned away in silence for a long time and at last, she said, "Perhaps it is for the best." No one knew better than she that he desired, then, nothing but death.
It is not possible to know Garbo, to understand her, to read the true story of her romance with John Gilbert and its tragic ending, without knowing Stiller. Yet who ever knew him, except Garbo herself? He is dead now, but so long as Garbo is Garbo, he will continue to live.
That strange, ugly fascinating man, with a voice so beautiful that when he spoke women forgot he had the face of a gargoyle. His gray, cold eyes shone with an almost hypnotic power, dominating, compelling, inspiring those who became beneath their spell. A tall, ungainly man, with enormous hands and feet, he could lift actors to undreamed heights, inspire actresses to greatness.
He was not a Swede. There was in him a strange mixture of races that perhaps made him the artistic, voluptuous, idealistic, ruthless genius that he was. Slay, Nordic, Magyar, Jewish; he was all of these. And all of them showed at times. For he was Oriental in many of his visions and passions, he was violent, he was cold, he was lustful. No man ever lived who was more exotic, and yet at times he was delicate and gentle beyond belief.
A strange man. Behind the mask of his face, which was like something out of a nightmare, was a cultured intellect, full of music and poetry, full of lust and horror, a mind which followed no beaten path and recognized no law save his own desires.
IN Europe they still believe Stiller to have been the greatest motion picture director and regret his terrible journey to America with Garbo and his untimely death.
To this man then, in the spring of the year, went seventeen-year-old Greta Gustafsson, an unknown little student, to ask for summer work in "The Saga of Gosta Berling."
When she arrived at his apartment, Stiller was not at home.
The girl sat down to wait.
She had never seen Stiller. As time passed and he did not come, she grew more and more nervous. It was a nervousness different from any she had ever known. She had a feeling that she was not alone in the room. And never before had she seen such a room. There was a sweet, intoxicating scent in the air, like some Oriental incense. Pictures hung on the wall, strange, lovely things., such as she had never seen. And little Chinese and Indian gods peered down at her with their strange, ugly faces.
How clumsy and out of place she felt! How conscious of her cheap clothes, her ignorance! What was she doing in this room which was like no room she had ever seen? The desire to run came over her und she started from her chair. Something held her. Slowly she felt the impending tide of some great event, and she was breathless with an almost unbearable suspense. She could not run–she must wait and see what this great thing was that made her head swim and sent the blood racing through her veins.
The door opened. In the doorway stood a tall man with a face so ugly, so lined, with such cold, gray eyes and such a bulbous nose that, for a moment, she shrank back. Then their eyes met, and she forgot that he was ugly and saw only that he was different, different from any one she had met, different from any one in the world.
As he came slowly toward her, one hand on the head of the great dog which accompanied him, a violent trembling seized her. Why did he look at her like that? What did it mean, that glow in his eyes and that strange smile on his lips? Why did he not speak?
She did not know. But Stiller knew.
For he had seen that face before. Sometimes he thought that he had actually seen it, upon one of his solitary walks through Stockholm, passing in a crowd perhaps, or driving in a car, or behind some counter. Then he had gone frantically and retraced his steps–but he had never found it. Sometimes he believed it was only the creation of his own powerful imagination–the beauty for which he had so long sought.
Now, sitting in his own room, was a young girl. Some eyes might have seen only the cheap, ill-fitting coat, the black shoes that were scuffed and worn, the heavy black stockings, the cheap little hat that hid her hair, the awkwardness and timidity of her pose.
But nothing could hide from Stiller's eyes that perfect face. Others might not see her startling beauty. Stiller did. He did not see Greta Gustafsson, a lower class shop girl and student. He saw the Garbo of today who, upon the screen, expresses beauty and sex at its height. He felt a spark of the divine fire within her.
They did not speak. The girl was caught like a bird in a snare, fascinated by this vital personality. And Stiller was too thrilled to speak. At last he motioned her to take off her hat and coat. Still trembling, she rose and obeyed. He stared at her for a long time, his vision leaping to a golden future. Through the cheap clothes he saw the long, lovely body which should some day move with such grace, he saw the shining hair that one day was to set a world fashion as the Garbo bob.
He sent her home without a question, without a word. They had not exchanged half a dozen sentences.
A week later it was announced that Maurice Stiller had chosen an unknown, inexperienced girl named Greta Gustafsson for the important role of Countess Elisabeth Dohna in his epic film, "The Saga of Gosta Berling".
THERE was great amazement. True, Stiller had never considered any one's opinion when casting his pictures, and he was famous for an unerring flair that knew the right actor for the right part. But a seventeen-year-old unknown for that leading role in so important and expensive a production. Stiller only smiled. He knew. Moreover, his word was law. No one dictated to him in the slightest detail, in the biggest expenditure. The king could do no wrong. That was what made it so difficult for him later in Hollywood; what sent him back to Sweden and almost dragged Greta Garbo into obscurity with him.
No one was more surprised than Greta herself at this amazing thing which had happened. To play such a role in Stiller's picture! To play opposite Lars Hansen, the leading favorite of the Royal Theater! To be near Stiller, to hear his voice, to be directed by him–it was almost more than she could believe. How had it come about? That one strange visit. One test that was almost a farce, so little attention did Stiller pay to it.
"I did not know what it was all about," Greta told her friend, Mimi Pollack. And now, this wonderful, incredible chance.
It was as if a god had reached down to the earth where she struggled slowly upward, so often discouraged, so burdened with problems, so inadequate and unprepared, and lifted her into a new realm of wonders. Now she could help her mother and Alva and Swen.
Already, because of that one mighty gesture, her heart was soft with gratitude to the magician.
From the day that the shooting of "The Saga of Gosta Berling" began until they went to Hollywood together, Stiller and Garbo breathed, worked, ate, walked, and traveled for their work, for their mutual dream. She was his satellite and gloried in the fact.
And he taught her life and art, and acting, and loyalty, and beauty and devotion. He taught her everything, for she had known nothing, nothing at all.
Those who watched them work together in the early days believed that it was something close to hypnotism, the power that the director had over this girl. Her eyes followed his every movement. Her obedience was instant. Though she rarely spoke and never answered him, it was plain that she considered his every wish and whim.
BUT those who thought it was hypnotism were wrong. They must have been wrong, else how could she have gone on, even with tears and bleeding footsteps, after Hollywood had torn them apart? How could she still be the great Garbo when Stiller lies so quietly upon a hillside in Sweden, beneath the flowers that each day Garbo's distant hand scatters upon his grave?
No, Stiller built better than that. It was something deeper, more unusual, than the relation of a Svengali and a Trilby. The divine fire leaped up in her at his command. He lighted it, fed it, taught her to control it so that it might illuminate her in that strange fashion which still amazes those who work with her in Hollywood, who see a different woman until the cameras begin to grind.
The first day of "Gosta Berling" arrived at last.
So nervous that she could scarcely walk, the Gustafsson girl went to the studio. They took her to a dressing room. Brought her costume. Made her up. Every attention was shown her. How different it all was now that this man had come into her life!
She went out on the set. Stiller was waiting for her. There was a bed upon the set, the same bed where she had made her brief test. Cameras were set up. Lights blazed. People moved about busily.
The terrible nervousness which always shook her, which she still has to fight at the beginning of every role, in fact at the beginning of every day's work, increased. If she should fail– She felt that at any moment she might sink to the floor.
Stiller watched her. One false move might have been the end of Garbo. That agony of timidity, of distrust of her own power, of amazement at her own daring, might have overcome her completely. And if she had failed then, it would have broken her. Gently Stiller put his hand upon her arm. Her trembling ceased as if my magic. The master gave one brief order. Everyone left the set. They were alone.
Slowly he led her over to the bed. Holding her hand in magnetic fingers he said, "Now you must show me how to be very ill."
Ah, it was impossible! This man would expect more than the other. With a terrific effort she tried to remember what she had been taught at school. all she had seen in theaters. Nothing came.
Slowly he spoke, "Do not try to act, my little one," he said. "I want you to be sick. You are suffering. Have you never suffered? Do you not know what pain is? Think–think of these things, until you feel them and believe them. I will go away. You will be quite alone. Do not try to do it with your body or your face. Do it with your mind. I do not want you to act sick. I want you to be sick."
He left her. She was entirely alone on the big set. For the first time since she was a little child and looked down from the bridge at the lights of Stockholm, her divine imagination flamed into being, released by his voice and words and presence. As simply as she had done when a child, with all the stored-up depths of her emotional nature, she created for herself that illness which Stiller had demanded.
SWIFTLY he was again beside her. The scene was shot. And the smile of satisfaction, the word of praise, woke in her an answer of worship that was almost idolatry. Her dream had come true. With Stiller she could act.
It took almost a year to make that great picture. Summer scenes must be done in summer. Then they must wait for winter so that the snow scenes might be done outdoors, the great climax where Greta and Lars Hansen, the lovers, were chased through the snow by the wolf pack.
Every day of those long months Stiller and Garbo spent together.
Of course, people talked and whispered. What else could be expected when they saw those two always together on and off the set, the unknown young girl who had been lifted to such heights and the great director? Members of the cast watched with curious eyes. The said the Gustafsson girl was proud; that she would have nothing to do with any one because she was Stiller's favorite.
That was not true. Greta was simply absorbed. She cared for nothing but her work, and Stiller was one with her work. It was his gift, he had made it possible. The outside world had ceased to exist. Only a very young girl could have felt that absorbing worship.
What else did she need? She had Stiller, the constant companionship of that master mind, the daily contact of that fiery, many-sided personality. It would have satisfied a much more worldly woman that this young girl. Besides, she had the one thing which, from the time she was eight years old, she had yearned for–acting.
There was no room for anything else in her life–no need of anything else.
True, on the set she spoke to no one. She still speaks to no one on the set. No one was allowed to watch her work then. and still not the greatest in the land can obtain admission to a Garbo set in Hollywood. Those were Stiller's orders and she obeyed them then without question and she still obeys them. He did not want her to act . He wanted her to be . How could she do that if she was interrupted, if she had to come out of her part to talk with some one, as herself? Moreover, she was exhausted, as she still is, by the amazing, almost chemical change of wrenching herself back and forth between her own self and her part.
As they sat, or perhaps rode about the countryside in his car, or walked the streets, he told her many things in that wonderful voice, that always sent a vibration through her heartstrings; he unfolded before her dazzled eyes all the visions and experience of his life, and he was a man who had seen many things, known many lands and peoples, loved many women.
He spoke of other countries, of the great art which had enriched the ages, of actresses dead and gone, of plays and parts, of stranges loves and customs in curious places, of which she had never even heard. A magic carpet seemed to be carrying her far, far away from her old drab life, the little flat where she had lived, the drab department store, even the school with its gay young students.
SO he worked with her, patiently, hour after hour, and she began to grow beautiful, began to flame beneath his hand.
"It is never enough to act. You must be –" he ordered her over and over. That was the theme song that ran through his endless, fascinating talk. "Acting is just the technique which carries over what you wish to express. It is no more than the binding of a book, the canvas on which a picture is painted. You must learn it, and I will teach you, for without those things you would be helpless. Grace, beauty of movement, the art of make-up, all these you shall have. But they are only tools. Never forget that, my dear one. Promise me to be the greatest actress in the world, and I promise you that you shall be. The important thing is that you should weld your soul to the soul of the character you are playing. That is art. When you can do that, people will fall down before you and worship you. The wisest will be astonished."
It was heady wine for this young girl with her devouring ambition. And it came true. People were indeed to worship her and the wisest in Hollywood are still astonished by the "mysterious lure" of Garbo.
No wonder the man became to her not a man but a god.
No wonder she forgot his ugly face and his ungainly body and responded to his every command. There was no wish or whim of his she did not study to fulfill. Whatever plan he made, she followed. His word was law and she felt herself a handmaiden, serving the purposes of a god.
The smallest detail was important to him.
"If you are thinking your part, your face will take care of itself," he told her. "But the hands, the arms, the legs!"
He taught her to glide across a room so that she scarcely seemed to touch the floor, or to stride as though she were a queen. Over and over she obeyed his voice in endless practice, a voice now gentle, now furious, and he sat and watched with eyes that were cold as the Nordic blood in his veins. For hours she would practice for him the movements of her hands, and sometimes he would go into bursts of rage at her stupidity and sometimes his eyes glowed like those of an Oriental lord, watching the favorite of his harem.
They would sit at a table and he would show her, actually, how to eat, how to move. How to enter a room. How to sit down in a chair. How a lady carried her gown. The gestures of the women of the world whom she had never seen, the tricks and lures of the courtesan. How to hold her lovely head aloft like a goddess or how to droop it on the slim neck like a lily. All this, and much besides, he taught the girl who had never even dreamed of these things.
When she did well he applauded her and, as she sat at his feet, he stroked her golden hair. When she was slow and stupid, he would bellow at her like a madman, calling her every name in every tongue he knew. Then she would break down and weep bitterly, and he would take her in his arms and comfort her.
On the set it was the same. Sometimes she could do nothing to please him. Then he called her dumb, stupid, impossible and cursed himself for a fool in believing that she could do anything. But her tears always softened him, for a harsh word from him sent her to the very depths. Sometimes she was perfect and he rewarded her with praise that sent her into the seventh heaven.
They spent days upon make-up, for Stiller was a fanatic on the subject. He believed, with the great Duse, that a make-up too aften acted as a screen behind which the finest expressions of an actress were hidden from her audience, and that make-up often created a sameness and spoiled the individuality of a face. So he worked and experimented and taught her to use ice-cold water before putting on her make-up. And when they had finished, and the unbelievable lashes swept up and revealed her worshiping eyes, glowing with that strange fire, he found her so beautiful that it was impossible not to love her.
AT last the picture was finished, and in Europe they still think it one of the greatest pictures ever made. Stiller went to Berlin, but before he went he made the final gesture that made Greta Gustafsson entirely his, his creation. He gave her a new name.
"It is too long and it is not beautiful, that Gustafsson," he said. "How could they get it into electric lights when you are the greatest star in the world? No. we must have a new name."
So was born Greta Garbo.
The great Garbo.
Greta Gustafsson was indeed no more. In mane, in though, in personality, in being, he had transformed her from the awkward, expressionless, strange young girl into the first flowering of the woman all the civilized world knows today as Greta Garbo.
While he was away in Berlin, Greta was wild with loneliness. She went back to the dramatic school, as Stiller had instructed her. It would not be for long, he told her, and stage experience would be valuable perhaps. Soon they would be working together again. While he was in Berlin he would arrange for a picture there, a greater picture even than "Gosta Berling", with a greater role for Greta Garbo.
She lived upon all his promises. How colorless life was without his voice to guide and inspire her! How helpless she had become! What did it matter that she had been given a "leading pupil" contract at the Royal Dramatic School and would play leading roles at the Royal Theater, chiefly because of her fine work in "Gosta Berling"? She signed the new contract at the school–signed it for the first time by her new name of Greta Garbo–but what would once have been supreme glory to her was dust and ashes without Stiller.
Then came the wire, "Make no plans for the summer."
Life flowed back into her veins. Stiller returned. Now his plans were complete. She need not go to school any more. They would make pictures together. Joyously she asked to be released from the contract and placed her career, her life, her whole existence, in Stiller's hands.
A few weeks later she left Stockholm for the first time to go to Berlin with Stiller, there to see the premier of Gosta Berling's Saga, and to make a picture for him in Germany.
BERLIN! That great city of which she had dreamed, that great city which was the artistic center of her world Berlin–and Stiller.
The opening night of "The Saga of Gosta Berling". The magnificent theater was packed with beautifully gowned women and distinguished men–with important critics, famous artists, society, even nobility and royalty, itself. When it was over she came out upon the stage, hand in hand with Stiller, and bowed to the wild applause. Stiller and Garbo.
Was it possible, or would she awaken as from some dream? Could it be that in so short a time she had been transformed from the shabby little shop girl Greta Gustafsson to this actress named Greta Garbo, who stood before this wonderful audience in a shining gown and silver slippers and could bow and smile as they applauded her?
She looked at Stiller and caught her breath, and the tears slipped from under the wonderful lashes.
"I shall never forget this night!" she said.
Berlin! The quaint little shops from which she sent home amazing gifts to her mother and Alva and Swen. The gay little sidewalk cafés, the charming restaurants where she and Stiller dined together. The beautiful drives they took. And the theaters where they saw the finest actors and often, too, the wonderful American films.
She loved Berlin, and was happier there than she had ever been in her life. The people were kind and friendly, but they did not bother any one. She could watch them silently, as she loved to do, or practice German, which Stiller was teaching her to speak. And she and Stiller could find many things to laugh over in the little cafés and the theaters.
Life was very wonderful, with such a companion as Stiller.
And when he was busy with his new picture plans, she could wander about by herself, perfectly happy, observing new things, new people, hearing new things which later she could tell him about. She could be in this new world, yet not of it. That was what she liked, for she was still shy and unsure with new people, though outwardly she had gained in poise and manner, and Stiller was gradually teaching her a little about clothes.
"I do not care for them," she said, when he took her into some grand shop, "I am quite happy without them. They are silly, and a nuisance."
But Stiller would not have it.
"Clothes are important to an actress," he said. "You must know clothes and how to wear them, and how to look your best in them. Not off the stage, perhaps. Then you are a private person and can be yourself. You may do as you like. Your private life has, nothing to do with your work as an artist. But in the pictures–ah, that is important."
That was the European code. An artist's private life had nothing to do with his work as an artist. In Hollywood, as Garbo was to learn, it was different.
Then came the greatest news of all.
STILLER had found a German company to back a great production he wanted to make in Constantinople. So together they went to that mysterious queen city of the East. It was fairyland. It was unbelievable. And Stiller knew the great metropolis as few people knew it. And he instilled into Garbo a love of the East, of the art of the East, of many Eastern customs. It was a glorious chapter in both their lives, that visit to Constantinople.
But it was interrupted by bad news from Berlin. Money for the production was not forthcoming. Stiller rushed to Berlin, leaving Garbo and the company to wait his return. And Garbo was still happy, alone, ignoring every one, even young Einar Hansen, who had come with them to play the lead and who had fallen madly in love with Garbo. In fact, she hardly noticed him.
Then Stiller sent for her. The picture could not be made. And she followed him back to Berlin, as she had followed him from Sweden t Germany, from Germany into the strange land of Turkey. As she was soon to follow him to America.
For al long time Stiller had wished to go to Hollywood. He seen the American Pictures. He knew they were years ahead of Europe in their understanding of the mechanics of pictures. He had heard much of their great sets, the wonderful lighting effects, the fine film and printing, the great laboratories. It would be a splendid thing to work under such conditions and to bring them back, perhaps, to Europe.
So when Louis B. Mayer, of the Metro-Goldwyn-Mayer Corporation, who had seen "The Saga of Gosta Berling", offered him a contract, he was delighted. Of course he would not go without Garbo. So Mr. Mayer signed the great European director and a young Swedish actress about whose work he knew very little. A young Swedish actress named Greta Garbo.
They went home to Sweden first, and Greta said farewell to her family. It was a sad farewell, even though Greta tried to smile and told them of all the wonderful things that would happen to her there, and of all the money she would earn and how happy they would be at last.
But how, asked the little mother, could they be happy without their Greta? To go so far away–so many, many miles that she could scarcely understand them. What would happen to her in that strange place called Hollywood, all by herself? And how long would she be gone? A year? But a year was a very, very long time. It frightened Greta's mother, that long journey into the unknown for her youngest born.
Greta's heart ached unbearably. She loved them so. They had been so good to her, so loyal. But she must follow Stiller. There lay her destiny.
As the train pulled out of the station, she could hardly see the three dear faces through the mist of her tears. It was well that she could not see into the future, could not know that she was never to see the adored little sister again, that she would not feel the comfort of those motherly arms for three long years.
Side by side at the ship rail she and Stiller watched the shores of Sweden fade into the distance. A year–and they would return together. But when Stiller returned, he returned alone. But neither of them that bright day would have believed such a thing possible.
Long, dreamy, happy days upon the ship with Stiller. And there was a little Boy, named Tommy, who became Greta's greatest friend, and the passengers used to watch and smile as the tall young girl romped and played games with her small satellite upon the deck.
"You should have one of your own, Miss Garbo," the proud mother said.
"I should have six," said Greta Garbo.
Hectic, strange hot days in New York, when she scarcely dared leave her room because of the noise and the appalling midsummer heat, unlike anything she had ever known. How she hated New York. She and Stiller went at night only to the theater, and, since they could not understand a word of English, had great fun figuring out from the acting, alone, what the plays were about.
THE long train trip across a new continent. Greta's amazement grew daily. How could there be so much land? The bigness and the heat frightened her. But the cool desert nights restored her confidence a little, and Stiller was always beside her, to explain and talk. Once, when she got off at a station to walk–the cramped train was driving her mad–she forgot to get back n, and the train was forced to go back for her, Stiller scolded her roundly.
Hollywood!
What would life mean to her in this new, strange place? What would happen to her in Hollywood? Would she succeed or fail among these strange people who spoke a strange language?
She did not know. But Stiller was beside her. She could depend upon him for everything. He would direct her, of course, and take care of her money, and her contracts, and her life. Nothing else mattered.
She had not been long in Hollywood before she met John Gilbert for the first time.
Jack was coming across the studio lawn one day when he was startled by a rush of feet, a pair of arms flung themselves about his neck; a low, husky, enchanting voice murmured some strange words in his ear.
What has she said? His mind groped for the German words.
"You are a great actor–my favorite actor. I shall not forget your soldier boy–never!"
Garbo had seen "The Big Parade".
Jack Gilbert found himself looking into the most beautiful eyes he had ever seen, in a lovely, pale face that suddenly flushed with embarrassment as her impulse, born of her admiration for the actor, died away and admiration for the actor, died away and she realized that her arms were about the neck of a handsome, strange young man.
For a long moment the looked at each other.
Stiller, standing silently by, watched the two with cold, gray eyes.
Stiller! Garbo! Gilbert! What is to be the outcome of this strange triangle? The next installment of this amazing true life story of the greatest of all moving picture stars is packed full of thrilling romance and absorbing drama. You will find it in the December TRUE STORY Magazine–On Sale Everywhere November 3rd