The
TRUE LOVE LIFE
of
GRETA GARBO
She dreamed that she could create an island in the midst of the busy world, peopled only by herself and the man she loved. And impossible dream, gut Garbo dreamed it–for awhile. What shattered the dream? What brought an end to Hollywood's greatest romance–Garbo and Gilbert?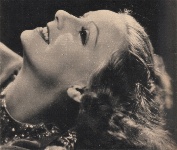 She realized, if she married Jack Gilbert, that she
must retire from the screen. She must cease to be
an actress, and become a wife and mother
In the Preceding Installment:
THE first part of this amazing human document revealed the story of Greta Garbo's childhood. It told of her humble birth as Greta Gustafsson in a fourth-floor room, in a poor house, in a poor neighborhood in Stockholm; of her girlhood dreams; of the death of her father; of her having to take a job as lather girl in a barber shop; of her apparently hopeless ambition to be an actress; of her finding work in a department store; her meeting with Maurice Stiller, the great Continental moving picture director, and how he took her, a young, inexperienced girl, and slowly and patiently developed her into an actress who captured the admiration of the American movie makers and brought both of them to Hollywood. It told of her meeting with John Gilbert; the tremendous love that flared between them; of Stiller's return to Sweden after exacting from her that strange promise.
The Story Continues:
STILLER had returned to Sweden. Garbo, at his own request, had remained in America; had signed a new long-term contract. Thousands of miles separated her from the man she had called master. His reign, it appeared, was over, though she did not know and could not have conceived it possible, that she was never to see him again.
Garbo, so the world said, had chosen the romantic young American matinee idol.
Would she now marry John Gilbert?
That was the question asked by every one in Hollywood, by the powers at the Metro-Goldwyn-Mayer studio, by hundreds of newspaper reporters and columnists, by thousands of fan letters which poured in weekly.
WERE they engaged? Were they perhaps secretly married? Were the great lovers of the screen to live out their great love story in real life?
The truth was that neither Jack nor Greta knew what lay ahead. The path now seemed clear. There was nothing o separate them, nothing to cast a shadow upon their love for each other. Yet the stars had written an unhappy ending to that passionate, glorious romance, and in the drama that unfolded, the unseen hand of Stiller was never absent.
For almost a year Gilbert and Garbo lived the last act of their love story. And during all that time they sought the answer to the question of their marriage; of their happiness.
When Stiller left her, Garbo was desperately ill. It was not alone Stiller's going. That she saw was inevitable.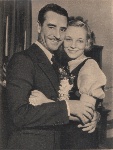 Today Jack Gilbert is married to Virginia Bruce,
a sweet, fine young girl. He has the home he
longed for, the wife and child he wanted.
THAT was the only way out of the triangle that had gone on so long, and at such great cost to all three of them. It was the only possible solution to Stiller's complete misery in Hollywood.
But her health had broken down under the strain of the years that went before that final parting.
True, she was strong, as a boy, strong as a young Viking. Her constitution was magnificent, a gift from her strong, clean-living ancestors, and the result of her hardy childhood in the cold, healthful climate of her native land.
But in spite of her outward coldness, in spite of her reserve and enormous self-control, Garbo was a high-strung, impressionable, terribly emotional person. Worst of all, she kept those vital emotions and those vivid reactions locked away within her own breast, There was no outlet of hot words, swift tears, temperamental scenes, outbursts of temper, wild upheavals, to ease the inner woman. It was all kept within.
When she spoke it was briefly, "I tank I go home now." More often, when she was angry or hurt or excited, she did not speak at all, only stared with enormous eyes from an impassive face. There was no friend, no confidante to whom she could pour out her thoughts and feelings, as most woman do. There had never been any one but Alva and, perhaps, Mimi Pollack. In America she had not one woman friend.
AND from the time she was fourteen, for eight vital years, when her body was actually still growing and her mind most sensitive to impressions, Garbo had lived a life of hard, hard work, of amazing adventure, of emotional upheaval.
From the time when, at fourteen, her father's death had shocked her into inexpressible grief and horror; through her first years of hard work and long hours and bitter disappointments in the department store; through her meeting with Stiller and the strange emotional heights to which he lifted her, the hard work he always demanded, the excitement of her first travels; through the parting with her beloved family, the long trip to America, the suffering of that first lonely year in Hollywood; the unbelievable difficulties of her first American pictures, the shock of Stiller's failure and humiliation and the final blow of her sister's sudden death; through her meeting with John Gilbert and her great love for him, the long months of turmoil and hectic joy and heartbreak of the Stiller-Garbo-Gilbert triangle to Stiller's departure, leaving her for the first time without that iron hand to guide her, up to this final moment when she found herself upon the heights, a great screen star with a magnificent career ahead of her and her love for Jack Gilbert flaming in her heart; through all this Garbo had swept in amazingly few brief years.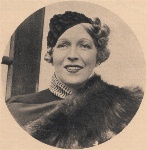 A woman who was everything Garbo was not, who had every
attribute which, for so long, Jack Gilbert had been trying to find
in Garbo. A woman named Ina Claire.
It seems hardly possible that she was only twenty-two at the climax of those things. But it was true. Only twenty-two, and it was scarcely six years since she had been a little shop girl, expecting to spend the rest of her life in the monotony of selling hats.
Small wonder that she found herself exhausted spiritually, that after her heart had been torn by Stiller's leaving, she felt at first nothing but a great need to be alone; to be quiet, to rest.
Physically, too, she was worn out. She had worked hard–so hard. Never would she forget what work those first American pictures had meant; how it had been necessary to draw upon the very innermost depths of her being to play those roles as she wanted to play them.
AND the change in climate had worked a real hardship upon her. There were times when she ached for the snow, when she woke from hot, restless sleep, and wept for one sight of her snow-covered homeland; for one deep breath of the cold air that blew across the snows. There were days when it seemed to her that she could no longer endure the endless sunshine, the warm air, the tropical languor of the hours that followed one after another in an endless procession of brightness. Her blood barely crept through her veins, crept sluggishly, without the whip of that northern cold, and she grew pale, thin and languid.
Emotionally and physically she had been forced beyond her strength. Now she was sucked dry.
Looking ahead to more pictures, more trouble, more hard work, she felt that she had not the strength to go through with it. Almost–almost it was beyond her strength to love John Gilbert, to be with him. If she could only be alone; not have to speak or move, or work or kiss ever again.
Why had she not gone back to Sweden with Stiller?
How could she go on without him, without the man who had always made every plan, always told her what to do and say, always done her very thinking for her?
Two things combined to save Garbo for her great destiny. Without them, we might not today have the greatest of screen stars.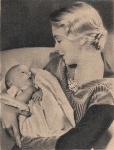 Susan Ann Gilbert, Jack Gilbert's baby daughter,
in the arms of her mother, who retired from
the screen after her marriage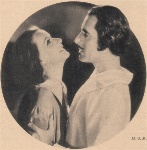 Garbo and Gilbert in a scene from "Queen Christina",
their new picture. Out of their great love of the past
has grown a great friendship
The first was the advent into her life, through John Gilbert, of Harry Edington.
In the last analysis there have been four people who have had a great and lasting influence upon the Garbo Saga–three man and one woman.
STILLER, the master; John Gilbert, the lover; Harry Edington, the prime minister, the power behind the throne, and Mercedes d'Acosta, the brilliant artist and woman of the world who is, and has been since she parted from Gilbert, the closest friend in Garbo's life.
Few people who idolize the great Garbo even know the name of Harry Edington, few know the important role this man has played. Yet, in his way, Edington has been second only to Stiller and Gilbert in influence. For years, in fact ever since the departure of Stiller, he has been the one, solid, immovable factor in Garbo's existence; the person whose words has always counted.
He is always there, always behind her, always guiding her in every important move.
Jack Gilbert first brought him to her when for seven long months there had been no Garbo picture, and when it looked as though the new star might fall like a comet; at the time when Garbo's "I tank I go home now," had become famous around the world.
"You can't go on like this," Gilbert told her in his dynamic fashion. "You shouldn't have to handle your own business. What do you know about it, Fleka? What do you know American methods, American studios? Not a thing! Besides, no one should ever have to talk business for himself. How can you go in and tell them how good you are, and how much dough you ought to have, and why you should be allowed to help select your stories?
"YOU'RE not really hard to handle, but they've got that impression of you because you can't speak English, and can't tell them why you want what you want. You want to be protected, and have a chance to make good pictures. You're right, too. I'll get my man, Harry Edington, to handle you, too. He'll make them understand everything. He'll take care of everything and then you won't have to worry. See, funny face?"
Greta laughed–her funny, almost boyish laugh. It always amused her when Jack went on like that, so intense, so dynamic, so excited.
"I think you are right, Yacky," she said.
So Jack brought together, at his house, Garbo and the quite little man who had for years conducted all Jack's own business for him.
For almost a week they had long talks every day, Garbo and Edington, with Jack hovering about them rushing in and out, stopping to listen and shout "Kolossal" at something Edington suggested.
It was literally the first time Garbo had ever really talked with any American except John Gilbert.
This small, dark man with his bright eyes and delicate, clever hands, who, Yacky said, was "a hundred per cent okay", made her feel comfortable. He listened so quietly while she poured out everything that had been dammed up within her; while she tried to tell him in her own broken English how she felt about her work; what her art meant to her, that all she wanted was to be sure she made good pictures.,
And he explained, in simple quiet words, many things that had been confusing to her. He understood everything, about Stiller, and how important it was that she should not fail in what Stiller expected of her now that she had to carry on alone. He understood, too, about her not wanting to see people, that she was really shy and self-conscious and always had been; that she suffered deeply when it was necessary for her to meet strangers. He saw, too, that it must be arranged, when she was working, that no one was allowed on the set, not even the studio executives, because then she simply could not work as Stiller had taught her to do.
"All that should be easy to arrange," Edington told her.
"You see, Fleka?" said Jack delightedly.
In truth, Edington has in him a great deal of the artist, as well as shrewd business sense and a thorough knowledge of motion pictures. He realized at once that it was not only impossible for this Swedish girl to go through the routine of most American screen stars, but that it would be also extremely unwise.
Not only would she, herself, suffer, but her faulty English, her queer clothes and off manners, her blunt honesty and childish sense of humor, her actual shyness that made her seem cold and haughty, her intense reserve and depth of soul all might easily be misunderstood.
As he talked with her, Edington understood, as only Stiller completely, and Gilbert partially, understood, the dual nature of this woman who was both woman and genius.
He saw that they were not at all the same; Garbo the great actress in whom the divine fire burned, who became transformed when she was before the camera, and the shy lonely natural Swedish girl who was the real Greta Garbo.
He saw a way out for her that would help, instead of hinder, her amazing career. Instead of allowing her desire to be alone, her hermit existence which lacked glamour, her foreign ways, her abruptness and honesty, to be a handicap, he would make them a great asset. So he conceived a way to turn them all into the "Garbo mystery"; to increase rather than dissipate the legend of strangeness, aloofness and glamour that had grown up around the great star. He protected Garbo, herself, and he fostered in the minds of the public a delightful mystery, instead of a resentful one.
AT the end of that first week of conversation with her, he agreed to take over the management of her affairs, but he must have absolute control. Delighted to be rid of the burden, loathing the very thought of business and all the details of picture making, Garbo signed the contract with positive joy.
Garbo has said, "From the day that we drew up the agreement, Mr. Edington has taken care of all my affairs, my contracts, my income, all negotiations concerning my work. This has been an immeasurable relief to me.
"Since then I have had no difficulties–no discord. Most of my professional contentment I own to the guidance of this intelligent and understanding man, who took my affairs when they were in an unhappy and precarious condition."
Accustomed for years to depend upon Stiller for every plan, to follow his advice in all matters, Garbo was utterly helpless in everything outside her work. It was natural for her to fall into depending upon this man who never bothered her, who never permitted any one else to bother her; who did all that had to be done; bought her cars, hired her servants, rented her houses, arranged every little detail of her existence.
It was perhaps natural, too, that Edington should desire to see her carry on her great career, and if, in her final decision, he had any voice it should have been upon the side of her art, if he had any unconscious influence it should have been to hold always before her her wonderful career and its expression.
The relief that she says he brought to her did much to lift the burden from her thoughts.
The second and all important thing was her love for Jack Gilbert and his marvelously tender care of her during those days when she was so utterly exhausted that she didn't care whether she lived or not.
Perhaps no one will ever know the whole story of those beautiful days. What sad irony that in the end they should prove at boomerang to both these lovers. Except for Greta's illness, it is probable that Jack Gilbert never would have shared to any extent in her hermitlike existence. It is possible, too, that if he had attempted from the very beginning to bring her out, with him, from her seclusion, he might have won. But during those months the habit of solitude grew upon Garbo, her belief that happiness was possible when only the two of them touched hands with reality, and made it more difficult to surrender.
IT was Jack who literally lifted her from the melancholy into which she had fallen. With this pronounced melancholia was a physical illness that was serious, and anemia which robbed her of all strength, and left her weak and languid.
The doctors told her that she must eat, she must exercise, she must stay out in the fresh air, and these were the very things it seemed she had neither the will nor the strength to do. But Jack made her do them. By sheer magnetism and constant effort, he made her do them.
He lured her out for long walks in the cool twilight; he played games with her in the swimming pool, he used all the force of his own vitality to get her interested in tennis and taught her to play, and to play well. He poured all the warmth of his own nature and of his love into her to give her new life.
Every morning he drove to her hotel, and soon after sunrise took her for a long silent contented ride along the ocean front. Sometimes he would stop the big roadster, and they would walk down to the water's edge and Jack would make Garbo take deep, deep breaths of the bracing salt air.
Then they would drive back together to the house on the hill; and if any one had peeped into the lovely garden they might have witnessed a delightful and amusing picture–the screen's great lovers doing their setting-up exercises.
Clad alike in shorts and sweat shirts, legs and arms bare, Garbo's lovely fair hair tied back with a bright handkerchief, they would stand on the grass and Jack would lead her through the routine. One-two-three-four, up and down, until they were breathless with laughter, like two children playing a game. And the whole thing ended in a romp and frolic, while the chased each other about under the trees and among the shrubs, until one or both landed in the swimming pool, splashing and yelling.
"You would t'ink, Yacky," Garbo sometimes said, "That you were training me for a prizefight instead of for a movie."
But she loved it! Loved being alone with him, loved the sea at dawn, the quiet garden and the big still cool house. Contentment began to flow back into her heart, and strength into her body.
Then there would be breakfast on the terrace, with the roses and honeysuckle pouring fragrance upon them, and a long quiet day outdoors, with tennis in the afternoon, and Garbo thrilling and roaring with laughter and delight when she won a game. And at twilight a long tramp through the hills for miles and miles, until they stood hand in hand in the mountain top, and watched the magnificent sunset over the Pacific.
Long, lazy days there were, too, aboard the yacht, when at last the viking's daughter began to love the sun, and to lie for hours on the deck, absorbing its rays, so that her fair skin turned a deep and deeper brown, and the cameramen at the studio were faced with a terrible problem when Garbo reappeared before the camera.
So, in time, she grew well and strong again in body, and happy in mind.
It was Jack's hand which had wrought the miracle.
IF things could only have gone on forever as they were then! If only they could have continued to exist upon this island they had created, and never touch the world, except to make pictures. If the house on the hill could have remained forever a hermitage and they had never had to leave it, except for work.
An impossible dream, but Garbo dreamed it–for awhile. She dreamed that she could create such an island for eternity in the midst of the busy world, peopled only by herself and the man she loved, where the world and his wife and their ways could never, never enter.
Why not? Stiller had never wanted anything except her and his work; he had never cared for people-except maybe a very few friends or their own race. De had loathed society as much as she did.
Ah, but Jack Gilbert was not Stiller! There never lived two men more unlike. Jack was young, he was full of the joy of living, he loved people, he loved fun and hilarity and crowds and, above all, he passionately loved his friends.
When Garbo was once more strong, when his devoted care had brought her back to health and some peace of mind, he began again to desire both the woman he loved and the world he loved.
There came the difference–and a vital, devastating difference.
To Garbo, happiness was Jack–"and the world well lost!"
To Jack, it was Garbo–and other wonderful things the world had to offer.
It was not that he loved her less. The first mad days were over–those days at the beginning of every romance when there is nothing in the world but the loved one, when every breath is only for the sight and sound and touch of the beloved. It was but natural and inevitable that they should be. But love had grown deeper and stronger; that first hectic passion had been replaced by deep devotion, by real companionship, by a sweeter, sounder feeling.
The trouble was that it had grown in different directions. Garbo found life with Jack and her work now filled to the brim and running over. Jack wanted this love for the crowning glory of life as he had always lived it–as he still desired to live it.
And they were both strong, vital, determined people, with strongly developed natures and almost violent desires. And they were both spoiled; Jack from having always had his own way, Garbo from having had only her own way, and Stiller's. Neither of them knew much about compromise.
So Jack began to revert to his old ways. Above all, he began to wish to have his friends about him once more.
THE truth, which he could not tell her, was that she did not fill all his life and satisfy all his needs. Much as he loved her; wonderful as he found her; deeply as he admired all that was fine and loyal in her nature, neither she nor any other woman could fill his life. There were intellectual needs, man-needs, the desire for gayety and talk, for contact with the world, that she could never fill.
So the house on the hill which, for months, had been a hermitage, once more opened its hospitable doors.
Before that came to pass there had been long talks between them; there had been quarrels; there had been heartbreaking misunderstandings when they did not speak for day, and equally passionate reconciliations. For Garbo shrank from social contacts with fear, with an agony of shyness and dislike.
No, no, she could not! Never had she cared for people; never in her life had she wanted to be with them. Her English was still bad. They would laugh at her. She did not know how to behave in such company. Besides, she would have to dress up like the other women did, and she could not do that. Why could he not see his friends by himself, why could he not leave her alone while he enjoyed that side of life?
But that was exactly what Jack did not want to do. He did not want to leave her–he wanted her always. Why could they not share everything? Surely, surely, that was the right thing; the right way for it to be.
But why must there be any one else? Were they not happy together, completely happy?
Then he was forced to admit that he was not completely happy, that it was against his nature to be happy in such circumstances. With that, she stalked out of the house and would not see him for days.
But, at last, she came back, penitent and sorry. Little by little, with that tremendous sweetness which is so much a part of his masculine charm, he led her to see that it must be, and to believe that there might be happiness in the life he pictured. He laughed at her fears. Indeed it was difficult to believe that this woman with her beauty and charm, with her real sense of humor which he had come to know so well, with her enormous reputation and her great name could actually be shy. He simply would not believe that the girl he had found to be the best companion he had ever known could actually not want friends, gayety, at least in some small measure.
He felt sure it was all a mistake, and once she had entered into another life she would forget all that shyness. It was just some silly thing that Stiller had planted in her lovely head. It was because she had never known the right kind of people; because her childhood and girlhood had been lonely and lived in such strange surroundings, because Stiller had kept her so completely under his dominance.
"You'll forget it all soon, and be happy, darling," he said.
Garbo only looked at him, with that long look, with eyes that suddenly seemed as old, as unreadable, as the Sphinx.
But she said nothing, and he believed he was right and acted upon that belief.
FOR a time it almost seemed that he was right. In the end she gave in–he persuaded her. She loved him enough, she was just enough and big enough, to realize his viewpoint, even if she could not understand it, and to make an attempt to adjust her life to his. It was only fair, since she loved him and treasured their chance of happiness, and for so many months he had given up everything for her, that she should now try his ways.
Perhaps Garbo had never thought of those beautiful words spoken by Ruth amid the flowering corn, "Thy ways shall be my ways, and thy people shall be my people." But they were in her heart and so, though the mere thought filled her with unrest, Garbo agreed to make the attempt. It was that or give Jack up; because she saw now that this man was stronger than she was; that no matter how much he loved her, she could never bend him to her will.
So she became part of the group that surrounded Jack; she forced herself out of the lonely ways that were natural to her and that had become fixed habits during the last few years. She entered into the spirit of his life and grew to know his friends and, in some cases, to love them.
It was a gay and casual group, and a highly intellectual one amid which Garbo found herself when she first ventured forth from her isolation and now famous seclusion; when she made what were actually her first personal appearances in Hollywood.
There was Donald Ogden Stewart, wit and author, with his gentle ways and sparkling words, whom everybody loved. There was King Vidor, one of the finest of the Hollywood directors, a man of unusual breath and great understanding, and his beautiful wife, Eleanor Boardman; Laurence Stallings, who had written "What Price Glory", and "The Big Parade"; a big vital honest young man who talked almost as well as he wrote, and with him charming, red-headed Mrs. Stallings. There was Barney Glazer, suave and brilliant writer of a dozen Hollywood successes and his wife, Alice, a wit in her own right, and one of the most popular and sought-after women in the motion picture colony. Edmund Lowe and the always amusing Lilyan Tashman, famed for her social tact, as well as her clothes and beauty. Carey Wilson, another writer, for years Jack's closest friend. Dick Barthelmess, William Powell, and Ronald Colman, the three musketeers of the movie capital, always ready for anything, and Paul Berne, who later died so tragically by his own hand, but who, for years, had been called Hollywood's father confessor because of his broad tolerance and understanding. And sometimes John McCormick and his wife, Colleen Moore, as shy and sweet as she is famous.
They came gaily, meeting the great and mysterious Garbo, whom no one in Hollywood knew, as naturally as if she had been any other interesting woman.
They expected nothing of her, demanded nothing of her, except that she should continue to be herself. They played tennis with her, and treated her exactly as they treated each other. If, at the end of a set, she preferred to go by herself to the end of the sand beach, and lie alone in the sun, that was quite all right with them. If she cared to remain silent, there were always plenty of others who wanted to talk. If she cared to talk, they enjoyed everything she said, and understood it.
Nobody paid any attention too her clothes, and if she came to dinner in a sweater and slacks, no one cared. If she wanted to take off her shoes after dinner, and curl up beside Jack on a big divan, that was entirely her own business.
As a matter of fact, they found nothing unusual about Garbo. She seemed to them a very fascinating person, they liked her fine laugh, they were amused by her shyness, they were used to, and interested in odd and temperamental people. And Garbo, so they thought, fitted in perfectly. She seemed happy and if she had her own little ways, why, so did everybody else.
SHE found her first friends among the women, particularly in Alice Glazer, who had a way of making friends whenever she cared to. Garbo actually seemed to like to go to the Glazers' house and she liked to have Alice beside her on Sundays, when Jack's friends came for tennis, and swimming, and supper in the garden afterward. She grew fond of Lilyan Tashman, and found her a continual source of amusement and amazement. She used to have long talks with her, attempting to solve the problem of Lilyan's love for and genius with clothes.
"I do not understand how you know ," she would say in honest bewilderment, when Lil appeared in some exceptionally smart costume.
So it seemed to Jack, at times, that he had won; that Greta had learned to enjoy the life he loved, and that some day, perhaps very soon, she would marry him.
Then, just when his heart was singing with joy, when everything seemed at its rosiest, suddenly he would be face to face with another Garbo entirely–a strange, quiet, silent girl who stared at him from under those long lashes without speaking. Just when he believed he had rescued her from that hermit existence which was to him so abnormal, she would disappear, and for days he could not reach her by phone, could not get to talk with her.
Sometimes she would simply walk out of his house when there were others present. Sometimes she would be gone from her hotel all day, and he would find her sitting alone on the sands, miles up the beach, staring out at the ocean. Sometimes when they were alone, and she had sat for hours without speaking, he would look up to find her weeping.
"I cannot stand all those people, Yacky," she would say at last. "I want to be alone–alone!"
And because he loved her so, he would comfort her and try to understand her and, for a time, do everything in the world to please her. Yet the strain told and there were quarrels which left them both devastated.
It had not bothered either of them when, in the beginning, they could not understand each other. But now they found that they positively did not speak the same language of life, and it distressed them.
JACK was never jealous of her work. He was too fine an artist, himself, for that; and he bowed, quite honestly, before what he believed was great genius. But he could not understand why she seemed to become another person entirely, when she was making a picture–a silent, unresponsive sphinx who wanted only to be alone; who did not even want to see him. It tormented him. Perhaps in back of it he felt the distant hand of Stiller, felt that at these times she was not his, but still belonged in some strange way to the master.
"If you would marry me," he said at last, "all this would adjust itself. I know that. We love each other. I know we would be happy."
And once more they would find themselves face to face with the great question that must be decided.
For the truth was that Jack wanted a wife, a home, and he wanted children. It was part of his warm, intense human nature that he should want them. For all his success and glamour, for all his title of the screen's great lover, there was within him a boyish, lonely something that cried out for that one thing which would be a rock in the surging sea life which be so loved. Without those things a man must be forever incomplete. Above all, his nature craved the one woman who would be at his side, his companion, his true love.
Why could he not win his woman who loved him? Why could he never find his way into the deep recesses of her soul?
And Garbo?
Life, she had become to know, could not stand still. It must go on; must find its way to some climax.
Could she marry Jack Gilbert? Was it possible for her to make him happy if she did?
Then, clear-eyed at last, with that desperate honesty of mind and spirit which were hers, she saw the answer.
If she married Jack, she must retire from the screen, she must give up her career. She must cease to be an actress, and become a wife and mother.
Only if she gave all her time to their marriage, only if they had children, could they possibly be happy. The sacrifice of all her love of art, all the things upon which her whole life had been built, the putting out of that flame which had made her the greatest screen star in the world, was the price of a happy marriage to Jack Gilbert, and she knew it.
Even then, could she make him happy? Truly, she thought of that first, before she thought of her own happiness. Was it possible for her to live his life, to follow his footsteps? Was she temperamentally fitted to be his wife?
In her mind she went over and over the many things that had caused unhappiness between them. How important they were in the final analysis, he did not know.
OF one thing she was absolutely sure. The children for which she longed with everything in her; the children for which she had longed when she romped with little Tommy on the deck of the ship that brought her to America, when she held close to her the little daughters of her friend, Victor Seastrom; when she saw babies on the street, would fill her life, and they would fill Jack's life.
Perhaps if she had a child, that terrible need to be alone would leave her.
If she married Jack it would be for children, and she dared not, would not, divide her love, her time, her thoughts. She could not be a mother, could not be a good wife and be also the greatest actress in the world.
No woman ever faced a more heartrending choice.
And then–then–she found herself face to face with her promise to Stiller.
That promise! Never would she give up her work, never would she betray the dream they had dreamed together. She would carry on, she would hold high the torch he had been forced to drop.
His death, which came like a bolt from heaven, made that promise even more binding than it had been when he was alive. Alive, he might have released her from it. Alive, he might–he might have in time found himself, and gone and discovered another Garbo. Dead, he held her to her sacred word.
And all that love of acting which had first gripped her when she was a little thing with long hair standing outside the stage door of the old teacher in Stockholm, that love of acting which Stiller had fostered and inflamed to a worship that was now part of her very being, all that devotion to her art which Stiller had made her religion, came rushing back at her when she heard that he was dead.
The fame, the money, the adulation–those she could easily put from her. But the art of acting which was her creed–that sacred promise to a dead man–could she put those from her?
They came to tell her of his death whiles she was working on the set. To others, that might have appeared an unseemly thing. To Garbo, it was right, it was natural. How else would he have wanted it to be? Where else could she be so completely dedicated to the thought of him and all he meant?
Of course, she had known he was ill. And the vibration which had always existed between them told her that he did nit wish to live; had nothing left to live for.
When the message came, she walked away from the garish lights; the camera and the painted scenery; the actors in their make-up; all the things which Stiller had so loved, which had been his life.
For a long time she stood silent, her head bowed, thinking of him. Thinking of his frustrated genius, of all that he had done for her, of all that she had meant to him.
At last she lifted her head, and said quietly, "It is best."
His broken heart and wounded pride had found peace at last.
Then she turned, still quietly, and looking at the director, she said, "We will go on."
She did not see the look of surprise upon the faces about her, nor would she have understood that surprise. Of course they would go on. What else would Stiller expect of her? What else would he want her to do? Nothing was important but that, not life nor love–nor death. He had believed that. Sometimes–sometimes–Garbo believed it, too!
FOR a time she retired completely into herself. Nothing but work mattered. She would not see Jack. She spoke to no one on the set.
In the end, of course, she went back to her beloved. But there was a change in her. She was not happy. He saw it.
And because he thought he knew its cause, he was angry and jealous. Because they loved each other so much, and were so different, because they cared so greatly, yet were poles apart in their thoughts and desires, because their very love keyed them to an emotional tension they quarreled, they misunderstood. Sometimes Jack believed that she could not love him, or she would meet his demands; sometimes Greta thought the same.
Because he was unsure, unhappy, the man forced the question of their marriage, to reassure himself, to win her completely.
And Garbo could not answer, could not decide to give him up, or to break her promise and give up her work.
It was then that she decided, much against his wishes at first, to go home to Sweden for a vacation.
Her soul was weary with the struggle. She wanted her mother and her homeland, she wanted to hear her own language, to see the snow once more, to touch hands with her childhood. Her homesickness which for so long she had stifled, suddenly became unbearable.
She would go home for Christmas. Christmas at home–in Sweden.
In loneliness she would face her soul and find the answer.
So, quite alone, without even a maid, wearing her old tweed coat, the boy's slouch hat and heavy glasses, so that no one should recognize her, the great Garbo went home.
There is no need to repeat the story of that amazing homecoming; of the crowds that mobbed the streets to see this girl who had gone away unknown and unsung, and returned the greatest screen star in the world. No need to tell of the invitations from royalty that besieged her, the hectic days when she could not be alone as she wanted to be.
Those things were important to Garbo only in that they increased her desire to be alone.
It was heaven to be once more with her little mother. But a vast sadness overcame her, too. The ties were broken. She could not find the things she had left; could not return to the days that now seemed to her peaceful and happy.
And there were those two graves which held so much that had been dear to her–the graves which hid forever from her eyes the little sister and the master.
Still the answer did not come. But Garbo was never actually to make that great decision, never to say yes or no to the great question of her life.
Life, itself, has a way of settling such things, and it was taken out of her hands by a storm of emotional upheaval that was the result of all the past months, that was perhaps itself an answer.
For soon the American papers were filled with rumors of a romance between Greta Garbo and a prince of the royal blood of Sweden–the perfect end, as the newspaper writers conceived it, of her amazing Cinderella story. It did not matter that there was no truth in them; that she had merely met the prince; been his guest upon two or three occasions.
JACK GILBERT read those stories, and went quite mad with rage and jealousy. It was only natural. They were thousands of miles apart; they had parted unhappily; he was tormented by her indecision and the fear of losing her. He telephoned her. He told her that he could bear this suspense no longer, she must come home, must come back to him at once.
That Garbo would not, could not, do. There were yet many things that she had planned for this homecoming after three years. She must stay a little longer with her mother, who missed this youngest child of hers the more because one of her daughters she would never see again. She must got to visit her dearest friend in Sweden, Mimi Pollack. No, she could not go back yet. Jack was angry; but he would not be angry long. He had been angry before. As soon as she saw him again, as soon as she told him the truth about those silly stories, he would understand and forgive her.
She did not perhaps realize how these things, one by one, were beginning to rob Jack of all hope, beginning to make him wonder if, in spite of their love, they could ever be happy together.
When she did return, she wired him the date of her arrival. She asked him to meet her at a little town some miles outside of Los Angeles. With her face pressed against the window pane, she stared out, waiting to catch the first glimpse of him. He was not there. He was not at the station in Los Angeles. Since she had told no one else the date of her return, there was no one there to meet her at all, and Garbo arrived as she had left–alone.
A moment's awful panic seized her. It was possible that he had ceased to care; that he didn't want to meet her. It was only that he was still cross because she hadn't obeyed his commands. She telephoned the house on the hill. Mr. Gilbert was not in. He did not call her back at the Beverly Hills Hotel, where she had gone, while Edington looked about to find a house for her.
A few days later Jack received a call from his friend Alice Glazer. Would he drop in for a few minutes that afternoon? There was something she wanted to talk to him about.
When he walked into the big cool room he thought at first it was deserted. There was a movement in the shadows. Garbo walked toward him, her hands held out, tears glistening on the long lashes.
In a moment they were in each other's arms, trying to wipe out with words and tears and kisses all the heartbreak of the past months; to bridge the chasm that had been growing between them.
For a little while, a very little while, it seemed that they had succeeded. But the separation had not brought them closer together. It had, it soon appeared, only increased the conviction of each one, the determination of each one. Garbo's return to Sweden, her contact with all the old things of her life, her visit to Stiller's snow-covered grave and undone all the things that Jack believed he had accomplished. She was again, he thought, the girl he had first met, the girl who desired solitude more than anything else, a girl who must live her own life in her own way.
Two things brought the final parting:
Garbo's own actions. And another woman. A woman who was everything that Garbo not was, who had every attribute which for so long Jack had been trying to find in Garbo. A woman named Ina Claire.
But Ina would have had no chance if Garbo, herself, had not opened wide the door, if Garbo had not delivered an ultimatum, which she, herself, could not help.
They had gone together to a small party, Jack and Greta. Desperately, they were trying to regain their old closeness; desperately they were trying to reach each other across the black gulf that had grown between them while they were apart.
IT was really a little welcome home party for Garbo. Just a few of their best friends, a few of the people who had been with them so much during those happy days when love had been strong enough to wipe out all differences. They had planned little surprises for Greta; some of the gags and jokes she liked so much; some of the funny phonograph records that were a favorite pastime with her.
But she could not enter into the spirit of it. She knew now, at last, that these things were not for her. They had never been for her. It had come too late, that gayety and friendliness, to change the inner woman.
Jack drove her home from the party. And suddenly, in a burst of nervousness of unhappiness, she told him.
"I can never do it. I can never live your life. Cannot we go on as we used to do? Cannot we love each other and be together, and forget all these other things?"
But Jack knew, too, that it was hopeless. He would never be satisfied with half a loaf, never be happy with all these many differences that lay between them. There had been too many quarrels, too many misunderstandings. The dream had fated. He told her so.
"I thing you are being very silly, Yacky," she said.
The man was silent a long time.
Could they go on? Would they not simply torment each other, neither willing to give in, neither happy with makeshift and compromise? She would not marry him. He knew that now. She would never marry.
He did not know of that sacred promise; but he knew that her life was dedicated to her work and that she would never marry and give half of herself to marriage and half to her work. It was impossible for Garbo. And for him the torment of having her and yet not having her, was too much.
Perhaps, as they sat in silence, they both looked back over the story of their great romance and saw its flaming peaks and its dark valleys of depression, its moments of blissful understanding and its days of agonized differences.
Perhaps Jack Gilbert realized then that he had loved a woman who was both woman and genius, and that she was not meant by the gods for marriage, nor for any man.
Only motherhood could have changed Garbo, could have conquered the genius within the woman. And that she had denied herself to remain true to her promise.
HE helped her out of the big roadster in which they had driven so many hours together, sometimes silent, sometimes laughing.
He said, "Good-by, Fleka."
They stood looking at each other with breaking hearts. Life and the gods had parted them. Things which had happened long before they met and loved had ordained this farewell. A magnificent farewell that chose parting rather than endless compromise with their love; that chose to break while their hearts were tender rather than to drag the wonderful things they had known through bitter days of lesser love and disillusion and struggle.
It had been a great love story. Let it be an magnificent ending, even though it must be an unhappy one.
Their hands fell apart. The man stooped over and hissed her once. The roadster roared away into the dark night. Garbo turned and walked into the brilliant light of the hotel lobby.- But she did not see the lights nor hear the voices that spoke to her.
They might not have gone through with that splendid gesture of parting, except for Ina Claire. Jack might never have been able to give her up; the one great love of his life. But suddenly, throwing to fill up his days with his friends, with laughter and companionship, he met this woman who was the gayest, the most human of all companions. A woman he could understand, who spoke his language, who understood all his ways and could enter into them.
His sore heart sought consolation, sought familiar things and words, after the long, strange romance that had left him shattered and lonely.
In the lonely hours his soul cried out to go back to Garbo, to win her, to have her, if only for an hour, at any cost. But he knew it was hopeless; he knew it was only a postponement of the end.
Here was this beautiful, gay, witty, cultured woman of the world, of his own world, whom everybody adored. Here was the finest, cleanest, sanest person he had ever met. Here was a woman of whom to be proud, a woman his friends admired, who fitted into his life perfectly, a friend with whom he could spent wonderful hours.
Jack Gilbert married Ina Claire only a few weeks after he met her. And in that marriage, he made his parting with Garbo irrevocable for her and, above all, for himself.
It didn't last. A marriage upon such a foundation could not last, for all of Ina's beauty and intellect. Today Jack Gilbert is married to a sweet, fine young girl, who is the mother of his child. He was the home he longed for, the wife and child he wanted.
UPON the day of Jack's marriage to Ina, Garbo was working at Catalina Island. After the news came, they missed her. And for hours they could not find her.
She had taken a boat and rowed far out into the Pacific Ocean, alone.
And there she sat alone, for long hours, with nothing but the vast blue sea and the bright sky around her. Looking back over the years of her life, looking ahead into a magnificent, lonely future.
The choice had been hers, hers alone–and Stiller's. Over and over the man she loved had asked her to be his wife. For long she had contemplated it. But it had not been possible. She knew that.
Now it was over. She would never have a child, and she had always longed for a child. She would never marry. She would never love again as she had loved John Gilbert.
There would be friends–a very few; from her own land, and friends like Mercedes D'Acosta who would give her companionship and affection. There would be travel in the many lands she had never seen. There would be her mother and brother, whom she loved so dearly. There would be a home where she could be alone, and live as she wished to live.
But now she was dedicated to her work, to carry on Stiller's dream. The divine fire had consumed everything else. She was now entirely its priestess.
She did not dream then that some day she and John Gilbert would come together in friendship; that even as she had repaid Stiller with loyalty, she would some day be able to repay all that John Gilbert had done for her with a like loyalty, and that the memory of that great love would find a faint echo years later.
For it was Garbo who stepped in at last, when Jack's magnificent career was finished, when he was retired, unhappy and restless, from the screen. It was Garbo, now the great power at the studio, who said calmly and directly, "I want John Gilbert to play opposite me in 'Queen Christina'. No one else will do."
They brought her a dozen leading men, all with big names and proven ability. They made test after test. They explained that Mr. Gilbert was not the star he once had been. But the great Garbo said quietly, "I wish Mr. Gilbert to play the part. He is a magnificent artist. No one else can do it so well."
In the end, the studio was forced to give in, and Mr. Gilbert played the part.
And Greta Garbo said quietly, "I am glad to work once more with Mr. Gilbert. He is a fine artist. Our association has always been most happy."
"She did it for me," John Gilbert told a friend. "There isn't any question about that. It was a fine and loyal thing to do. She's a great person–Greta."
So picture audiences will see once more the great lovers, Gilbert and Garbo. Now they will be screen lovers only. But if the memory of other days lingers in the minds of those who watch them it will not be strange.
AND it is a fine and a splendid thing to know that from the ashes of that once great love, friendship has arisen that throughout the years the loyalty of Garbo kept warm.
Garbo–woman and genius.
The genius won, after that long-ago heartbreaking struggle.
If it had not been for her promise–who knows? But the genius won and sometimes, perhaps the woman is lonely amid all her glory, and perhaps sometimes in the twilight she dreams of the little voices that might have called her mother.
Had the woman won, had Garbo had those children her woman's heart longed for, there would have been no Garbo mystery. She would be just another woman–devoted, selfless, happy.
This is the true story of the great Garbo
THE END