HOLLYWOOD: RITRATTO DI UN DIVO
(English translation: Hollywood: Portrait of a Myth)
This musical was presented in Italy Rome, 1999. This production was rather focused on Gilbert and his eventual downfall. It tells the love story of Garbo and Gilbert, their meeting on the MGM lot, their passionate love story during the filming of Flesh and the Devil, the story of the marriage where Greta did not show up and Gilbert's humiliation with Louis B. Mayer.

It also deal with Gilbert's drinking problems and his eventual separation with Garbo and marriage to Ina Claire (there is even an image of Garbo approaching him and congratulating him on his marriage and then we also see her triumphant career in the talkies and one of the last images a song entitled Cinema where she is dressed in Queen Christina during the filming.

Some years later, the musical was re-released under the title Garbo & Gilbert.
PICTURES FROM THE MUSICAL
Directed by - Patroni Griffi
Music by: Gianni Togni
Text by: Guido Morra
Set and Costumes by: Aldo Terlizzi
Choreographer: Mariano Brancaccio
SOUNDTRACK
A double CD with all the songs from the musical was also released.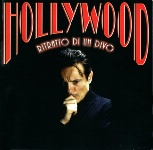 Act 1
Ubriaco
Ouverture # 1
Siamo gente di cinema
Non so se ce la farò
Due carezze e un bacio sul sofà
Che bella gente siamo noi
Non ti capisco Mayer
Hollywood
Pensiamo a fare gli affari
Parliamo ancora di te
Breve la vita di Rodolfo Valentino
Al mondo non c'è niente di più
Lei lo sta cacciando in mezzo ai guai
Solo tu!
Voglio che il mondo intero parli di noi
Ho deciso che la sposerò
Greta Garbo e John Gilbert si sposano!

Act2
Ouverture #2
Il mio destino è stare da sola
Lastella che mi dava la direzione
L'unica passione che ho
L'ABC della recitazione
Tutto passa e non ritornerà
Che bella gente siamo noi
Mi lasci da sola
Che begli amici siete voi
Che malinconia!
Ormai è morto e non lo sa
Per questo adesso sono qui
I vecchi tempi non tornano più
Vedo tutto rosa
Il cielo mio sei tu
Quella felicità ancora non c'è
La sola speranza che ho
Alla fine
John Gilbert - Massimo Ranieri
Greta Garbo - Julka Bedeschi
Louis B. Mayer - Gianluca Terranova
Ina Claire - Barbara Di Bartolo
The mysterious Garbo friend - Anna Vinci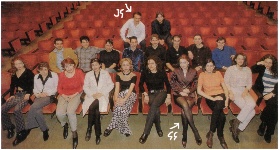 LINKS
Click HERE!
Thanks to RubyRed
Garbo Musicals - Introduction

Garbo...the Musical

Garbo - the Musical

Chez Garbo: The Musical

Garbo's Cuban Lover

Garbo Ríe

Hollywood: Ritratto di un Divo

GG - En musikal om Greta och Gilbert
Garbo's Musicals and Stage Plays - Introduction

© Copyright 2005 – www.GarboForever.com – Germany – TJ & John – The Webmasters