Inside the Flat
Introduction
Garbo's grandniece, Gray Horan said, that her home was a sanctuary. You didn't get in there uninvited and when you came to her home there were sort of rooms that would then open up onto other rooms and she would maybe let some people in to the first room, the foyer but it would be very tantalizing because you really wouldn't get beyond that.

Horan said that she went in all the rooms and that was a real trek and she knew that this was a trek but she was very private, very protective, not really showing in any way. She lived with her things very comfortably and she entertained in her home but it was always a very quiet type of entertainment.

Her living room was immense. It's a very large room for New York and it has a sweeping 180 degree view of the East River from the UN, down and it's just a magnificantly sunfilled space. It was covered with fantastic paintings, very colorful, very lively.

Beautiful Savonnerie rug, Louis XV and Louis XVI furniture, fortuny fabric. I mean, it was just so rich and so colorful, so happy, so I think that it really revealed a side to her, that loved beautiful things and loved color and vibrancy.
Private Entrance to the Flat from the Lift
Living room
Renoir's 1909 Léontine et Coco, which depicts the artist's son Claude, is displayed in the living room. Garbo had a passion for art and antiques and began collecting works by Renoir in the 1940s. Louis XV fauteuils attributed to Jean-Baptiste Tilliard flank the fireplace, where late-18th-century famille rose roosters are set alongside 19th-century Chinese porcelain boxes.

The taboret is Louis XVI. For Garbo, color was essential in art and décor, and she surrounded herself with vibrant hues. "I love color," she once said. "With me it's inborn. I just know. I didn't have to learn it."

Pierre Bonnard's Les Coquelicots hangs prominently in the living room. Elsewhere are portraits and a still life by Alexej von Jawlensky. And oils by Georges Rouault and Juliette Juvin. A carpet Garbo designed lines a hall, where a painting by her brother. Sven Gustafson, hangs above a Louis XV banquette.
| | |
| --- | --- |
| South facing: | North facing: |
West facing: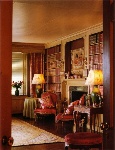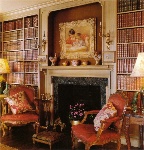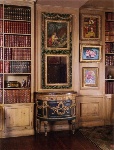 Other Rooms in the Flat Garbo's
The "closet room," which Garbo created from a small library, is highlighted by one of the carpets she designed for her 1962 series, Birds in Flight.

Over the closet is part of her collection of hats; others are stacked on a carved and painted Russian provincial tea table from circa 1880. Garbo chose the upholstery and drapery fabric, which features African tribal motifs.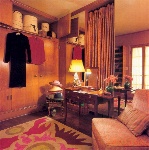 Details of Garbo's Bedroom panelling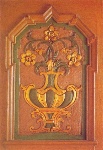 Garbo's Apartment in New York - Introduction

Location of the Flat

Layout of the Flat

Inside the Flat

Neighberhood of 450 East 52nd Street

They said...

Gray Horan on Greta Garbo

© Copyright 2005 – www.GarboForever.com – Germany – TJ & John – The Webmasters