Neighberhood of 450 East 52nd Street
Some Places in Garbo's Neighberhood
Sutton Place
Sutton Place is an exclusive and pleasant neighbourhood, delightfully devoid of busy traffic, made up of elegant low-rise apartment houses and town houses designed by noted architects. The arrival of New York society in the 1920s transformed an area that had once been the province of factories and tenements. No. 3 Sutton place is the residence of the Secretary-General of the United Nations.

Look beyond Sutton Square and 59 th Street for a glimpse of Riverview Terrace, a private street of five ivory-covered brownstones fronting on the river. The tiny parks at the end of 55 th street and jutting out at 57 th street offer views of the river and the Queensboro Bridge.
Beeckman Place
Smaller than Sutton Place, and even more tranquil, is Beeckman Place, a virtually private two-block enclave of 1920s town houses and some small-scale apartments. Famous residents here have included Gloria Vanderbilt, Rex Harrison, Irving Berlin and members of the large Rockefeller family.
River House
Between Beekman and Sutton Place is River House, a twin-towered (see picture below, with Garbo's building to the left) apartment block built in 1931. Its squash and tennis courts, large private yacht moorings, pool and lavish ballroom gave it an immediate cachet, which has stood the test of time, even though the mooring had to make way for FDR Drive.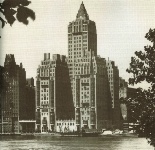 River house
Turtle Bay Gardens
There was much ambitious building and renovation in the 1920s, which restored many of the brownstones into fashionable townhouses. Turtle Bay became popular with the literati, and it was then that Turtle Bay Gardens (two rows of brownstone houses dating from the 1860s) was born as a large communal garden in the backyards of houses bounded by 48th and 49th Streets between Second and Third Avenues.

Since its inception, the garden community has attracted a long list of prominent New Yorkers: Tyrone Power, Dorothy Thompson, Maxwell Perkins, Mary Martin, and Katharine Hepburn, modern composer Stephen Sondheim to name a few.

Interesting places close to 52nd Street
Museum of Modern Art
The Museum of Modern Art is located at 53rd street West, about 20 minutes walking distance. It was founded in 1929 by wealthy patrons. It contains one of the world's best and most comprehensive collections of modern art. The Museum also has a collection of some 10000 films and 4 million stills.

It runs a wide range of programmes. Including retrospectives of individual directors and actors, film in specific genres, and experimental work, as well as a broad range of other exhibitions. The museum of Modern Art also has two paintings by Von Jawlensky (one of Garbo's favorite artists) and two paintings by Rouault.
Saint Patrick's Cathedral 5th Ave and 50th Street
The Roman Catholic church originally intended this site for use as a cemetery, but in 1850 Archbishop John Hughes decided to build a cathedral instead. The Cathedral was completed in 1878 (the spires in 1888), it seats 2500 people and is the largest Catholic cathedral in the United States.

Shopping near 52th Street
Lexington and Maddison
Still today this is a great area to go shopping. People come here for classics in Art and Antiques, designer clothes and shoes.
Fifth Avenue
Firth Avenue has been synonymous with luxury goods for ever. From Cartier at 52nd street to Tiffany and Bergdorf Goodman at 57th, you will find a collection of famous names symbolizing wealth and social standing today just as Vanderbilt (Vanderbilt built in 1883 his mansion at Fifth Avenue and 51st Street, her with starting a trend that resulted in palatial residences stretching as far as Central Park, built for top families scuh as the Astors, Belmonts and Goulds) and Astor did more than a century ago.