Gray Reisfield on Garbo's flat and more
Greta died in April 15, 1990, in New York. Her niece, Gray Reisfield was her sole heir. Part of Garbo's estate was sold in an 1990 Sotheby Auction. It was called: 'The Greta Garbo Collection'. An Exhibition of the Collection was held from November 9 to November 13. The preview of the Collection drew more than 7000 people. An Auction was held on November 15, 1990. The event amassed over $19 million.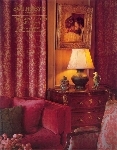 The Auction catalogue, 1990
Gray Reisfield's Preface: The Greta Garbo Collection
Color! Color always was the essential component. Other criteria did matter. Quality, condition, proportion, history, practicality – all were important. But colors – shades of rose, salmon, pink and a mossy green – were paramount. In her home there was a riot of color everywhere.

The works meshed and flowed in a wonderous explosion of enveloping hues that lifted the mood. Nothing was black or white.
During the almost four decades when the New York apartment was her only home, she tried to create a harmonious setting where nothing jarred the senses. Always, continually, she sought out those with particular expertise in art, furniture and decorations.

Many became her lifelong friends. She chose those objects which pleased her with slight regard for the current fashion. She was imaginative in combining them: the expensive and the more modest. A. Renoir and a David Levine, the modern and the old.
An Atlan and a Lemaire, the conservative and the daring – a Thierriat and a Jawlensky. Nothing was static. There was a plan, a logic, but within it, refinements and changes would occur. Sometimes a new color or a new artist would capture her, creating havoc until a new order would emerge.

This is a very personal collection. It reflects totally one person's taste, vision, preference. One day, some years ago, we were sitting in her living room and she told me: "I love color. I want the room to sing. How can one not understand? With me it's inborn. I just know. I didn't have to learn it. This room is my creation and I think it's pretty good. You must learn to trust yourself."

Gray Reisfield , New York, August 1990
American decorator Billy Baldwin on working for Garbo
Over the next few years, Garbo would enlist the support of many creative people, including Cecil Beaton, Gayelord Hauser, and interior decorator Billy Baldwin. By the time Baldwin visited the apartment, Greta had already devoted a considerable amount of time to its realization.

Billy Baldwin
Baldwin later observed:
"A large L-shaped living room was filled with sunlight from two long walls of windows facing south and east. All the colors were rosy and warm; there were beautiful curtains of eighteenth-century silk, a Louis XV Savonnerie carpet, the finest quality Régence furniture, and wonderful Impressionist paintings."

"The bedroom, which overlooked the East River, was a nice square room, practically empty, waiting for its background. Miss G. picked up a small candle shade of shirred mulberry-colored silk and held it up for us to see.'

This shade,' she said, 'was on a candle in a dining car in Sweden – in the first train I was ever on.' Then she lit a candle and held it beneath the shade. Our job was to paint the room the color that resulted from the candlelight shining through the silk!"

After several tests, Baldwin and his assistant accomplished the impossible and received Greta's thanks for a job well done. "She knew just how to use color to energize space," offered design director Roger McDonald, who worked with her between 1962 and 1966 on a series of colorful, geometric rugs she designed especially for her bedroom, closet room, and hall.

Greta was nothing if not definite about what she didn't want in her home. When Gayelord Hauser sent her several decorative pieces, including a French commode, she wrote him thanking him, but added:

"Better not get anything more at the moment. Besides Mushkla wants to be along. Mushkla wants to go through the agony of trying to deside [sic] on the wrong thing. ... What's the use of spending hundreds and hundreds of dollars without having the fun of spending it. Mushkla wants to go along."
Source: Karen Swenson - A life apart
Garbo's Apartment in New York - Introduction

Location of the Flat

Layout of the Flat

Inside the Flat

Neighberhood of 450 East 52nd Street

They said...

Gray Horan on Greta Garbo

© Copyright 2005 – www.GarboForever.com – Germany – TJ & John – The Webmasters