Layout of the Flat
Introduction
Garbo changed the flat considerably before she moved in. She had enlarged the living room area towards the balcony. Adding in a third door to lead outside. She also changed the windows in the living room, facing south.

The changes made the room more balanced and the wood panelling and the bookshelves covered discretly all the changes she made. Also covered were at least 3 small windows, facing North.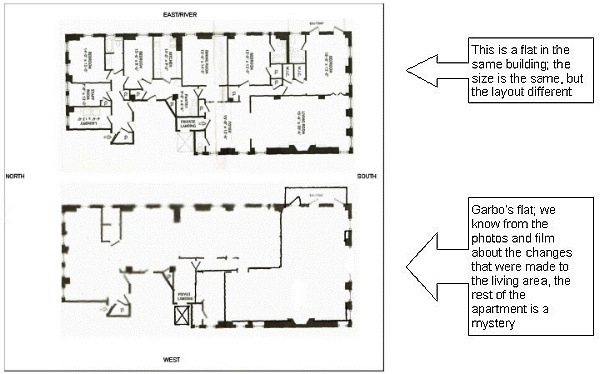 Furnishing and Decoration
Greta's invested $38,000 in 1953 for furnishing and decoration. But her concept of comfortable elegance would take time. Over the next few years, she was supported by many creative people, like Cecil Beaton, Gayelord Hauser and interior decorator Billy Baldwin.

A large L-shaped living room was filled with sunlight from two long walls of windows facing south and east. All the colors were rosy and warm; there were beautiful curtains of eighteenth-century silk, a Louis XV Savonnerie carpet, the finest quality Régence furniture and wonderful Impressionist paintings.
Garbo's Apartment in New York - Introduction

Location of the Flat

Layout of the Flat

Inside the Flat

Neighberhood of 450 East 52nd Street

They said...

Gray Horan on Greta Garbo

© Copyright 2005 – www.GarboForever.com – Germany – TJ & John – The Webmasters