Location of the Flat
The Campanile 450 East 52nd Street
The falt is located at the Campanile 450 East 52nd Street. The Franklin D Rooswelt Drive (or originally called East River Drive) changed the feeling of the area. However, 52nd street is about 3 stories above the FDR and another 5 stories away from Garbo's flat.

Another advantage of the location was how easy it was to leave the country. Quite conveniently she could jump into a car and be driven to JFK airport within 30 minutes.
| | | |
| --- | --- | --- |
| The building from South/East: | The building from South/West: | |
| | |
| --- | --- |
| The Entrance: | The building from North/East: |
The View from the Flat
It reminded her on Stockholm. Garbo had a view to the East River and this may reminded her of Stockholm. She had great pleasure in watching the river traffic from her living room window. Greta lived in this apartment from 1953 to her death in 1990.
| | | |
| --- | --- | --- |
| View North/East: | View East: | View South/East: |
Map of the Area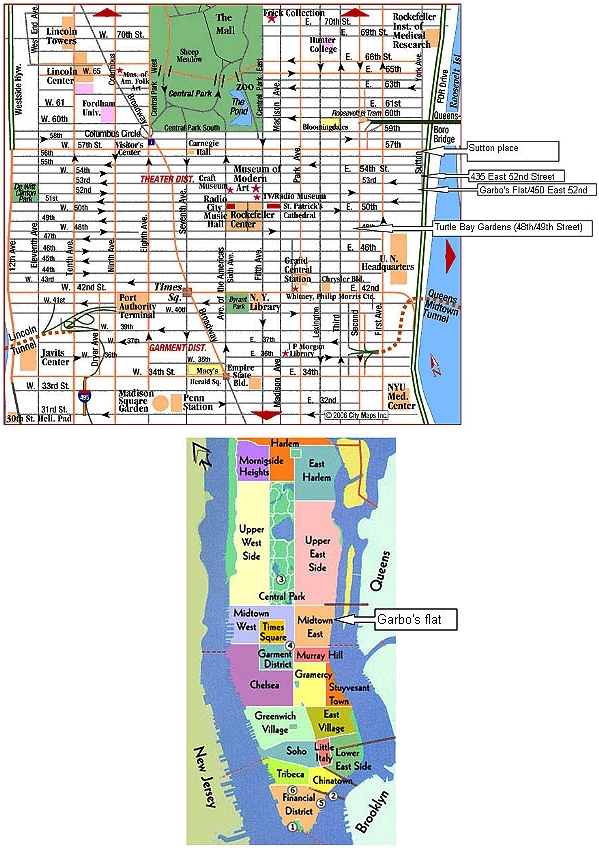 Garbo's Apartment in New York - Introduction

Location of the Flat

Layout of the Flat

Inside the Flat

Neighberhood of 450 East 52nd Street

They said...

Gray Horan on Greta Garbo

© Copyright 2005 – www.GarboForever.com – Germany – TJ & John – The Webmasters