Antonio Moreno
(The Temptress)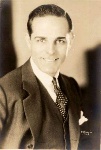 - by Néstor G. Acevedo (Greg) -
Antonio "Tony" Moreno (1887-1967) was a notable actor of the silent film era and through the 50s. Born Antonio Garride Monteagudo in Madrid, Spain on September 26,1887, he emigrated to the United States at the age of fourteen and settled in Massachusetts, where he completed his education. His attractive looks, and friendly character, open many doors to him in America.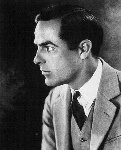 A very important help from a widow, Charlotte Morgan, who paid for his education at Williston Seminary In Northampton, Massachusetts. In the mid-time he worked for a few years at an Electricity/Gas Company. In 1910, everything changed when he got a small part in the Maude Adams, Theater Company, and in a tour to Broadway he had his first important opportunity part as an Spanish count in the play, Two Woman. During the next two years, he worked in other theater companies but he was limited in small parts due to his Spanish accent. In 1912, he moved to Hollywood, California and he was signed to Vitagraph Studios, begins a career in bit parts and as a movie extra.

In 1914, Moreno began co-starring in a series of successful serials opposite the enormously publicity popular silent film actress Pearl White, and the appearances helped to increase Moreno 's popularity with the nation's nascent filmgoers. By 1915, Antonio Moreno was highly regarded matinee idol and appearing opposite such screen actors as, Tyrone Power, Sr. Gloria Swanson, Blanche Sweet, Pola Negri, and Dorothy Gish, in D.W. Griffith Two Daughters of Eve in 1912, the same year, So Near yet So Far, with Mary Pickford. He was often typecast in his earliest films as the "Latin Lover" as were other actors of the era as, Ramon Novarro, and Rudolf Valentino with Latin roots.

By the early 1920's, Antonio Moreno joined film mogui Jesse'Laskys Famous Players and became one of the Company's most highly paid performers. In 1926, Moreno starred opposite a new- comer of the M.G.M's lot, Greta Garbo, the Swedish actress on her second feature film in America, The Temptress.
A STORY ON THE TEMPTRESS
In those days films were made quickly. When Garbo made her first film in America, it begun in the middle of November 1925,The Torrent was completed by Christmas. The studio executives trooped into the projection room with their usual boredom and indifference, Garbo wasn't there Stiller were. Louis B. Mayer silenced the rather negative comments of his colleagues. "The picture," he announced, "is holding my interest." Garbo's acting agreeably surprised him and was well aware that Stiller was largely responsible for the quality of her performance. It was decided that if The Torrent was well received by the public.

The New York premiere took place on February 21, 1926. Garbo drew the applause of the critics "This girl has everything, with looks, acting ability, and personality, "when one is a Scandinavian and can put over a Latin characterization with sufficient power to make it most convincing, needs any more to said regarding her ability?" Stiller was now in favor.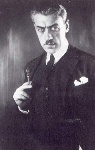 Mauritz Stiller
FILMING THE TEMPTRESS
Mauritz Stiller had written a script, based on a Blasco Ibáñez novel called, La Tierra de Todos which had been received favorably by Louis B. Mayer and his chief of staff, Irving Thalberg. Unhappily Stiller script was sent to the script department, which decided for its own reason to edit it, and change the story line. Stiller objected strenuously, but he was one man against a firmly entrenched bureaucracy of M.G.M.
The studios decreed that the film should be called The Temptress and watched with some trepidation as Stiller took command of the actors, and launched into his first directional job since his arrival in America. Trouble started brewing the minute Stiller stepped on the set. At first when he was ready to start , he saw about fifty people standing around. "Who are all these people?" of course they were assistants of production,director, script girl and so on. "Take them away," he said. "I don't need them, all I need is a camera and actors." But they all stayed.
ANTONIO MORENO ON TEMPTRESS
In practically no time Stiller succeeded in antagonizing Antonio Moreno. Since Stiller felt that the hero of the film should be clean-shaved, he ordered Moreno to get rid of his mustache. This ruffled the sensibility of the Swarthy Prince Charming, and an angry scene ensued. Later, the director got ready to make a shot of Moreno's f eet under a table next to Garbo's; for the purpose of heightening the contrast, Stiller said Moreno would have to wear shoes several sizes too large for him. Moreno, who was proud of his small feet, refused and retired in very bad humor to his dressing room. Relation between Stiller and Moreno remained sour. Whenever a scene between the hero and Garbo failed to please Stiller, he laid the blame on Moreno. Antonio Moreno accustomed to being handled like a Star, bitterly resented this treatment.
GARBO ON TEMPTRESS
Word got around the studio that all was not going well on The Temptress set. An interpreter had been placed at Stiller's disposal, but he seldom bothered to use him, this means of communication caused endless difficulties. Frustrated by his inability to explain his ideas, he would circle around the actors and shout at them in a mixture of Swedish, English, and German. To the other people on the set, except for Garbo, his instructions were comically confusing. In one scene he wanted a group of extras to applaud, "now," he shouted, "all explode". On the afternoon of the fourth day of shooting, a cablegram was delivered to Garbo, informing her of the death of her sister Alva in Stockholm, Garbo collapsed.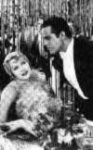 As soon Stiller was informed of the tragic news, he dismissed the entire cast and took her home. His action did not make a hit with the budget-conscious front office. Stiller methods were not working, and he had been summarily removed as director of The Temptress. The picture was to be turned over to another director, Fred Niblo. No other assignment had been offered to Stiller, and all film was re-shot by the new director.

His dismissal, understandably, plunged him and Garbo into a state of profound melancholy and resentment. The man whom Garbo's most admired and who had been for so long a mountain of strengh, had begun to crumble. Instead of being protected, she was now forced into becoming the protector, a role for which was not prepared. With Stiller in eclipse, she was alone and adrift, out of her depth. Her feelings of insecurity and bewilderment, combined with her long hours at the studios, made this a period of intense strain for her. SHE WAS IN LIMBO. She confided once.

Fred Niblo footage on The Temptress
Cameraman, William Daniels, who had photographed nearly all Garbo films, saved the Temptress from disaster. Stiller moved to Paramount, and made Hotel Imperial, and showed that he had lost none of his cunning. The film was a prodigious success, but other works failures, he began to fell ill and abruptly returned to Stockholm/Sweden. When The Torrent was shown at the Capitol Theatre in New York on October 10,1926, The reviewers, who paid very little attention to the story, but concentrated on her poise, acclaimed Garbo, Her grace, her beauty, and her acting. But for Stiller and Garbo, The Temptress was a harrowing experience.
MORE ON MORENO
With the advent of the talkies in the late 1920's and early 1930's, Moreno's career began to faltering because of his heavy Spanish accent. While still acting in English language films, Moreno although is taking parts in Mexican films. During the early 1930's, Moreno directed several well-received Mexican films; among them is the drama "Santa", which has been hailed by film critics as one of the best Mexican films of the era.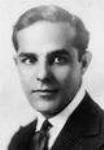 By the mid-1930's, Antonio Moreno began to rebuilding his faltering Hollywood career by taking roles as a character actor. By the mid-40s and throughout the 1950's, Moreno appeared in a number of well received roles notably, his 1954 part in the classic horror film, Creature from the Black Lagoon, and his 1955 role in the western epic, The Searchers, opposite John Wayne and Natalie Wood.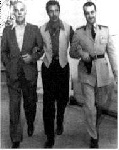 Moreno-Roland-Novarro
Moreno retired from films in the late 1950's and died of heart failure in Beverly Hills, California, on February 15,1967, he was 79 years old. He was laid to rest in the Forest Lawn Memorial Park Cemetery in Glendale, California. His film career spanned more than four decades. In 1994, the Mexican magazine "Somos" published A list of "The 100 best movies of Mexican Cinema." Moreno's film of the 30s Santa, was among them. For his contribution to the motion picture industry, Antonio Moreno was given a star on the Hollywood Walk of Fame at 6651 Hollywood Boulevard, Hollywood California, U.S.A.
SOURCES
The Great Garbo - Robert Payne
Garbo - John Bainbridge
Edited by Néstor G. Acevedo (Greg)