- by Néstor G. Acevedo (Greg) -
INTRODUCTION
Barrymore 1882-1942 was Warner Brother's biggest prestige star, a member of the Royal Family of Broadway along with bother and sister, Lionel and Ethel. He was considered so highbrow, that his films were not big box-office outside the major cities. He was also one of the great tragic-comedians of cinema, an incredible ham in many of his films, a lady chaser who tried to live up to his publicity slogan as: THE GREATEST LOVER OF THE SCREEN.
Born into a famous acting family in Philadelphia in 1882, he became a top stage actor, and entered films in 1913 with, An American Citizen. He made dozens of two reelers during the next four years, first became widely know through starring in the 1917, Raffles the Amateur Cracksman, and his 1920 Dr Jekyll and Mr. Hyde, made him world famous. Barrymore, an alcoholic who became so famous for being drunk that audiences went to see him in bad plays to watch him fall down. He was the Great Profile and Great Boozer rolled into one, and one of his best performances were playing exactly that role in Howard Hawks's satirical sound film, Twentieth Century. Barrymore's greatest stardom, however, was in the silent films.
His Broadway career was at its height and he toured in Hamlet before making the hugely successful, Beau Brummel, for Warner Brothers, who paid him vast sums, followed by eye-rolling versions of Moby Dick, The Sea Beast, and A rather delightful, Don Juan, with one of the best dueling scenes ever. This was actually the first sound film with Synchronized on discs. John Barrymore then moved to United Artists, and made the famous, Beloved Rogue, 1927 portraying Francois Villon, and Lubitsch's Eternal Love, 1929.
Barrymore's voice was eminently suitable for sound, and he had no trouble getting work, but his drinking had become a major problem and he often needed cue cards to remember his lines. He starred opposite Garbo in Grand Hotel (1932) but in 1935 and directed by George Cukor, almost did not complete Romeo and Juliet, because of his drinking; immediately after it finished he entered an Alcoholic's Clinic. Romeo and Juliet was released in 1936. He was then demoted to feature roles, and sometimes even portrayed parodies of himself as a broken-down old ham.
GARBO-BARRYMORE IN GRAND HOTEL
In January 14 1932, there was snow in Los Angeles, and John Barrymore was waiting on the set at nine a.m for Garbo to arrive for their first day of work together. After waiting for more than twenty minutes, he was growing a bit irritated. Suddenly a prop boy approached him. "I didn't know you were here, Mr. Barrymore," said the boy. "Miss Garbo has been waiting outside the door since nine o'clock to escort you onto the set . It was an honor she wanted to pay you". Barrymore followed him to the door of the soundstage, were he greeted Garbo with the salutation: "My wife and I think you the loveliest person in the world." "This is a great day for me," Garbo responded. "How I have looked forward to working with John Barrymore!"
On Monday January 25, Barrymore exercised caution in his next scenes with Garbo, which took place in the bedroom. Sitting across from her, as William Daniels (photography) lined up a two-shot, he said, "You are the most entrancing woman in the World." The subsequent scene played with exquisite timing. Suddenly Garbo leaned forward and kissed him. "You have no idea what it means to me to play opposite so perfect an artist," she said. Garbo was happy to finally work with Barrymore.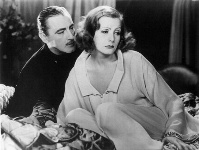 In John Barrymore, Garbo had her strongest and most charismatic leading man since, John Gilbert, and according to his brother Lionel, "He was a damned fine actor."

John Barrymore was also in awe of the technician that Garbo was. In fact, he was frightened of her, as he confided to Mercedes de Acosta. "Not because she is difficult," he said, "Far from it, but just because she is so perfect as an artist, an as a woman." Why has no one ever said, that she has such a sense of humor? "Do you know, she was always telling me some funny jokes on the set and she sees little things to laugh at. Little things most people wouldn't notice."
The all-star casting paid off when Grand Hotel opened to glorious reviews, and strong box-office, bringing back, almost five times its cost in its first year of release. It also became the only film to win the Best Picture Oscar (1932), without earning any other nomination. The cast had created such a seamless piece of entertainment that no one element stood out more than any other. MGM tried to make lightning strike twice with a 1945 re-make, Weekend at the Waldorf, with Ginger Rogers, in the Garbo role, but the film came nowhere near the magic of the original. Decades later, there were two stages musical versions: a flop called, At The Grand 1958, and the Broadway hit Grand Hotel: The Musical in 1989.
GARBO - BARRYMORE
Garbo, managed to be cheerful and solicitous when Barrymore arrived on the set with hangover. She brought him to her dressing room and served him an herbal drink. John Barrymore agreed with his brother (Lionel) about Garbo's privacy requirements, "there's no reason in the world why Garbo should be expected to work in front of visitors," he said. "It isn't like being on the stage, were one is prepared for an audience."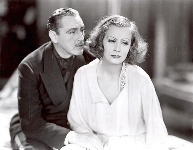 John Barrymore wrote to Garbo on May 17. "I had a distinct feeling that the scenes between us, with your help and your artistry, we could envolve something whimsical, touching, and very lovely in the first part of the play, and something most significant and tragic in the latter part of it."
BARRYMORE IN QUEEN CHRISTINA AND CAMILLE
Wanger and Mamoulian got down to the business of finding an actor to play Antonio, a character who could almost be a throwback to the Latin lovers of ten years earlier. "I read the manuscript and was delighted with the whole idea," John Barrymore wrote to Garbo on May 17. "I had a distinct feeling that in the scenes between us, with your help and your artistry, we could evolve something whimsical, touching, and very lovely in the first part of the play, and something most significant and tragic in the latter part of it."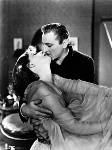 Barrymore had just finished Dinner at Eight for Selznick, in which he had given a painfully detailed performance as a faded silent-film star. "Barrymore was very anxious to do [Christina]," recalled Mamoulian, "but on second thought it seemed that he would be a little too old."

Some years later, in 1935, they nearly did another film together, the role of Baron de Varville in Camille, that was originally intended for John Barrymore.
MORE ON BARRYMORE
In the late 30s, alcoholism and possibly Alzheimer's disease, encroached on his ability to remember his lines, and diminished abilities were plainly apparent in an existing screen test, that he made for an aborted film on Hamlet in 1934. His last movie characters were broad, and distasteful caricatures of himself, in movies such as, Playmates (1941) with Kay Kyser. He died in Hollywood in 1942, and has been portrayed in several Hollywood films by Errol Flynn. Probably the greatest role of Barrymore's career, and the one for which he will be longest remembered, was his flamboyant self, leading man, THE GREAT JOHN BARRYMORE.
SOURCES
Movies Stars and their films - Wlaschin
Books and Biographies on Garbo by Sven Broman
Daum/Vance Muse/ Conversations, Recollections.
Edited by Néstor G. Acevedo (Greg)
A cinematic Legacy - Mark Vieira