Lars Hanson
(Gösta Berling Saga, Flesh and The Devil & The Divine Woman)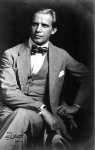 - by Néstor G. Acevedo (Greg) -
Lars Hanson 1886-1965 was a highly successful film and stage actor born in Göteborg/Sweden, July 26,1886. Hanson is mostly remembered for his motion picture roles during the silent films era. He began his career on the stages as a Shakespearean actor, appearing in such classics as Othello and Hamlet. Hanson made is film debut in the 1915 film, Dolken, directed by Garbo's mentor, Mauritz Stiller.

While already a well established popular actor in his native Sweden, and much of continental Europe Lars Hanson gained greater international recognition for his role as the title character in the 1924 Stiller Film Gosta Berlin's Saga featuring a young Mauritz Stiller protégé Greta Gustaffson (then Garbo) in one of first major appearances on screen. The first time Garbo met Hanson was when she was filming the promotional short Our Daily Bread, in 1921. They became friends and kept in contact for a long time.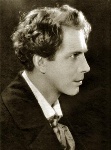 HIS HOLLYWOOD CAREER
Lars Hanson arrived in Hollywood, California in 1926, a half-year after Garbo, to star opposite Lillian Gish, at a request of the American Actress, in the film version of The Scarlet Letter directed by follow countrymen Victor Sjöstrom.

Hanson's Hollywood career as an actor steadily grew momentum during the 1920's, and he was paired with Greta Garbo in two more motion pictures; MGM's 1927 box-office hit Flesh and the Devil which also starred Garbo's off-screen lover, the successful film actor John Gilbert.

Then he appeared in the lost film, The Divine Woman, again directed by Victor Sjostrom. The Swedish director also directed Hanson in another performance opposite Lillian Gish in the film, The Wind (1929); however, the era of the silent film was waning, and seeing that his heavy Swedish accent might be a liability in American films, Lars Hanson returned to Europe.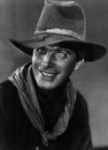 The Wind (1928) Scarlet Letter (1926)
ABOUT FILMS WITH GARBO
Lars Hanson had already made twelve (12) films when he won the title role in Mauritz Stiller's Gösta Berling's Saga. Stiller had an interesting way of considering the people taking part in his films. The most important thing for him was that the actors should look like their characters right from the start. And Stiller even gave the roles to complete amateurs, provided their appearance was right for the role. One of the female leads in Gosta Berling's Saga, is a young Italian noblewoman, Elizabeth Dohna.
This role was awarded to Greta Gustafsson, a pupil at the Royal Dramatic Theatre stage school, because she looked Italian, or at least foreign. "Well, I've never looked typically Swedish," Garbo, said. "I wasn't a blonde for one thing, which people abroad always expect Swedes to be." In a fire scene (at Ekeby), Stiller ordered celluloid strips to be attached to the walls of the building and doused with kerosene. Special gas conduits were built behind the windows of the façade. Stiller seemed to enjoy the fire immensely, "roaring like a lion" through his megaphone, climbing up ladders to observe the action closer and suggest new angles for the camera.

Lars Hanson, anxiously scurried across a burning rooftop and down staircases engulfed in flames, urged along by his fearless director. "Don't be cautious!" Stiller shouted. "Keep going! If the flames come closer, that's all right- it won't look like a real fire unless you show some courage!" For some reason, Hanson later recalled, Stiller decided to move the camera to cover the hero's escape even more dramatically. The fire was getting closer, and Hanson had yet to save another actress in the scene, "I'm burning!" Hanson cried out. "I'm very sorry," the director replied. "You'll just have to burn a little longer." Gösta Berling was a defining experience for Greta.

While shooting the film Stiller once said; "Greta is so shy, you realize, she's afraid to show what she feels". "She's got no technique, you know. But every aspect of her is beautiful, a rare beauty." Greta would often lie down on a sofa at the film studios, as soon as she stopped working. "she was delicate, and she seems so touching: you feel sorry for her," said his mentor- protégé, Mauritz Stiller.
DID YOU KNOW ?
A "re-make" of Gösta Berling Saga film was made for-TV as a mini eries in Sweden 1986. It was re-released in 2000.
HANSON AND GARBO IN HOLLYWOOD
This film was made when the romance between Gilbert and Garbo was at its height. William Daniels was the cameraman, and he convinced director Clarence Brown to use extreme close-up. Brown resisted at first, but when he saw the astonishing impact of Garbo's face filling the screen, he realized Daniels was right. Despite Garbo's lack of enthusiasm for Flesh and the Devil, she could take comfort in the fact that both of her leading man were knowledgeable about their craft and willing to share their expertise.

Flesh and the Devil (USA 1926)
Lars Hanson and John Gilbert, were survivors of the modern star-maker machinery, and both would be critical to her successful transformation in the film. During filming, much of the Garbo Gilbert affair appears to have moved very quickly, following almost exactly the course of the daily production schedule. Greta's Swedish friends including Hanson, noticed a change in her as well the production, and director. Clarence Brown the director reported to Thalberg head of production that they had a real-life romance on their hands. (See Gilbert Bio.)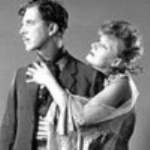 The Divine Woman (the lost film)
Garbo made two Hollywood films playing opposite Lars Hanson, in the lost The Divine Woman, Victor Sjöstrom (his name was Americanized Seastrom) directed. The film started out as an attempt to depict the life of Sarah Bernhardt, a country girl comes to Paris and falls in love. But the story was changed, partly because Lars Hanson looked so impressive in uniform.

He was turned into a soldier and the story ended with Marah (Garbo) going off with her soldier to a South American farm. In the reviews like New York Herald, they said; it seems to be soul, rather than prettiness, which makes Garbo face so attractive, and no one could call Lars Hanson handsome! Still we cannot for the moment think of any two performances as fine as these offered by a Swedish actress and a Swedish actor. Unfortunately, aside from a theatrical trailer, some photographs, and the reviews, there is very little record of their only collaborative effort. The master negative of The Divine Woman, was destroyed in a catastrophic vault fire; no prints survived.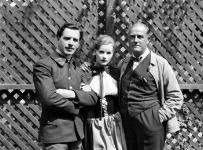 In 1993, one reel of the film was unearthed in Moscow's Gosfilmofound archive, and subsequently shown at the Pordenone Silent Film Festival in Italy. As The Divine Woman neared completion, Lars Hanson announced to friends and coworkers, that he planned to return to Sweden. Though the press was told he was going home for the holidays, Garbo and all Hanson's friends knew he had no intention of coming back. This was Garbo's fifth American film, and the last of three (their first was, (Stiller's The Saga of Gösta Berling's-Sweden) with her friend and fellow countrymen, Lars Hanson.

Hollywood was not longer the place to Mauritz Stiller (Garbo's Mentor) after months of deliberation, he was now packed and ready to go, but Garbo was staying behind. It was according to Victor Sjöström, a painful farewell, with Stiller seeking to reassure Greta that everything would be all right in her America-Hollywood career. "Life is terrible, but it's not going to be for you", you are free, im leaving you your freedom!
MORE ON HANSON
Upon arriving back in Europe in 1928, Hanson starred in the aptly titled German film, Heimkehr (Homecoming) opposite Gustav Frohlich and Dita Parlo. Lars Hanson continued to appear in Swedish films until the early 1950's before retiring. Hanson's last performance was in the 1951 film Darskapens Hus (The Nuthouse) Hanson balanced his film work with an outstanding stage career, making memorable appearances in 1935 A Dream Play, The Ghost Sonata in 1942, and as James Tyrone in the world premiere of Eugene O'Neill's, Long Day Journey into Night 1956.

In 1956, Hanson, along with actress Inga Tidbland became the first two actors to receive The Eugene O'Neill Award, presented annually to Sweden's most outstanding stage actors. Hanson was also successful Shakespearean actor, especially for his performance as Richard III. Lars Hanson died in Stockholm, Sweden in 1965 after a short illness at the age of 78.
SOURCES
The Films of Greta Garbo - Michael Conway
Conversations with Greta Garbo - Sven Broman
Lars Hanson-Wikipedia, the free encyclopedia
The Divine Garbo-Frederick Sands - Sven Broman
A Life Apart - Karen Swenson
Edited by Néstor G. Acevedo (Greg)