Constance Bennett
(Two-Faced Woman)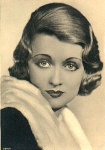 - by Néstor G. Acevedo (Greg) -
INTRODUCTION
Constance Bennet (1904-1965) is best remembered today as the blond, beautiful and very funny ghost who starred with Cary Grant in Topper (1937), and its sequel, Topper Takes A Trip (1939). She was a brilliant, sophisticated comedienne, as she showed by stealing the film from Greta Garbo, Two-Faced Woman in 1941, even that, she was a U.S.A actress know more for her elegant persona than her acting talents.

Bennet was a mayor star in Hollywood for a very long time, and in the early 30s was said to be the highest-paid actress in the world. She was extremely popular, and her sleek page-boy haircut was a much-imitated trademark. In most of her romantic comedies she played a kind of worldly-wise flapper, with an attractive, husky voice and a wonderful air of slight disdain and amusement.

Sadly, her early pictures are rarely shown, but she is especially notable in Cukor's What A Price Hollywood (1932) a predecessor of A Star is Born, portraying a waitress who becomes a star. Constance Campbell Bennet, was born in New York City, on October 22 1904, the eldest of stage actor, Richard Bennett's three daughters (Joan Bennet) also became a star, and Barbara had a short film career. Constance Bennet, was often described as the most beautiful of the Bennet's sisters with her blonde hair, and blue eyes on her 5"4 (1.63 m) height.

Constance Bennet, began acting in films in the early 20s, and had her first major role in George Fitzmaurice's 1924, The Goose Woman, and Goulding's, Sally, Irene and Mary, (as a flapper with Joan Crawford) but she then dropped out of the movies, and eloped with a millionaire, (just like her sister Joan). She came back to films in 1929, and with her delicate blonde features and glamorous fashion style quickly became a popular film star. A 1931 contract with Warner Brothers Studio, earned her $300.000, for two movies and made her one of the highest paid stars in Hollywood.

The next year she moved to RKO, were she acted in What Price Hollywood? (1932), directed by George Cukor, an ironic and at the same time tragic behind-the-scenes looks at the old Hollywood Studio System, in which she gave her finest performance. She stayed a top star until the 40s, when her career began to loose momentum. She was good as ever, but audiences seemed to want comediennes in other styles.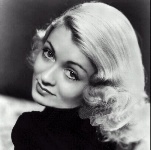 delicate blonde features and glamorous fashion style
BENNETT OPOSSITE GARBO
Bennett next showed her versatility in many films like her part in, Two-Faced-Woman, in a hilarious Performance supporting Greta Garbo. She stole so many scenes from Garbo, that one-quarter of the film was re-shot. She did spend most of her time in her dressing room, but when she emerged, she was always easy and affable. The only friction occurred when Constance Bennet was pointedly rude to newcomer Robert Sterling, Garbo snubbed Bennet and gave a private tea party for Sterling in her dressing room. Constance Bennet and Garbo had little to say to each other between scenes.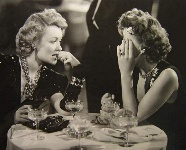 A hasty postmortem revealed that Constance Bennett was doing what Ina Claire had done in Ninotchka, stealing the show. All of Bennett's scenes were cut from the third act. No longer did the film end with Griselda (Bennett) being lost in the snow and making Larry (Douglas) realize that he has loved Karin (Garbo) all along. Instead, the film ends with a cartoonist chase on skies. All the personality conflicts and identity confusion remains unresolved in a slapstick finale.
A resigned Garbo returned to the studio for two weeks of retakes. "'Two Faced Woman' was not good and it could never be made good," Garbo said later. It was rumored that the producer and director, consulted with Greta's rival in the film, Constance Bennett, for further guidance. Garbo had already agreed to a bob and perm by stylist Sydney Guilaroff, after seeing Bennett's new hairstyle-an attempt to "modernize" her coiffure that only succeeded in dating her. In both instances of hair and dress, Bennett, a well-know fashion-plate whose star once shone nearly as bright as Garbo's did her no favors. "Garbo was exceptionally nice to me" says actor Robert Sterling, who had been hired to play the handsome young Lothario in the film. "Constance Bennett was just the opposite. she was very difficult and was always concerned about messing her dress or her hair or some damn thing…"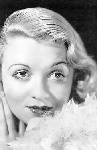 Bennett a well-know fashion plate
Two-Faced Woman was released in November 1941, and immediately ran into serious trouble. The National Legion of Decency promptly condemned the film as immoral. It was the first time in several years that leaders of the Catholic Church had put a blanket condemnation on a major Hollywood production.
MORE ON BENNETT
In 1941 Constance Bennet married her third husband, the actor Gilbert Roland, and had three children with him. By this time she was working less frequently in films, but was in demand in both radio and theatre. Her shrewd Investments had made her a very wealthy woman, and she founded a cosmetics and clothing company that added to her wealth, but Bennett enjoyed being a celebrity and so continued to work. Her stage-acting debut was in 1940 in Noel Coward's "EASY VIRTUE."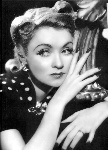 She sang with her own voice in films, on stage, and in a nightclub act, 1956-62 in which she parodied early rock-n-roll. Constance Bennett was considered one of the best poker players in Hollywood, and also an excellent skier.

She made no films from the early 1950s until 1965 when she made a comeback in the film Madame X, playing Lana Turner's mother-in-law even her more usual role was as sophisticated worldly-wise comedienne. In Madame X, Bennett still was looking chic while playing the mother-in-law role. The film was released posthumously.

In 1966 due that shortly after filming was completed, Bennett collapses and died from a cerebral hemorrhage at the age of 60. The last of her five husbands was by her side. Constance Bennett has a star on the Hollywood Walk of Fame for her contribution to Motion Pictures, at 6250 Hollywood Boulevard, a short distance from the star of her also actress sister, Joan Bennett.
ON TWO FACED WOMAN
As soon as Two-Faced Woman (1941) went into production, the MGM publicity department began an extensive Campaign to prepare the American public for the emergence of "the new Garbo" In her next picture, it accordingly Became know, Garbo would appear, for the first time on the American screen, in a bathing suit- a brief one she had designed herself. Furthermore, she had cut, and perm her hair in a new short bob that Metro publicity experts predicted would: "set a style craze comparable to the long Garbo bob in 1932."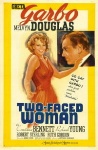 Not only would Garbo be shown swimming but also skiing, "wrestling with her man while clad in filmy finery" And joyously dancing a brand new rumba called, "The Chica-Choca." Metro's labours to Americanize Greta Garbo in the public mind produced gratifying results. In an article about Two-Faced Woman, published several weeks before the picture was released, Life magazine described Garbo as "Probably the greatest oomph girl of all time." In contrast to the buoyant items distributed by the studio, Garbo was very moody and depressed while Two-Faced-Woman was being filmed. She didn't like the way things were going, there were clashes of temperamental on the set, between the producer and the director (Cukor) as well as frequent differences of opinion.

The tense, uncongenial atmosphere on the set, together with her own grave doubt about her role, gave Garbo a deep sense of impending doom. She became so despondent, that she confided to close friends, her belief that there was actually a plot afoot at MGM to ruin her career. "They're trying to kill me," she often said darkly. "They've dug my grave."

One person at MGM who shared Garbo's misgivings about her role was Adrian, the designer who had Fashioned nearly all the star's costumes during her career at Metro. He said later: "It was because of Garbo that I left MGM. In her last picture they wanted to make her a sweater girl, a real American type. I said, "When the glamour ends for Garbo, it also ends for me. She has created a type. If you destroy that illusion, you destroy her." When Garbo walked out of the studio, glamour went with her, and so did I."

Greta Garbo's last movie is nowhere near as bad as contemporary reviews would have to believe, and certainly didn't warrant the most fabulous screen face of all opting for a retirement that would last until her death almost 50 years later.
SOURCES
Paul Page
Ken Wlaschin Great Movie stars and their films.
Conversations and Recollections/ Daum,
descriptions on Time and Life magazines.