Melvyn Douglas
(As you desire me, Ninotchka & Two-Faced Woman)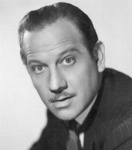 - by Néstor G. Acevedo (Greg) -
INTRODUCTION
In the 1930s Melvyn Douglas would have been unrecognizable without an elegant glamour star on his arm, the perfect escort to such ladies as Greta Garbo, Joan Crawford, Claudette Colbert, and Marlene Dietrich.
MELVYN, 1930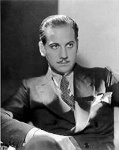 MELVYN DOUGLAS, A GLAMOUR LADYES ESCORT
Melvyn Hesselberg, was born in Macon, Georgia on April 5 1901 his name was changed to Douglas in his Hollywood career, the most nimble and elegant of 30s farceurs, Melvyn Douglas, had a spectacular start in movies co-starring with Gloria Swanson in Sam Goldwyn's, Tonight or Never (1931). However, after As You Desire me (1932) with Garbo, Goldwyn concluded that Douglas was a carbon copy of William Powell and relegated him to poverty row productions like, Majestic's The Vampire Bat (1933). He was rescued by meaty role opposite Claudette Colbert in Colombia's She married her Boss (1935), which led to a seven-year contract. Loaned out to co-star with Joan Crawford in MGM's The Gorgeous Hussy (1936) he so impressed the studio that they bought a share Of his contract. His enigmatic grin, arched eyebrow and delicately shaded vocal inflection were sufficient to romance a bored Marlene Dietrich in, Angel (1937), repel the post-pubescent advances of Deanna Durbin in, That Certain Age (1939) and unfreeze Garbo in Ninotchka, her delicious Ernst Lubitsch comedy, Garbo received a nomination for an Oscar for this movie.
AS YOU DESIRE ME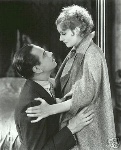 MELVYN DOUGLAS CO-STAR'S GRETA GARBO
In the 30s Melvyn Douglas would have been unrecognizable without an elegant glamour star on his arms, the perfect escort to such ladies as Greta Garbo among others. Douglas made three movies with Garbo, As you desire Me, (1932) Ninotchka, (1939) and the last Garbo movie Two-Faced Woman (1941) but Ninotchka is in many people eyes Garbo's best film and is considered today to be one of the-all time classics. 'GARBO LAUGHS' was all the publicity Ninotchka needed. Although this was her own favorite film and a masterpiece by Ernst Lubitsch. Douglas once said while working on As you desire me, "Her acting made you feel like, here was a woman who knew all there was about to know in all aspects of love." Garbo's cerebral performance in Ninotchka was much praised. But Garbo herself liked the film, in spite of its sappy-happy ending.
NINOTCHKA
FILMING NINOTCHKA
According to Melvin Douglas in Ninotchka, when they filmed the scene of the laugh in the restaurant, Garbo acted the moment but did not give it a voice. "In spite of 'Ninotchka's' billing as the film in which 'Garbo Laughs' she was unable to articulate so much as a titter during the shooting of restaurant scene. I never learned whether the laughter, which must have been added in the dubbing room, was Garbo or not"? He told. Had they given her happy and fun-making roles, she might still be in pictures. "Garbo didn't have 'an ounce of humor in her' said Melvyn Douglas later, but Lubitsch had cleverly utilized 'all her eccentricities for comic effect'. She was tremendously meticulous," remembered Douglas, "about her hair, makeup, lighting, jewelry, and costumes. I'd never been so impressed. She knew exactly were the lights were to be set for her".
TWO-FACED WOMAN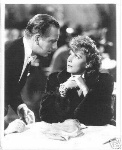 Garbo's contract with MGM required two more films, the studio sought for another comedy due to the triumph of Ninotchka. A comedy vehicle that would appeal strongly to the American market. MGM bobbed Garbo's hair, and dressed her to conform with Hollywood's idea of Modern American Womanhood- not understanding that Garbo's appeal, even to American audiences, lay precisely in her non-American attitudes. She was not Mrs. America with a quaint accent, which is what MGM reduced her to in the mistaken belief that was what the public wanted. The script chosen was Two-Faced Woman, a hairy old property that had been resurrected for no good reason. When it premiered on December 31, 1941, it met blanket critical and box-office disapproval, and even earned banning by the Roman Catholic Legion of Decency. "Its is almost as shocking as seeing your mother drunk," said Time in its review. Garbo's reign was over. "I will never act again," she said. Two-Faced Woman, marked the end of a reign; the goddess left the temple. But The Divine Garbo, remained inviolate.
DOUGLAS ON GARBO
She was, "a loner in an Industry were people often react to insecurity by surrounding themselves with flatterers," Melvyn Douglas offered, " Garbo couldn't or wouldn't do that." "I never got to know Garbo well," said Melvyn Douglas. During the filming of As you Desire Me, the two of us took several walks together and we talked about her European background and the man who had brought her to this country, Mauritz Stiller.

She loved the theatre and expressed admiration for stage performers but she was shy, perhaps even frightened about her own work. Douglas thought that she might be aware of her technical limitations, perhaps because English was not her native language. But he had no qualms about her ability to enact a love scene. "I have never played with a woman with such an ability to arouse the erotic impulse. The fact that an actress lets her partner take her in his arms, or presses her lips against his, does not make a love scene." "You have also to see the emotion that drives her to do it, and it is this that Garbo conjures at the right moment."

Melvyn Douglas believed that Garbo wasn't able to pick out "the most important phrases in a speech or color individual words for subtle shades of meaning" because of her native language (Swedish) she did not underline the same words most American actors learn to. Paradoxically, this was exactly what made her line readings so natural as a dramatic actress. Garbo reproduced "an extraordinary comic effect in 'Ninotchka'," Douglas acknowledged, "not so much because of any comic sense she may have had as through the genius of the director, Ernst Lubitsch; he knew just how to make use of the solid Scandinavian in her."
MELVYN DOUGLAS 1981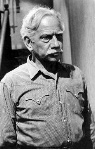 MORE ON DOUGLAS
After distinguished war service, Douglas's days as a romantic leading man were over. After a long spell on Broadway, and on tour in the USA and Australia, he returned to give a memorable performance in Billy Budd, (1962) was Paul Newman's grizzled cattle baron father in HUD (1963), for which he won an Oscar, and there after settled down to play a string of Crotchety Patriarchs in, I Never Sang for My Father (1970) The Candidate (1972) The Seduction of Joe Tynan (1979) and his last film Ghost Story (1981) He dies on the same year 1981.
SOURCES
Ken Wlaschin Movie Stars
edited by Néstor G. Acevedo (Greg)
Karen Swenson: Greta Garbo: Alife Apart