Nils Asther
(Wild Orchids & The Single Standard)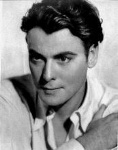 - by Néstor G. Acevedo (Greg) -
INTRODUCTION
Nils Asther (Denmark 1897 – 1981) was a Danish-born Swedish stage and film actor. Born in Copenhagen/Denmark, Asther grew up in Sweden and like Greta, he also attended the Royal Dramatic Theater School in Stockholm. Greta and Nils met for the first time in late 1924 and it is said that Nils asked her three times to marry him, she always said "No". Asther was dark and exotically handsome, he went to Hollywood in late 1925 and was Garbo's leading man in two of her films. Nils and Greta even had a close friendship together. In the early 1920's, he started appearing in European films, working with acclaimed directors such as Victor Sjostrom and Mauritz Stiller. Aster met director Stiller in a Stockholm restaurant. The director approached Asther, whom at the age of nineteen was almost too beautiful to be real, and inquired if he was interested in acting in motion pictures. It is rumored that Stiller and Asther were lovers after Asther was cast in a small role in Stiller's Vingarna. He quickly became Stiller's "Darling favorite," the actor wrote in his autobiography.
THE MALE GARBO
He soon left for Hollywood, his first film there being released in 1927. By 1928 his good looks had made him into an intense leading man, playing opposite such stars as Pola Negri, Marion Davies, Joan Crawford and Garbo. His foreign looks made him a popular actor, and he soon grew a thin moustache which amplified his suave appearance. With the arrival of sound in movies, Asther took voice lessons so as to minimize the presence of his accent. He had the misfortune to be labelled "the male Greta Garbo".
NILS ASKED GRETA TO MARRYS HIM
Nils, was also a student at the Dramaten Academy, said she was 'always shy' and it was true – even in the provinces. In late 1924, Nils Asther met Greta for the first time at Dramatiska Teatern. "I didn't notice anything special about her except that she had a wonderful voice, dark, almost plaintive. She lowered her eyes and when she finally raised them I was thunderstruck. I stared, bewitched and bewildered," Asther recorded. The fascination turned into an obsession and, a few days later, he got up the courage to propose to her. " Without mercy, she turned me down. She said the definitely would not marry me or anyone else for that matter. She had decided to dedicate herself to her art, to film and the theater."
ASTHER AND GARBO ON THE BIG SCREEN
Asther made two American films with Garbo: Wild Orchids and The Single Standard, both released in 1929 . It is said that Asther was far sexier than most of Garbo's leading men, and there is convincing chemistry between them in numerous close-up kisses. His passion on the high seas shines as brightly as hers.
WILD ORCHIDS
This was the first of Ather's two films with Garbo. Heat was the original title of the picture at hand, but the prospect of 'Garbo in Heat' on marquees called for a substitute. While filming the movie, Mauritz Stiller died on 8 November 1928 in Sweden. Word reached Garbo on the Wild Orchids set, where she nearly collapsed. The film was premiered in February 1929 and was a full success.
THE SINGLE STANDARD
Wild Orchids' success was enough for MGM to justify Garbo's immediate reteaming with Nils Asther in The Single Standard, directed by John S. Robertson. The film was a vehicle rebuilt from Adela Rogers St John's novel about a girl who demands sexual equality but settles for motherhood. It starts off on the theory that 'men have always done as they pleased and women have done as men pleased'.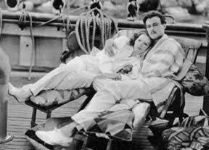 THEIR FRIENDSHIP
The Garbo-Asther friendship was very intense for a time, and her presence had a lyrical effect on him. "When she laughs, it's a silent, breathless kind of laugh, that shakes her whole person but makes very little noise," he said. "She likes to be led and is easilyinfluenced by anyone she admires.' In his opinion, 'she probably isn't very happy." Asther said Garbo had 'always been shy' and that difficulty with English had increased that shyness in America. On the other hand, she could be nonchalant about things that upset other people.
ASTHER & GARBO ON THE WILD ORCHID SET
Asther had the rare privilege of being invited to her home, and when he informed her that a servant was letting paying customers watch her nude swims from a certain window, "she just laughed," he said. In her home, the only room she used was a combination sitting room and bedroom in a far end of the house. The curtains were usually drawn, and most of the rest of the house was undecorated. They often went walking or climbing together – Garbo usually leaving Asther far behind.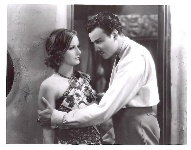 ASTER & GARBO ON THE THE SINGLE STANDARD SET
She visited him at Lake Arrowhead and was always up and swimming before anyone else was awake. Her compulsive physical exercise, she told him, was due in part to her fear of the diseases that had taken Stiller and her sister. Once when she seemed depressed, Asther asked her what the trouble was, and Garbo replied, "I had an awful row with God this morning."
ASTHER'S 'GARBOESQUE' SELF-ANALYSIS
"Like Garbo I have been given many labels by the newspapers. 'Very nearly as handsome as Valentino'... 'the masculine version of that mysterious fascination that is Garbo's.' [But] I am tired of being just a screen lover, and I hope some day to get a chance to be myself. I am rather like Greta in that I like to be alone. I love peace and quiet. Hollywood is really no place for me. I stagnate there.... I only really feel awake when the air is fresh and crisp as in my native Scandinavia. I believe it is because Garbo is from Sweden that she feels the same."
LATER LIFE
In 1935 Asther was forced to seek work in England after breach of contract lead to him being blacklisted. Although allowed back in 1941, his career in Hollywood dwindled throughout the 1940s, and he soon returned to Sweden, where he remained an active actor on stage and television until his death in 1981. He has a star on the Hollywood Walk of Fame.
ASTHER'S STORY ABOUT GARBO
A weekend trip with Greta
In his autobiography, Nils Asther wrote about a weekend trip he took with Greta to Lake Arrowhead, northeast of Los Angeles (ca. late 1928). Arrowhead is a man-made lake, but the mountain setting disguises its origin (a great dam prevents the annual spring thaw from being lost to the desert below). Greta and Nils, genuine Nordic spirits bound by their moods as well as their restlessness, fantasized about building "a Swedish log cabin high up on a hill, where we could withdraw from the rush of the film city." Without inspecting it in advance, Asther selected a small house in the woods surrounding Lake Arrowhead and invited Garbo to join him in inaugurating it.
He asked Garbo to marry him for the thrid time
After a long ride along the narrow, winding roads of the San Bernadino Mountains, they found the cabin –unfurnished. Greta slept on the floor in the downstairs parlor; Nils commiserated with the lumber in the attic. It was a confusing weekend. Asther, on the rebound from an on-again, off-again romance with Vivian Duncan (one-half of the vaudeville team of The Duncan Sisters), had determined to propose to Garbo "for the third and last time." The next evening, after a romantic walk in the moonlit woods, he did – and for the third and last time, she said no. "To myself, I cursed Mayer because I was convinced that he restrained his stars from marrying and bringing children into the world with all the means at his disposal," the actor wrote in his memoirs. He began to quarrel with Greta, who became sad, not knowing how to put a stop to it, and their weekend ended on this bittersweet note.
Garbo's "Sailor"
A year later in late 1929, Greta's "sailor" married Vivian Duncan. "Sailor" was a favored term for her male, usually bisexual friends. On location in Catalina with Nils Asther, she was overheard berating the actor for grabbing her so roughly. "I'm not one of your sailor friends," she reminded him.
TRIVIA ABOUT ASTHER & GARBO

Anna Christie
It had been reported that Nils Asther's name topped the list of the possible costars, but it was a relative unknown, Theo Shall, who won the assignment in the German Version of Anna Christie. Garbo and Asther never appeared in a film again.
As you desire me
Nils Asther was a strong contender for the lead of the Italian captain who believes that "The Unknown One" is his wife, Maria, a newcomer named Melvyn Douglas slipped in to steal the assignment for As you desire me.