Herbert Marshall
(The Painted Veil)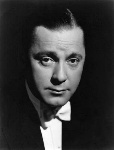 - by Néstor G. Acevedo (Greg) -
INTRODUCTION
Herbert Marshall (1890 - 1966), was too well bread to become a really major star; he invariably let the most beautiful woman in Hollywood movies, push him around, deceive him, and generally get the acting accolades they couldn't have won without him. It was Marshall whom Bette Davis killed by withholding pills in, The Little Foxes, and whom Greta Garbo was unfaithful to in, The Painted Veil. Marlene Dietrich was unfaithful to in, Angel, and Bette Davis (again) in The Letter. His strong point was being a weak husband, a well-mannered older lover or a polished immaculate father. Herbert Marshall was born in London on May 23, 1890, lost his right leg in World War I, this was hardly evident in his walk. He became a stage star in the 20s. His first film was the silent Mumsie 1927, directed by Herbert Wilcox. In 1929 he made his first talkie, The Letter with Jeanne Eagels that made his reputation. In this movie he played the lover, in Bette Davis version (1940) he played the husband. He was outstanding as a grand actor seeking a killer in Alfred Hitchcock's, Murder (1930), and then Paramount tried to build him up as a romantic star opposite Marlene Dietrich in, Blonde Venus (1932).
MARSHALL AND GARBO
In 1934 Herbert Marshall made his first, and only film with Garbo, an adaptation from the novel by Somerset Maugham, The Painted Veil at MGM studios. On 28 July 1934, Garbo wrote to her friend Horke Wachtmeister that she had just started shooting The Painted Veil, "Rubbish-the film, I mean", in the letter Garbo dryly states: "the only natural thing for me to do right now would be to disappear from films and get people to forget totally that I ever existed- I mean so that no one would look at me on the street"… But I ought to make another film; I won't be a good match otherwise. "The Painted Veil premiere was held in December 1934, and it was a financial disaster. " She triumphs (Garbo) by the sheer beauty of herself," said Norman Lusk in Picture Play magazine. "The picture… is only tolerable because of what Garbo's gives to it."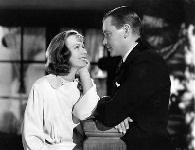 Marshall's introduction to Garbo took place one day when he was told to go directly from the Outcast Lady set, to The Painted Veil set. "It was thought that my makeup for Outcast Lady was a trifle too dark for the scenes with Miss Garbo," said Marshall. Miss Garbo was in her portable bungalow, when she was told that I was on the set to do a test with her, she fairly flew out Of the bungalow. I wasn't kept waiting for a second, she came toward me smiling and with a very friendly hand extended toward me. She said, "I understand, Mr. Marshall, that there seems to be some nonsense about makeup, if your makeup is wrong, I will change mine," Marshall recalled. In The Painted Veil, Marshall played Walter Fane, the soft-spoken middle-aged scientist, who married Katrin (Garbo) and goes with him to China, were she was unfaithful to him. Garbo and Marshall, while not a romantic team, worked very well together. There was a credibility in their scenes that was new to her films.

On this film, Garbo could not get away with capricious cutting, and this made her, according to Marshall, "anxious and straightforward." When occasions arise, such as scenes, dialogue problems or wardrobe, she does not condemn or disapprove. "She will only tell you that she was anxious about it," recalled Marshall. This was Garbo's twenty-second film and her only appearance with Herbert Marshall.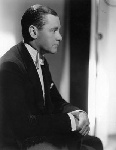 HERBERT MARSHALL ABOUT GARBO
Herbert Marshall had only good things to say about his Swedish costar's generosity, professionalism, and concern for others. The forty-four-old Marshall found Garbo, far more agreeable than he had expected, after hearing about her from Robert Montgomery on the set of Riptide. The elegant Marshall, often described as the consummate English gentleman, saw qualities in Garbo that his manner no doubt elicited. "I have never met a more natural woman than Greta Garbo," stated Marshall. "I would say, as an outsider, that much of the coldness that is ascribed to her, is because she does not extend herself."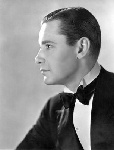 TRIVIA
Herbert Marshall, did a remake of Garbo's and Gilbert's A Woman Of Affairs, with Constance Bennett, (Two-Faced Woman).
This time it was called, Outcast Lady.
MORE ON MARSHALL
Two of the finest films were, Blonde Venus, opposite Marlene Dietrich, and with Miriam Hopkins in Trouble in Paradise, both in 1932. He also made good pictures in England with Victor Saville, while continuing his Hollywood work. His romantic image faltered, and he began to play older men, but his best acting was in comedies, like the nutty but funny If You Could only Cook, with Jean Arthur in 1935. He had a continuing association with Somerset Maugham's work, and was at his best as the Maugham narrator in the 1942, The Moon and Sixpence, and again in Razor's Edge. He was Jennifer Jones father in Duel of The Sun, a Technicolor movie that also appeared the silent screen legend, Lillian Gish, and Lionel Barrymore.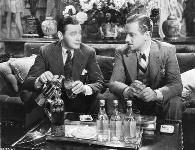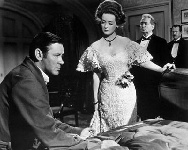 Marshall and Melvyn Douglas Marshall and Bette Davis
The later films of Marshall, were not nearly as good as he was. He continued working, however, until his death in 1966. His last film being, The Third Day in 1965, directed by Jack Smight.
SOURCES
The World Great Movie Stars and their Films - Ken Wlaschin
The Films of Greta Garbo - M.Conway Ricci Dion McGregor.
Edited by Néstor G. Acevedo (GREG)