- by Néstor G. Acevedo (Greg) -
INTRODUCTION
The French have never felt at home in Hollywood. Charles Boyer is the exception that proved the rule, but his stardom was not won without initial setbacks, which have discouraged a less determined and professional actor.
THE ULTIMATE FRENCH LADIES'MAN
Charles Boyer, was a French-American actor who starred in several classic Hollywood films, was also T.V Director and Producer. Born in Figeac, France, on august 28, 1899. Boyer was just a shy small-town boy who discovered the movies and theatre at the age of eleven (11). He went to Paris to finish his education but spent most of his time pursuing a theatrical career. He studied at the Sorbonne and the Paris Conservatoire. His quick memory won him a shot at replacing the leading man in a stage production, and he scored an immediate hit. His first film as Marcel L'Herbier's in L'Homme du Large in 1920. He was soon a star of both theatre and cinema. Charles Boyer, became easily the greatest lover in the history of cinema, as well as being one of the most imitated. He's been called, "the ultimate French ladies' man," suave and sophisticated beyond any woman's wildest dreams.
BOYER SIGNED BY MGM
In 1928, he signed with UFA to make French versions of German films made in Berlin. Shortl afterwards he was enticed to Hollywood by MGM, to play in French versions of, The Trial Of Mary Dugan (1929) and The Big House (1930) The introduction of subtitles, and his heavy accent, made him difficult to cast and, after being loaned to Paramount for The Magnificent Lie (1930), he went back to UFA. He returned to Paramount, and played Jean Harlow's chauffeur in Red-Headed Woman (1932), but he was not happy with the results. Back at MGM he made women swoon as he romanced Marlene Dietrich in the Technicolor Garden Of Allah (1936) (this part was offered to Garbo but she declined). He became a true star in The Garden Of Allah, (the picture was not).
GARDEN OF ALLAH
Boyer and Marlene Dietrich in Garden of Allah (USA 1936), the film that made him a star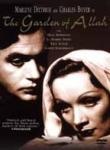 GARBO AND BOYER
Preparation for Conquest (Marie Walewska) begins in December 1936. Irving Thalberg (boy wonder of MGM) had thought its political background was "too complicated for American audiences" , but became interested after a suggestion by Salka Viertel (screen writer, and Garbo's friend) that Charles Boyer play Napoleon. For the role of Napoleon, Boyer was the first choice of Garbo. Boyer, had serious doubts about playing Napoleon: "I would have been less hesitant if someone had ask me to play Jesus, I mean no disrespect to the Christ, but Napoleon has more powerful historical presence, where Jesus is a powerful spiritual presence". "Which would be the harder role to play? For a Frenchman, I believe would be Napoleon Bonaparte".

Concerned with how he would fare in an under-written role opposite Garbo, not to mention the challenge represented by a Frenchman playing Napoleon, the actor initially turned the project down. MGM was persistent, after heated negotiations, producer Walter Wagner, with whom Boyer had signed a non-exclusive contract, and Charles K. Feldman, Boyer's agent, skillfully secured a fee for their client nearly equal to Garbo's. The atmosphere on the set was more congenial than Garbo would have her friends believe. Boyer was as respectful and conscientious as Garbo could want. For the only time in Garbo's American career, her lover's role was more compelling than her own. Garbo's consolation prize was that Boyer was very good, indeed-perhaps, her best co-star ever.
CONQUEST
Conquest was a costume drama directed by Clarence Brown that has been described as A $2,800.000 historical distortion. At Garbo's request, Charles Boyer played Napoleon to Her Marie Walewska. Norman Zierold in his biography, Garbo tells anecdotes about that production, one of them, In a scene with Leif Erickson, (who plays her brother) the front of her dress snagged on a bottom on his uniform and ripped open. Erickson gazed in silent embarrassment; Garbo smiled and said, "I thought it would inspire you." Conquest, was released during the first week of November 1937, was Garbo,s twenty-fifth film, and the only with Charles Boyer. According to MGM's accounting, Conquest lost almost $ 1.4 million-an extravagant sum that, Louis B. Mayer later point out; "represented the total negative cost of three profitable Andy Hardy pictures".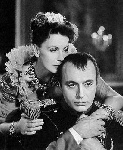 CRITICS
John Mosher - in The New Yorker: Madame Garbo's elegant anemia, I fear can pall a little. Her performance seems static, though the story covers a period of years. Beautiful, fragile, and tired. Madame Garbo has a leading man who contributes more to the interest and vitality of the film than she does. She is, we may assume, grateful for such assistance.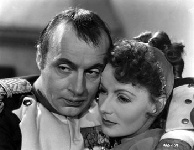 BOYER ABOUT GARBO
Charles Boyer made it a point to get acquainted with Garbo before production, so they would feel at ease together. He found her "guarded mystery" enchanting and said there was no other actress like her in the world: "You could read on her face, all the thoughts that came to her. Her ability to project what was unique." But the two of them could only do so much.
IN 1974 THEY MET AGAIN
For Garbo 1974 was a comparatively quiet year, highlighted by a trip to Tunisia with Carl Johan, Kerstin Bernadotte, and a reunion with Boyer in the south of France. One day, Garbo came in after on of her walks and said, "I've just seen Mr. Boyer! … He's very old." So they invite him to come over to have a drink, they hadn't seen each other since Conquest. This time, the gag rule on the movies was suspended. MGM, Clarence Brown and the making of Conquest (Marie Walewska) Were the topics. "They sat next to one another and never stopped talking," Caral Lebworth recalls, "It was a wonderful thing to see."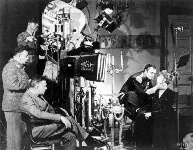 MORE ON BOYER
Charles Boyer received Honorary Oscar Certificate in 1943. He was best know for his role in the 1944 film Gaslight, In which he tried to convince Ingrid Bergman's character that she was going insane. He became famous for his whispered declarations of love in movies with Dietrich, Garbo, or Bergman. After the film, Arch of Triumph in 1948, he left Hollywood for Broadway returning in 1951, thereafter he worked steady in Europe and Hollywood, although he was seldom given the chance to display his versatility. After World War II, he continued to appear on Broadway stage, TV, French films, and the London stage. Boyer's career lasted longer than any other romantic male of his era, earning him a name: 'The last of the cinema's great lovers.'

Off-screen Boyer was happily married to the same woman, English actress Patricia Paterson, for 44 years. She died of cancer in August 1978, (in 1965 his son of 21 committed suicide). The grief-stricken Boyer killed himself two days later his wife's dead, with an overdose of Seconal.
THE LAST OF CINEMA'S GREAT LOVERS WAS GONNE IN 1978.
SOURCES
The Divine Garbo by Sands and Broman
The Movie Stars Story by Robyn Karney
The Films of Greta Garbo by Parker Tyler
Edited by Néstor G. Acevedo (Greg)