George Brent
(The Painted Veil)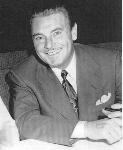 - by Néstor G. Acevedo (Greg) -
INTRODUCTION
The 30s was the era of high-powered leading ladies. George Brent once remarked that all the leading man needed was a good hair cut, as the back of his head was the only part of him that an audience was ever likely to see. Brent's hairstyling remained immaculate, and the nape of his neck can be savoured in a succession of 'women's pictures'. George Brent was born in Shannonsbridge, County Offaly, Ireland on March 15,1904, his real name was George Brendan Nolan. He began his career playing small roles as a child in Abbey Theater (Ireland) plays. During the Irish Rebellion, he participated in subversive activities and had to be smuggled out of the country to Canada, where he eventually toured with stock company for two years before moving on to New York.
GEORGE BRENT IN HOLLYWOOD
Brent changed his name, and found work on Broadway in the late 20's before heading for Hollywood, to begin a career that spanned two decades. George Brent was typically cast as a gentlemanly, romantic leading man, after briefly cast in tough hero roles. His debut in Hollywood films was, 'Under Suspicion' in 1930. Brent signed to a contract with Warner Brothers, he carved out a successful career as top-flight leading man of the late 30s and 40s. With his pencil-thin mustache, the suave, gallant, George Brent, was one of the Hollywood's most dependable leading men. A handsome but never very exciting or dynamic lead. He played opposite all of Warner's greatest actresses, but he is best know for his work with Bette Davis, twelve (12) films. Bette Davis his frequent costar described him as "charming, caring affectionate man with wonderful sense of humor" According to his friends, Brent was the kind of man woman found easy to be with, contrary to his cinematic reputation, George Brent was know as quite ladies, man. In the 1930s The press called him "the male edition of Garbo".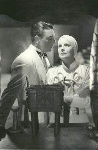 THE PAINTED VEIL
Garbo - Brent their only film together. This was Greta Garbo's twenty-second film for MGM and her only film appearance with George Brent. In this film Brent plays a diplomatic attaché, who has an affair with Katrin Garbo's role in this film from the novel by W. Somerset Maugham, The Painted Veil (1934). Scared, nervous, and tired prior to meeting his leading lady, Brent captured Greta's attention with his quiet loner stance. A proud man with something to hide during his early years due to his clandestine activities in Ireland. Brent's 6'1" good looks where conveniently ending his twenty-month marriage to actress Ruth Chatterton around the time The Painted Veil shooting began. Chaterton was a social butterfly, while Brent was a semi- recluse who detested parties and Hollywood nightlife. 'I'm free and I'm going to stay free" he said after the divorce. "Any man likes his freedom. He can read the newspaper at the table; he doesn't have to dress for dinner; and he doesn't have to talk when he gets home from the studio dead tired". Those views nicely mirrored Garbo's whose experience with Gilbert matched Brent's with Chaterton. The press called him "the male edition of Garbo" (as they did with Asther in the 20s). Garbo visited his home and, seeing that he was not part of Hollywood social scene, started to spend time with him. Rumours of a romance began to spread.
FILMING THE PAINTED VEIL
While filming The Painted Veil, in January 1935, Garbo was vacationing with George Brent at A Coachella Valley Resort called, La Quinta. Brent respected privacy and knew the value of true friendship. A month or so after they met on the set, Brent build a wall around his Toluca Lake mansion so Garbo could lie about, unseen and unmolested, and play tennis and swim with him in privacy, so o n weekends, Greta played tennis and badminton at his Toluca Lake home, sunned in his secluded backyard. Despite the usual assurances in the press that the "George Brent-Garbo rumors don't mean a thing," the couple did enjoy a brief relationship. Both were loners who came straight home from the studio and were in bed by ten. Brent's athleticism and introversion were much like, and compatible with the Swede's, compatible with Garbo. He also smoked a lot, played the piano well, and said if he ever married again it would be to a film actress; "I'd rather have a screwball around my house any day, than a solid something from Pasadena." Sometimes they sought out restaurants or side-street movie houses in unlikely parts of Los Angeles, but more often they dined at Brent's. He said she was the most fascinating woman he had ever know or know of.
MORE ON BRENT - GARBO
George Brent, had trained with 'Mushy' Callahan, the junior welterweight champ; he and Garbo sometimes boxed together in Brent's backyard! Over his living room mantel, hung a large marine painting she gave him. A blind item in Hollywood Reporter illustrated why Garbo's acceptance of Brent's friendly overtures, were reassuring to MGM; "Everyone around one of the big studios is delighted over the fact that one of their femme stars is so smitten with a certain leading man-and vice versa… They all claim that it adds to her femininity and gives her warmth in her work, which some claim has been sadly lacking in the past!" One of many Hollywood puzzles of that period was the appeal, let alone the sex appeal of George Brent, who was a consistently uninteresting performer in more than a hundred films. But thousands of hearts throbbed over him, and, for a while, Garbo's was evidently one of them.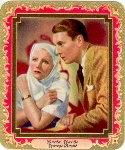 DID YOU KNOW?
George Brent, privately told inmates they would soon be married. Brent was as mistaken in thinking he could talk Garbo into
marriage as David O. Selznick, John Gilbert, and Asther did.

Garbo still appealed very much to George Brent, however, who begged her not to go back to Sweden, As she planned during
that time of 1935.
WHAT THE CRITICS SAID ABOUT THE PAINTED VEIL

André Seenwald - The New York Times:
She is the most miraculous blend of personality and sheer dramatic talent that the screen h as ever know and her presence in The Painted Veil, immediately makes it one of the season's Cinema event.
Norbert Lusk - Picture Play:
Again Greta Garbo triumphs by the sheer beauty of herself and her spirit over the picture that is only tolerable because of what she gives to it. Magically she makes her heroine sensitive, poetic, and soulful as only Garbo can.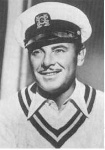 MORE ON BRENT
Brent married another Warner's star, Ann Sheridan, ( he managed six wives in all!). In the late 40s his smooth good looks became haggard and jowly, and the goods parts Began to dry up. He strolled trough a number of B movie features. His last film, Mexican Manhunt (1953) a serviceable little programmer. He retired from acting in 1956 but made a return in 1978 in the made-for-television production, Born Again. His final marriage was to Janet Michael's a former model and dress designer. They were married for twenty seven (27) years until her death in 1974. They had two children together, a son and a daughter. Brent was suffering from emphysema, Bette Davis latter expressed great remorse at his ill health, and sadness that such a virile and Attractive man could have deteriorated so dramatically. George Brent passed away on May 26 1979, at age 75 in Solana Beach, California.
SOURCES
The Films of Greta Garbo compilated by Michael Conway
The Movie Stars Story edited by Robyn Karney