Clark Gable
(Susan Lennox)
- by Néstor G. Acevedo (Greg) -
INTRODUCTION
Clark Gable (USA 1901-1960) was an Academy Award-winning (Capra's It happened one night) American actor and the biggest box office star of the early sound film era. In 1917, when Clark was in high school his father's business had financial difficulties, Gable was inspired to be an actor after seeing a life-impressing play, but he was not able to make a real start until he turned twenty one (21) and could inherit money that had been left to him.Clark found work with several second-class theatre companies. In 1924, he went to Hollywood.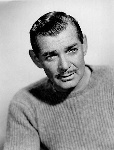 HOLLYWOOD AND MGM
In 1930, he was offered a contract with MGM. He received a lot of fan mail as a result of his powerful voice and appearance; the studio took notice. Gable then worked mainly in supporting roles, often as the "heavy". He built his fame and public visibility during 1931 in such importantmovies as; A free Soul, in which he played a gangster who slapped Norma Shearer, Susan Lenox (Her Fall and Rise) with Garbo, and Possessed with Joan Crawford. To bolter his rocketing popularity, MGM frequently paired him with well-established female stars, It is said that Garbo and Gable were so co- mismatched that they clicked and because they got along well, Garbo and Gable were almost paired again, in Red Dust (USA 1932).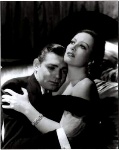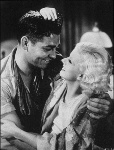 Gable with Joan Crawford and Jean Harlow
GARBO & GABLE IN SUSAN LENOX
MGM, who desperately needed a new romantic leading man to replace their fading silent stars (John Gilbert, Ramón Novarro) Clark Gable took over the lead from Gilbert opposite Greta Garbo in Susan Lenox - Her Falls and Rise (USA 1931) offered Garbo half dozen possibilities for her leading man in Susan Lenox, she choose Clark Gable, who had been at MGM only six months but whose appearances with Joan Crawford in Dance, Fools, and Laughing Sinners created a stir. arbo liked Gable, but she was miserable during the making of their (only) film together. throughout most of the 30s and 40s, he was arguably the world's biggest movie star. In Susan Lenox, wrote critic James Agate, "Neither hero nor heroine at any moment behaves like a sentient human being, because any straight answer to any straight question would have brought the film to an end at any moment". But the fond and realistic Garbo-Gable interplay of its first half made the movie a considerable success. "If you were mad about her before; said Photoplay, just wait until you see her teamed up with this manifestation of masculine S.A, called Clark Gable."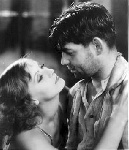 Garbo and Gable in Susan Lenox
THE THRILL OF WORKING WITH GARBO
Gable was shocked when he got the news of the casting. "The big thrill came up in Monterey," he told A reporter. "I had been out swimming, when I came into the hotel, I picked up a paper and saw the Headline: 'Clark Gable to play opposite Greta Garbo'. That was one of the thrills of my life". After he recovered from it, he complained to his agent; he knew how hers leading men usually fared. Despite his reluctance to play the role, they got along so well said the press, even they were so mismatched, Garbo and Gable were almost paired again, in the forthcoming film, Red Dust, but nothing turned out and Jean Harlow got the role after Garbo declined. In 1939, Gable was also considered to star with Garbo in Ninotchka. It was written that Garbo disliked Clark Gable, a feeling that was mutual. She thought his acting was wooden while he considered her a snob.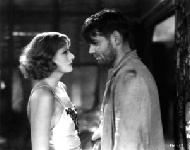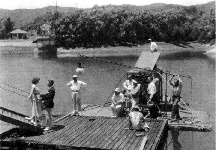 Gable and Garbo filming Susan Lenox
GABLE BEST KNOW PERFORMANCES
Gable was good opposite Harlow again in the 1935, China Seas, but his mayor of that year was, Mutiny on the Bounty. He was Mr. Christian to Charles Laughton's powerful Captain Bligh, proving that he was able to hold his own in the acting department against even the greatest competition. Gable was the major MGM star, but it was on a loan to the minor studio (as it was then) Columbia that he collected the ultimate accolade of his peers, an Academy Award. It came from his role in Frank Capra's, It Happened One Night. Even that Clark Gable, (who was born in Cadiz, Ohio, on February 1, 1901) is best know for his performance as Rhett Butler in the Magnificent classic color film and Academy Award, Gone with the Wind (1939).
GABLE AT THE END
Gable's career was never the same after his peak. He made a lot more films but after his bride of Twenty two (22) months, Carol Lombard, was killed in a plane crash he joined the army. He came Back to Greer Garson's arms in the 1945 film, Adventure but it failed. He was back in form in The Hucksters in 1947, battling for integrity in the advertising industry; after that, his films were rather ordinary until John Ford directed him in a good remake of Red Dust called Mogambo, with Ava Gardner and Grace Kelly. Gable parted from MGM in 1954 after twenty three (23) years. His last film, John Huston's The Misfits with Marilyn Monroe, and Montgomery Clift. It was his valedictory to Hollywood. He died a few weeks after he finished it, on November16, 1960. THE KING IS DEAD- and no one could replace him.
SOURCES
Ken Wlaschin: The Worlds Great Movie Stars
Karen Swenson: Greta Garbo: Alife Apart